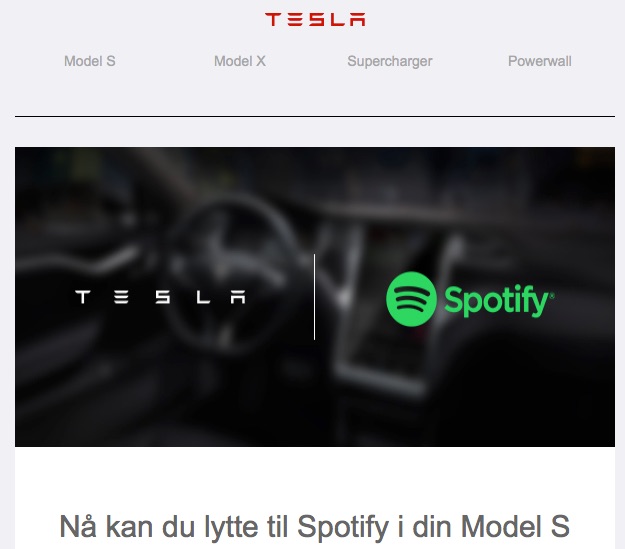 Tesla owners across Europe, Australia, and Hong Kong will soon have access to Spotify Premium according to an e-mail the company sent to owners within those regions. We received a copy of the email from our contact in Norway which reads (translated from Norwegian via Google Translate):
Now you can listen to Spotify in your Model S

With today's wireless software update, you can now enjoy a seamless music experience via streaming with Spotify in your Model S.

The fully integrated Spotify system delivers the perfect music experience for every traveler, with access on demand to Spotify catalog of over 30 million tracks . You can also enter your own Spotify music library, store songs and albums, and follow artists , playlists, and radio stations.

To start listening to Spotify simply select Spotify from the menu in your media player. You can also use an existing Spotify Premium account and listen to playlists and radio stations . Simply log in Spotify account via Settings> Applications > Media > Spotify.
The update comes as Rdio, a music service previously available on Model S cars in Europe, Australia and Hong Kong, has been bought out by Pandora and is no longer available to Tesla owners. It's undetermined whether Spotify Premium will make its way into US cars.
Spotify's Senior Manager of Business Development, Jonathan Tarlton, told The Telegraph in the UK, "The car radio has not changed much at all, so what we're doing with Tesla represents the future. Tesla owners will be able to access a full premium experience, free from adverts." He also indicated his company is not done making deals. "This is a very important focus for us and a key strategy and you can expect many more exciting announcements from us in this sphere."