Tesla China has formally launched the sales of the upgraded Model 3 in the Chinese market. With this, test drive vehicles are now available in select Tesla showrooms in the country, and first deliveries are expected at the end of October. 
The update was posted by the electric vehicle maker on its official Weibo account. As per Tesla China, two versions of the upgraded Model 3 will be offered in the country: a Rear Wheel Drive (RWD) version that starts at RMB 259,900 ($35,540), and a Long Range Dual Motor All Wheel Drive (AWD) variant that starts at RMB 295,900 ($40,400).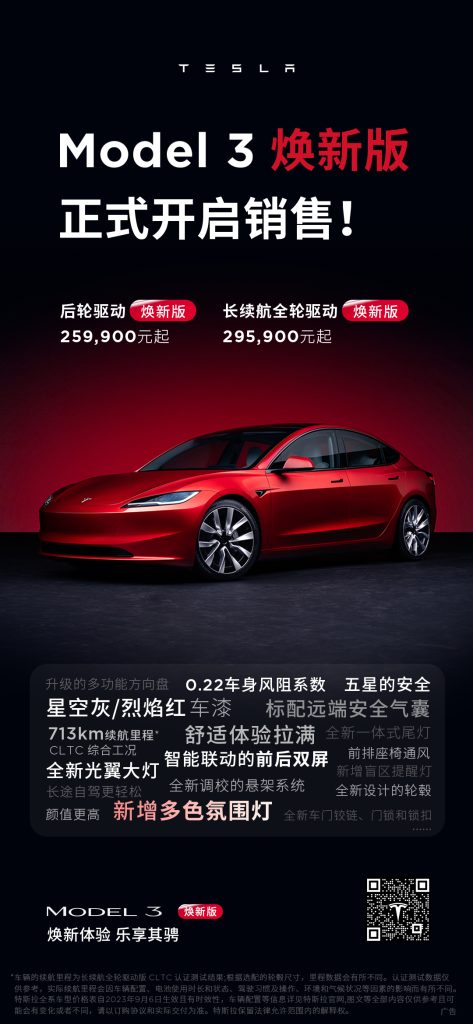 The prices of the upgraded Model 3 today are the same as the vehicle's pre-sale prices that were announced at the start of September. The price of the Model 3 RWD is roughly 12% higher than the vehicle's previous iteration. Those who order the upgraded Model 3 are expected to get their vehicles in 6-9 weeks, as per Tesla China's order page for the all-electric sedan. 
The upgraded Model 3 features a number of improvements from its predecessor. It features a more aggressive and sporty exterior and a completely revamped interior with elements that are inspired by the flagship Tesla Model S sedan and Model X SUV. These include a stalkless driving system and a rear display for passengers. 
The upgraded Tesla Model 3 was also listed with range improvements compared to their predecessors. The new Model 3 RWD, for example, was listed with a CLTC range of 606 km, which is 50 km higher than the outgoing model's estimated 556 km of range. The new Model 3 Long Range is also listed with a range of 713 km, 38 km more than the estimated 675 km range of the previous Model 3 Performance. 
China's Ministry of Industry and Information Technology (MIIT) recently announced the latest batch of vehicles that are exempted from the country's vehicle purchase tax. The new Model 3 was included in the document. As per the MIIT, the two new Model 3 variants are equipped with battery packs that feature capacities of 60 kWh and 78.4 kWh, respectively. 
Don't hesitate to contact us with news tips. Just send a message to simon@teslarati.com to give us a heads up.