Nikola Motor Company unveiled its zero emissions Class 8 truck at company headquarters this week. Dubbed the Nikola One, the once all-electric prototype now hydrogen powered, boasts an incredible 1,200 miles of range and will be stiff competition for Tesla's planned entry into the long haul trucking segment with its all-electric Tesla Semi.
Nikola One is sleek and futuristic. Because it has no diesel engine, the cab can be pushed forward as far as possible to give the driver a panoramic view of the road ahead. Individual electric motors for each of its six wheels provides an incredible 1,000 horsepower and 2,000 lb-ft of torque. Both numbers are considerably higher than for a typical tractor.
Power comes from a 320 kWh battery developed by the company. "Our battery engineers have made major advances in storage and cooling," said Nikola founder and CEO Trevor Milton. "We believe our lithium battery packs are more energy dense and weigh less than any available vehicle production pack per kWh."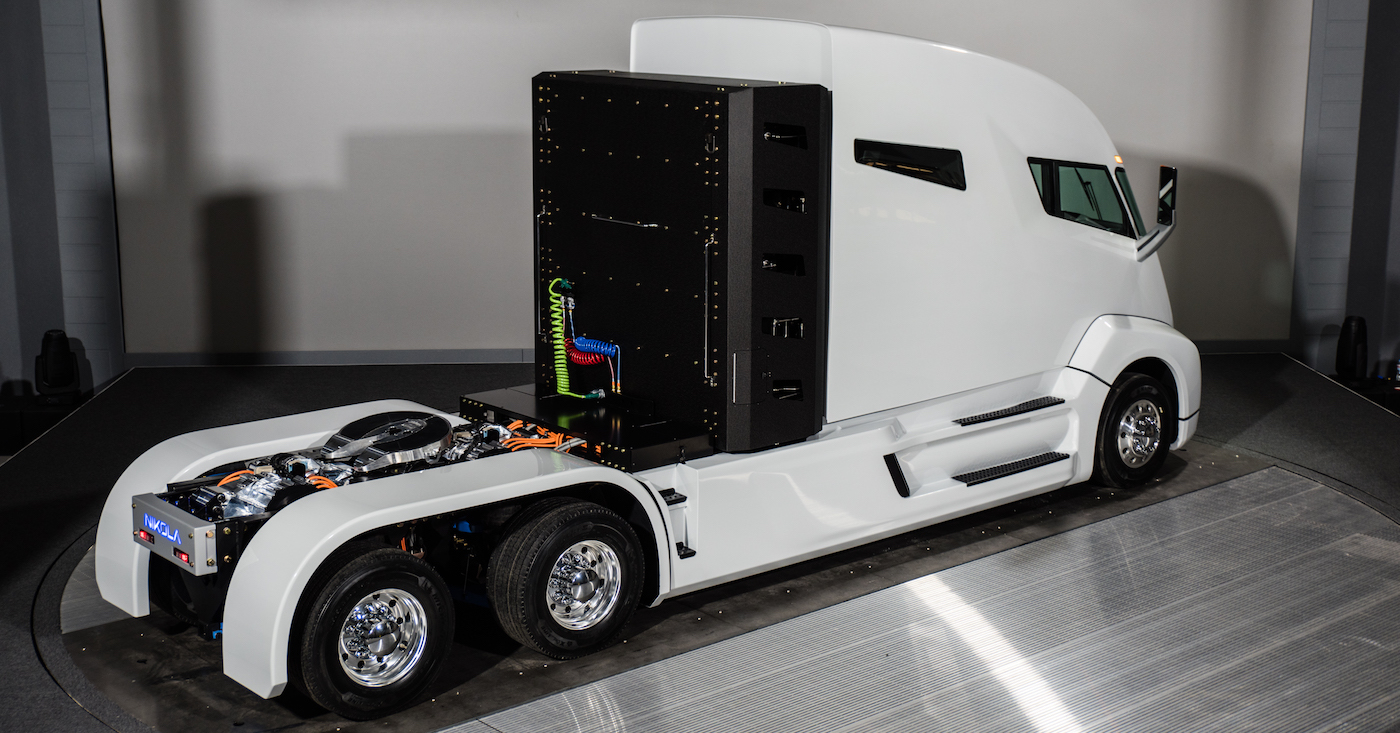 The company had previously designed Nikola One as an electric truck that would have a range extender via a turbine powered by natural gas. But at the reveal, the company announced the turbine has been replaced by a hydrogen fuel cell that will keep the battery charged and provide a range between 800 to 1,200 miles.
The prototype on display this week is technological marvel. An array of sensors and cameras permit the driver to have a full 360º view around the entire rig at all times, eliminating blind spots all together. Inside the cab there is room for a one or two full size beds, a refrigerator/freezer, a 40″ curved 4K TV with Apple TV, as well as Wi-Fi and 4G LTE connectivity. Comfort and convenience for the driver will be unparalleled.
The company says it is evaluating a number of locations for its factory. "Nikola will build a world-class advanced manufacturing facility which will create thousands of new jobs," says Trevor Milton. He claims the factory will be able to build 50,000 trucks a year by 2020.
So far, one might be forgiven for thinking the Nikola One is mostly vaporware except for one thing. The company has struck a deal with Ryder Systems, which has agreed to be Nikola's exclusive nationwide distribution and maintenance provider. Ryder has a network of over 800 service locations in North America today.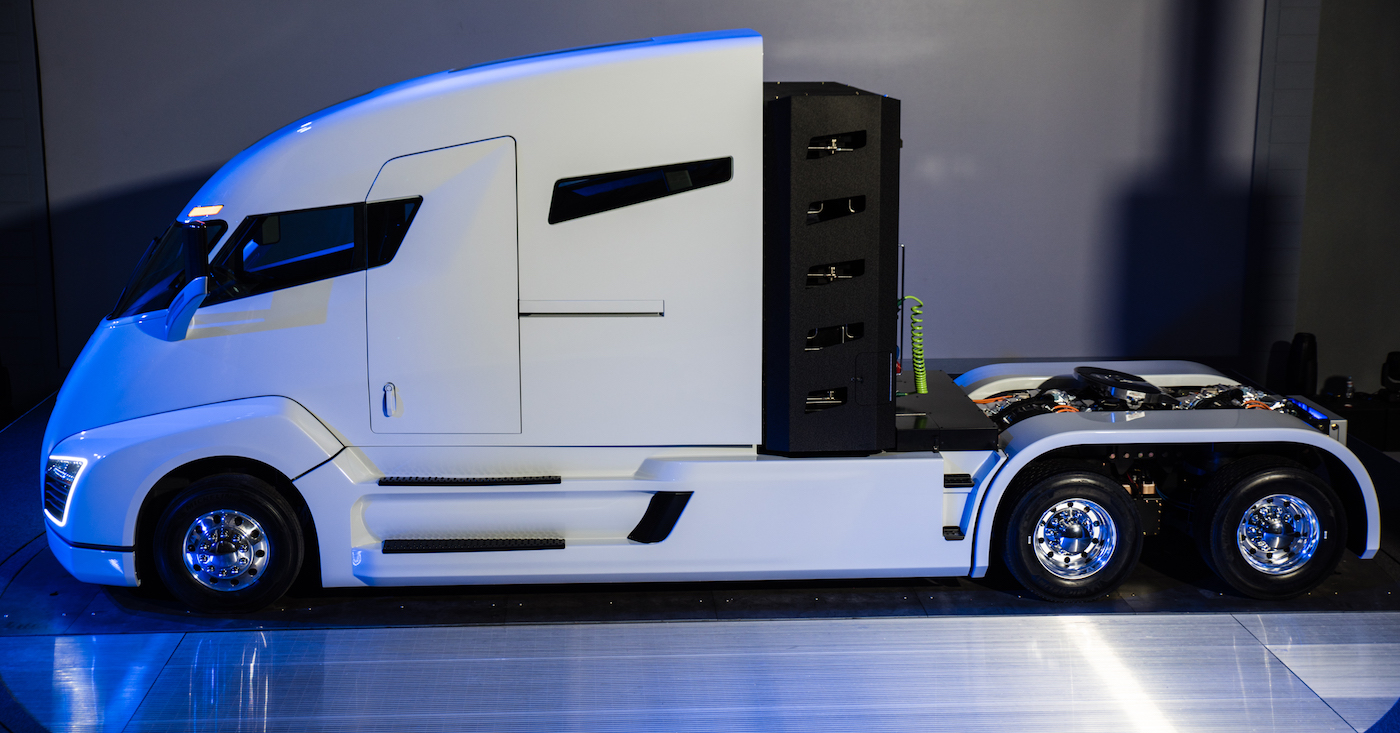 "We are extremely excited to finally show off the Nikola One to the public for the first time," said Milton. "There are many out there that wondered if we would deliver, but today we proudly show off the most advanced semi-truck ever built. We couldn't be more thrilled to have one of the best brands in America, Ryder, as our trusted partner providing nationwide sales, service and warranty for Nikola Motor Company."
The financial plan for the company calls for leasing the trucks for 72 months at rates of between $5,000 and $7,000 a month. The lease fee will cover all scheduled maintenance at a Ryder facility and the cost of hydrogen fuel. Talking a page from the Tesla playbook, Nikola is accepting reservations for its battery/fuel cell Class 8 truck. It says it has received billions of dollars worth of deposits which cost $1,500 and are fully refundable.
Meanwhile, Elon Musk has let it be known that he also has his eye on the heavy truck market. We can be sure his vision for a Tesla Semi won't involve any onboard fossil fueled range extender engines or what he dismissively calls "fool cells."
The Coast of Hydrogen
Nikola says it intends to develop a network of 350 hydrogen fueling stations across North America for its trucks, beginning in 2018. It would be similar to the Supercharger network Tesla has been building to support long distance travel for its fleet of electric cars. But here's the rub.
Hydrogen refueling stations cost $2 million or more to construct. It is estimated that a typical Tesla Supercharger location costs about one tenth as much to build. Exactly who will be paying for the hydrogen refueling system is unclear. And there are other issues with using hydrogen. Yes, the waste products of a fuel cell are water vapor and heat. But getting the hydrogen requires tremendous amounts of energy.
In the US, most hydrogen is derived from natural gas. Take the process back a step or two and that natural gas is often the result of fracking, a process that at the very least is controversial and at worst results in heavy pollution of the land and groundwater in the vicinity. Whether the Nikola One can accurately be called "zero emissions" is a matter for debate.