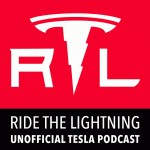 Model 3, Model 3, Model 3!
Excitement is at an all time high as the world awaits next week's reveal of the Model 3. 650 lucky invitees, including our very own Electric Jen, will witness a live unveiling of the Model 3 at the Tesla Design Center in Hawthorne, CA. A live stream of the Model 3 unveiling event will be available beginning at 8:30pm PT.
Tesla has also announced details on how to reserve a Model 3 both in-store and online on March 31 st.
Now on to the show.
This week on Ride the Lightning: Tesla Motors Unofficial Podcast:
"Tesla reveals new key details about how Model 3 reservations are going to work. I spend the whole show talking through reservation priority, March 31 details, and more. And since I recorded, I learned that it is confirmed that test rides will be available for attendees of the event, which means there are indeed driving prototypes."
Listen on iTunes, libsyn, and Stitcher