We've been obsessed with wireless inductive charging lately because from a technology standpoint, it just seems so magical. Hands-free charging with zero hassle. Who wouldn't love that? There's even been talks that these systems may be the next evolution of charging that could bring battery electric vehicles (EV) to mass market, but all only if it can overcome its inefficiencies and transfer energy at a rate comparable to (if not better than) cables.
During our obsessive research, we discovered another startup company by the name of PowerHydrant looking to revolutionize the way EV owners think about hands-free charging.
What if a robotic arm could charge your car for you? Would you let it? Imagine parking your Tesla Model S and walking away, knowing it is charging without you having to touch any cords whatsoever.
PowerHydrant Takes the Plug Away From Your Hands
The thought of driving any EV into a parking space without worrying about charging is a promise that has escaped us, so far. Ideally, we would have a single universal hands-free system that automatically detects which EV requires a charge and comes to the rescue. You don't see it? Well, imagine living in a world of EVs. A world where each vehicle's life blood is controlled by a machine. Like a scene out of the Matrix, a robotic arm unplugs and sets the adjoining Tesla Roadster free from its charging machine, before plugging into your Tesla Model S.
PowerHydrant's computer-vision robot is capable of servicing multiple EVs simultaneously, up to four per device, on a time-shared basis. What it seeks to do is set two important trends: the commoditization of human-service robots and the realization of low-cost embedded vision.
How it Works
PowerHydrant's system will automatically align to any electric car and will also handle all charging levels, from Level 1 (110V), to Level 2 (240V), up to 120kW DC fast charging, and even beyond. PowerHydrant claims a 99% efficiency, on par with most hand-cable systems.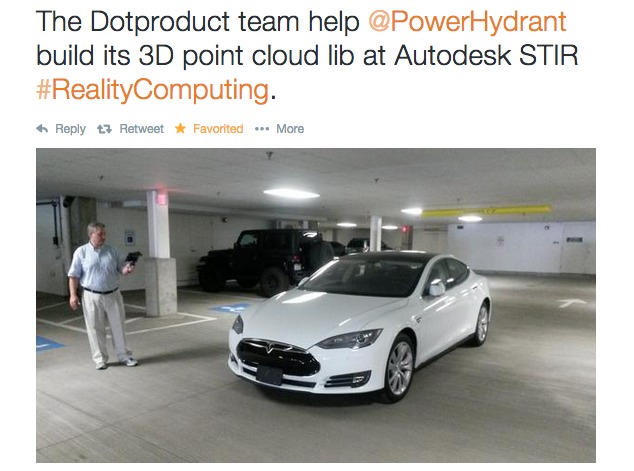 Using image sensors, PowerHydrant's robotic arm will connect to any and start charging without you having to touch a charging cable. The company is testing the system on their personal Model S test vehicle.
Using the latest 3D depth sensing technology, PowerHydrant constructed an actual point cloud representation of the Tesla Model S. Every nut, bolt and curvature of the vehicle is sensed by the PowerHydrant therefore letting the system know how to navigate around the virtual perimeter of the vehicle before engaging a proprietary plug port on the vehicle.
When asked about its safety in use, Kevin Leary, Founder and CEO of PowerHydrant, says:
"PowerHydrant is a friendly robot intended to work around and with people. No risk to the dog, kids or grandma … Like all well-designed systems, PowerHydrant well have other fail-safe mechanisms."

The Future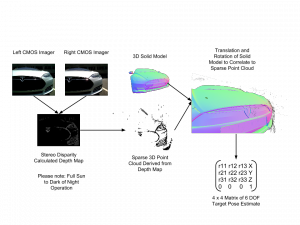 The thought of PowerHydrant introducing a universal charging solution for EVs should make it a serious contender in the world of efficient hands-free systems. We can also see how this universal hands-free system could come in handy as you pick up the kids from school and have to guide a herd of famished children home, while carrying dinner without the extra hassle of having to plug in the car. Mostly, we feel this simple solution offers an elegant design for apartment complexes and condos where parking space is at a premium. One arm feeds four electric car.
We will keep a close eye on PowerHydrant and see how the system will continue to make our EV life a little more convenient by removing the hassle of plugging in at the end of the day.
PowerHydrant