Since its debut from the shadows at the LA Auto Show last year, Rivian has been drumming up excitement for its brand of all-electric outdoor adventure vehicles, the R1T truck and R1S SUV. The outdoor adventure company now has its sights set on an appearance at the New York International Auto Show next week where the growing Rivian community and fan base will get an updated look at what's to come. With this event in mind, Rivian teased another fun photo of its R1T in social media, said to be on the way to New York with a "frunk full of snacks".
A public TV channel local to Rivian's Plymouth, Michigan facility, One Detroit, recently had an inside look at what the startup has in the works these days and interviewed founder RJ Scarange as well as few others on the team.
"To give customers a reason to pick a new type of vehicle from a new brand, we need to make something that's demonstrably better," Scarange told the interviewer in response to comments about Tesla's presence as a competitor and the uphill climb facing newcomers in the auto industry. Brian Gase, Chief Engineer at Rivian, expanded on how the company is addressing that goal.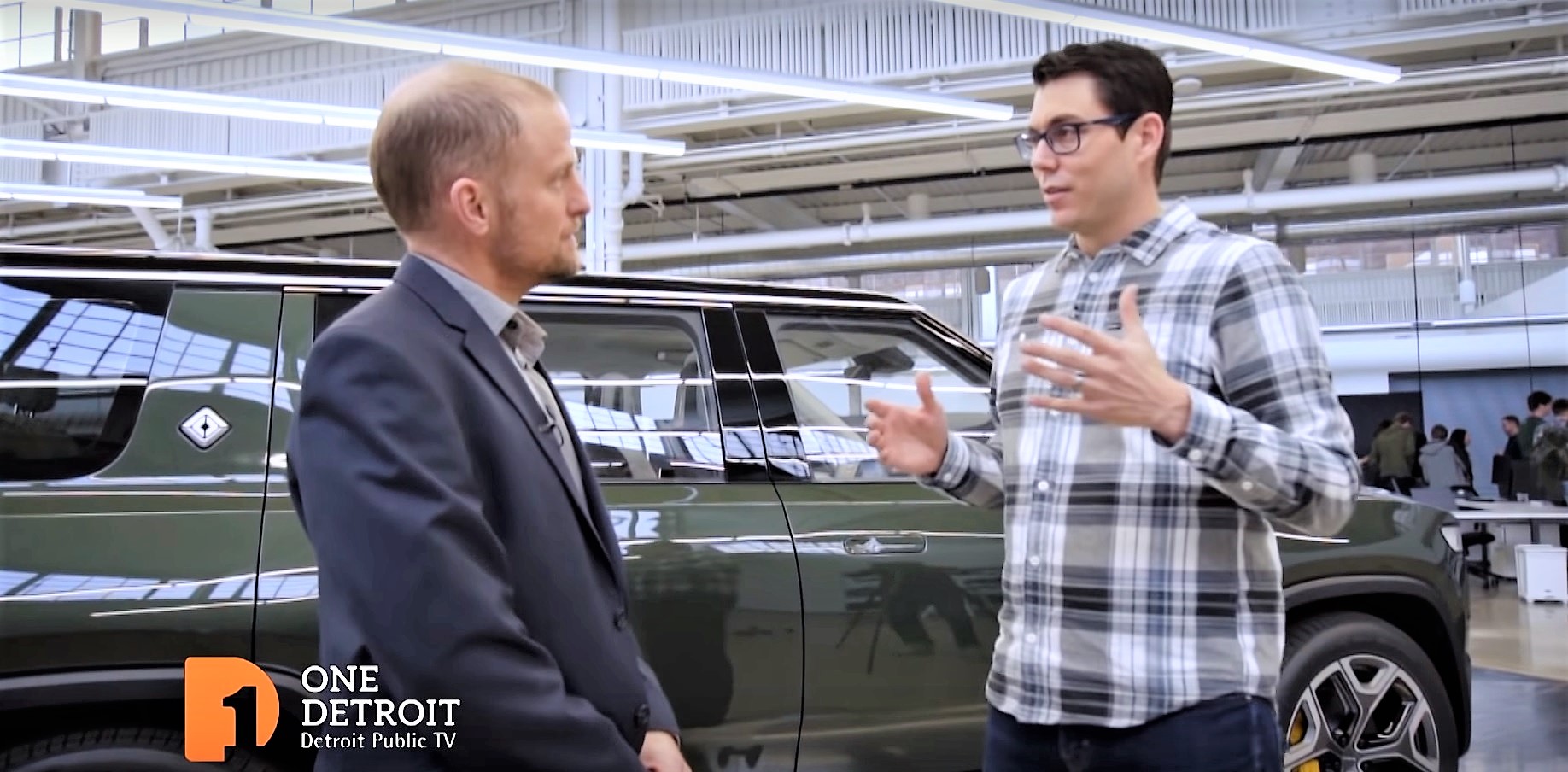 "We want to make sure this can do everything your truck can do. We can tow the 10,000 lbs, we can pull your trailer, we can go up a 100% grade hill because we want you to get out and have an adventure and go see the world," he said, also pointing to the small details Rivian gives attention to that add up to an overall unique, satisfying experience for an owner.
Gase said his favorite feature of the R1T is the truck's Gear Tunnel, an equipment storage space that runs the entire width of the pickup truck and is unique to Rivian's vehicles. Also, he pointed out that the indoor flashlights located inside Rivian car doors are powered by the same batteries that power the vehicles.
The Rivian R1T and R1S are full of compelling, somewhat "hidden" features that add up to a luxury adventure experience aimed at swaying customers over to the company's brand. Dual LiDAR, a suite of cameras, radar, ultrasonic sensors, and high-precision GPS technologies are already installed in the trucks and SUVs to allow for eventual Level 3 Self-Driving on highways. USB-C ports, 110V outlets, and an air compressor are also included in the R1T beds, all features which would be invaluable to outdoor enthusiasts on biking or camping trips. Combined with a 400+ mile battery range and innovative battery extension packs and modular components, Rivian's attention to detail seems set to take a very competitive edge against its future peers in the industry.
In a run-up to Rivian's appearance at the NY Auto Show, reservation holders were invited to attend a private viewing at a local auto club complete with cocktails and greetings by the company's executives and design team. The building excitement for the brand has since resulted in attendees being grouped into time slots for the viewing due to high attendance expectations. Although production of the R1T and R1S isn't expected to begin until 2020, the nascent Rivian community is responding well to the company's marketing efforts to date.
Watch One Detroit's inside look at Rivian's Plymouth facility below: