Rivian, the US-based electric vehicle startup making waves with its up-and-coming R1T pickup truck and R1S SUV, has announced its scheduled appearance at this year's New York International Auto Show. The event will take place at the Jacob Javits Convention Center throughout the week of April 19th-28th, during which time attendees will be able to get an in-person view of the vehicles looking to provide all-electric outdoor adventures. If the company's booth display is anything like its 2018 LA Auto Show debut, their sophisticated, luxury adventure vehicles will be eye candy for passers-by, especially for those in the outdoor lifestyle niche that Rivian hopes to convert into buyers.
Ahead of next year's first production, R1T and R1S reservation holders are being offered certain perks to bide their time. An exclusive invitation went out to Rivian's "preorder community" for private viewing and celebration prior to the NY Auto Show. Along with cocktails and hors d'oeuvres, reservation holders were promised a greeting by the company's CEO and founder, RJ Scaringe, as well as other designers and engineers involved directly with their R1T and R1S vehicles.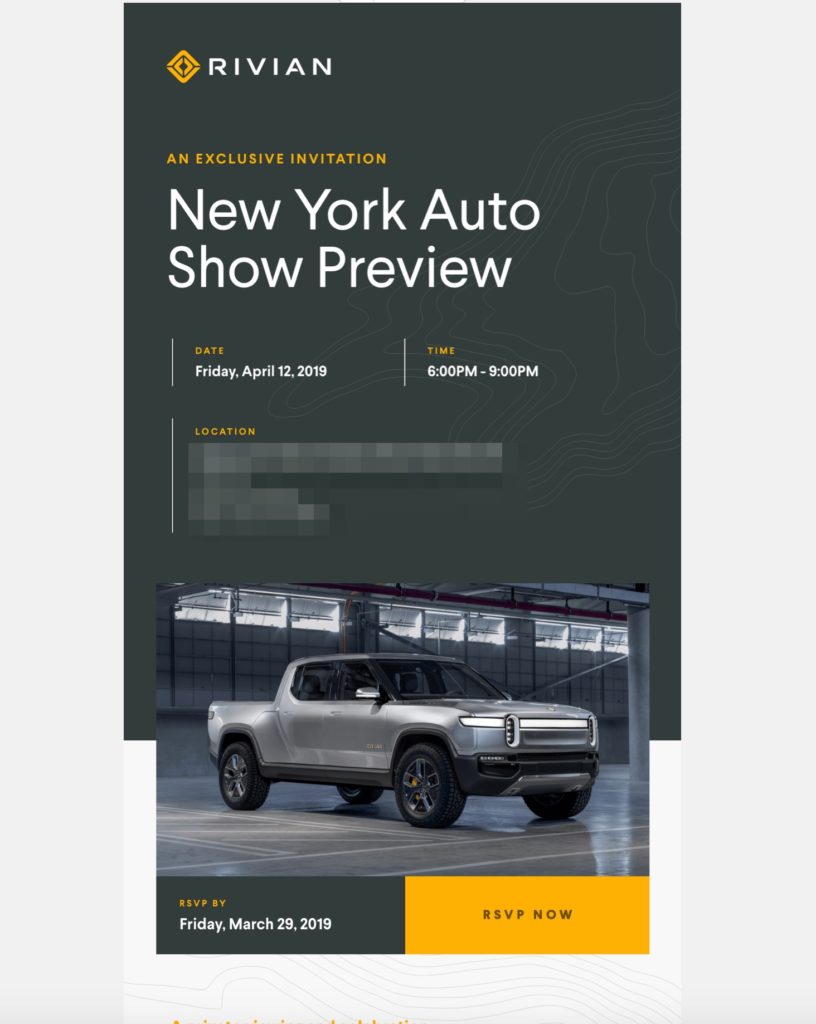 The Rivian R1T truck and R1S SUV are anticipated to have a range of up to 400 miles per charge with a quad-motor design enabling 0-60 acceleration in under 3 seconds. Of course, these specs will probably come with the higher-end variants of the vehicles, but the company's understanding and commitment to the outdoor adventure crowd is laudable. Competing with small, portable gas containers that can be carried along on any sort of middle-of-nowhere journey means some serious innovation is in order. A recent Rivian patent for an auxiliary battery, i.e., "digital jerry can", seems to have taken this very thing into account.
In 2017, New York governor Andrew Cuomo made a guest appearance at that year's NY Auto Show in a show of support for EV vehicles. The state was offering $55 million in rebates for new alternative energy vehicle buyers as well as investing $15 million to raise public awareness about EVs. Although Cuomo arrived at the event in the ICE-powered Dodge Challenger Demon, the message was apparently still received well enough.
Rivian's reservation holders are likely looking at a $69,000 base price to secure the purchase of their electric truck, $72,500 for their SUV, all before incentives, and vehicle production is expected to begin in 2020 at Rivian's factory located in Normal, Illinois. As per Tesla's business model, the higher-end variants of the company's trucks will come first, the lower end following about a year later. Pre-orders are still open on Rivian's official website.