Tesla Model S screen protectors designed for fingerprint, scratch and glare prevention.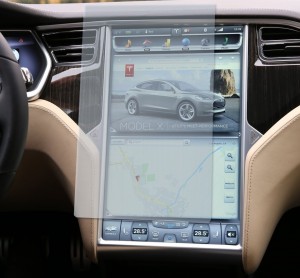 Protecting my Model S touchscreen through a screen protector film was one of those things that I've always thought about but it never went beyond that simply because I've gotten into the habit of leaving devices as-is.
I don't have a case for my iPhone nor do I have any screen protectors for my electronic devices so I figured I'd do the same with my 17″ Model S touchscreen. But a few recent experiences with the center display had me re-thinking that a screen protector might do some good.
Fingerprint Prevention
I love the 17″ touchscreen display on the Model S since every feature of my car is just a tap away. But the downside to that is fingerprints. I find myself wiping the screen on a daily basis using the cloth that Tesla conveniently provided in my efforts to rid the screen from smudges.
ALSO SEE: Tesla Model S Screen Cleaning Kit Review
While it's not the end of the world to have fingerprints on the center touchscreen, it sure does look a heck of a lot nicer when it's clean.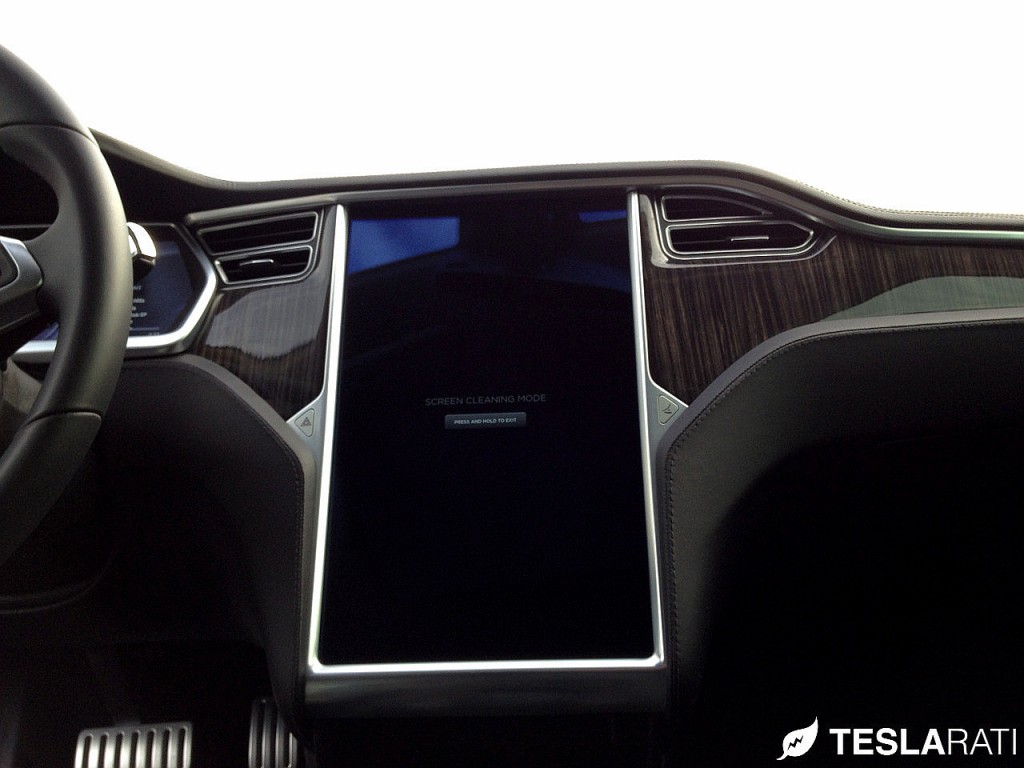 Scratch Protection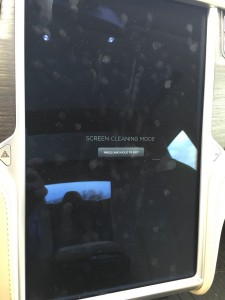 The 17″ touchscreen on the Model S is supposedly pretty scratch resistant but with any glass surface it's susceptible to developing scratches over time.
Applying similar techniques with washing your Model S, you'll want to ensure that dust and dirt stuck on the screen are not dragged across the display when cleaning.
That unfortunately is easier said than done especially since removing fingerprints essentially means you're grinding whatever is on the screen into the screen with your wipe cloth. End result? Tiny micro scratches that add up over time.
I had the misfortune of dropping my iPhone while I was waiting in my car for someone to arrive. It ended up bouncing off the 17″ display and left a small scratch which prompted me to start looking into a screen protector.
It also recently dawned on me that I'm replacing my phones and personal electronic devices every 2 years. So, in the back of my mind I always knew scratches and marks would be "fixed" in the form of a new device every time my cellular contract renews.
This isn't the case with my Model S. It's one thing to live with a nasty scratch for a year and until your contract is up, but it's another thing to have to wait 6 years or whenever you decide to trade in your Model S for a newer model.
Glare
Prior to delivery, I was somewhat concerned about screen glare and how it would impact me while driving. But after 20,000 miles of driving I'm happy to say that screen glare really hasn't been that much of an issue. Tesla has positioned and angled the screen perfectly so that glare is rarely a problem from the driver's seat. Passengers on the other hand will experience something entirely different.
Tesla Model S Screen Protectors
I decided to look into screen protectors for my Model S and came across Abstract Ocean's line of custom Model S screen protectors. I've primarily known them as the company that made the FobPocket but had no idea these were available. The site lists a variety of options which I found a bit confusing: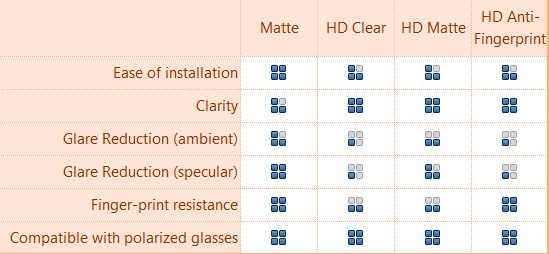 I decided to pick up a set of the HD Clear screen protector but ended up receiving both HD Clear and the Matte version. This gave me the perfect opportunity to see how they stacked up against one another.
For my tests I compared results of the touchscreen, after 1 week of use, with and without the screen protectors.
HD Clear Screen Protector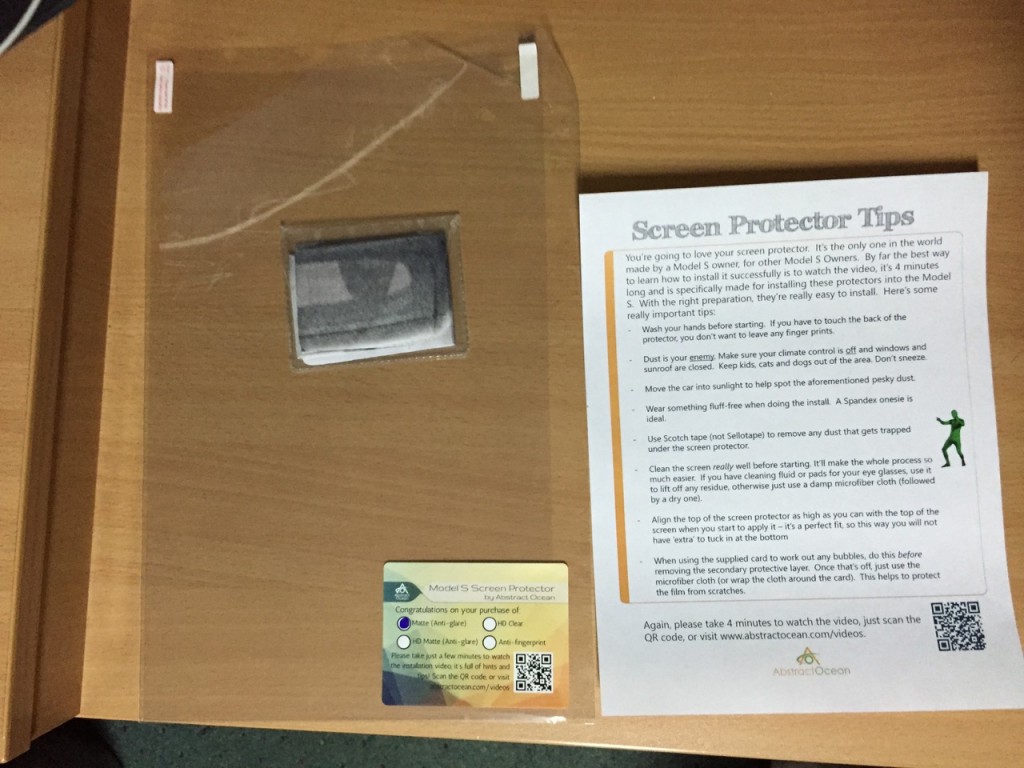 The HD Clear screen protector was the first one I installed. The protectors come in a round shipping tube and include installation instructions, the screen protector, a plastic applicator, and a screen wiping cloth.
I found the instructions to be very clear but just in case of confusion there's also a great installation video of the install process. One of the key points is to keep the area free of dust and ensure that no dust gets trapped beneath the screen protector. If you've ever applied a screen protector to a phone or tablet, think about doing that on a device that has a much larger surface area.
The screen protector comes with plastic covers on the front and back of the screen protector. You leave the front one on until you're all done but the back one you peel away slowly as you apply it. I found the fit and design to be really good. The only difficult part was doing it completely dust free.
Here are a few extra tips that I discovered since I had the opportunity to perform the install twice:
Have a few moist screen cleaning wipes handy in addition to the dry one that's provided.
Be very careful not to accidentally touch the sticky adhesive of the screen protector! I did this on my first install without even realizing it which ended up leaving a lasting impression.
Install carefully but also quick enough to minimize the amount of time the adhesive is exposed. It's really hard to pull that off on your first install so purchasing a twin pack might be a good idea. My second install was much better.
Use a flashlight to help inspect for air bubbles. You'll want to do this during the install.
Once the HD Clear protector is installed you can not even tell it's there. It felt and looked just like the naked screen and best of all you can't see the edges of the screen protector. No passengers that rode in the car even noticed I had added a screen protector.
The HD Clear is of great quality, looks natural and would definitely help with screen protection. The HD Clear is a little slightly less susceptible to fingerprints than the naked Model S touchscreen however the glare seemed to be about the same. The HD Clear worked well with both normal glasses and polarized sunglasses.
Matte Screen Protector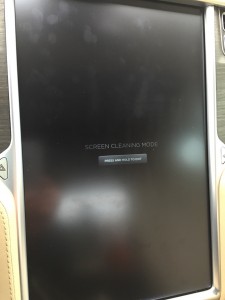 With the Matte screen protector in place, you can definitely tell there's something on the screen. While not as perfectly clear as the naked Model S touchscreen or the HD Clear protector, it still provides great clarity both during the day and night. It also worked well with both normal glasses and polarized sunglasses.
The Matte protector not only protects the screen but also helps with glare and fingerprints. The glare improvements are immediately noticeable and it does a great job of reducing the glare.
The fingerprint test went through the week long trial and while fingerprints are still there they're much more muted than with the naked screen or the HD Clear protector. I definitely liked the Matte protector better.
Abstract Ocean offers a couple of other versions including a HD Matte. But because they report worse performance with fingerprints and glare reduction than the plain Matte, my choice is to stick with the Matte screen protector. This is the one to get.
Overall I'd recommend getting a screen protector for your Model S as protection for the longer term. The better value seems to be the twin pack for $22.99 since you'll want a back up just in case your first installation may not be as perfect as you want it.