Tesla Model 3 is the perfect car in many ways but here are our picks for the Top 10 Model 3 accessories that can make it even better!
First, it's worth noting that while Teslarati receives an abundance of inquiries from vendors who seek product endorsement, all of the products in our pick are actual products that one of our several Model 3-owning team members have either purchased for personal use or had a favorable and memorable experience with!
Here's our Top 10 pick for Tesla Model 3 accessories!
Tesla Model 3 Ultra-bright LED Lighting Kit
The Tesla Model 3 is equipped with LED lights inside that many have said are just simply not bright enough, specifically in the trunk. That's why we chose this lighting kit from Abstract Ocean. These are the exact same size and easy to replace lights that are 5x brighter. Installation is as simple plug n' play helped by its precision fit.
Improve trunk visibility and elegantly highlight Model 3's beautiful interior with this Tesla Model 3 Ultra-Bright LED kit!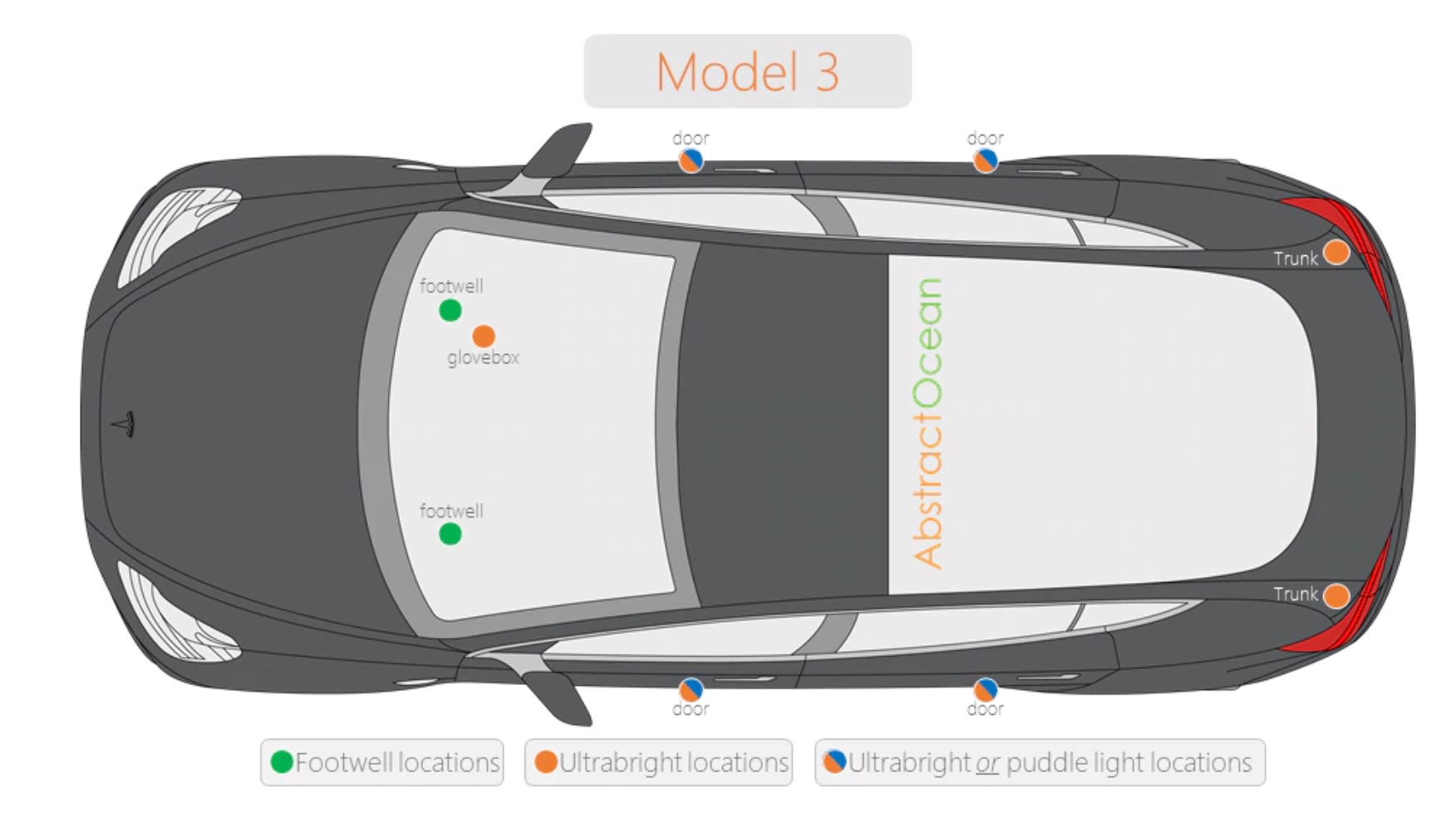 Tesla Tire Repair Kit
The Tesla Model 3, like the Model S and Model X, does not come with a spare tire and thus it's vitally important to carry a tire repair kit in case of a flat tire. Tesla's Tire Repair Kit includes a 12V air compressor that's useful for maintaining recommended tire pressures, which is especially useful when you face the dreaded low tire pressure warning indicators. Plus, maintaining proper tire pressure ensures maximum range!
The device has a built-in sensor that will electronically check for a secure connection between the sealant hose and tire valve to prevent accidental misuse of the kit.
We highly recommend the Tesla Tire Repair Kit for every Model 3, Model S, and Model X owner!

Scent Wedge
The new car smell that some people love is a result of chemical off-gassing in the car. Some people love it, and others can't wait to get rid of it! With no regular vents, traditional air fresheners tend to be overpowering and disrupt the minimal aesthetic of the car.  That's why we recommend ScentWedge. It is a discreet all-natural aroma for your Tesla Model 3. We like it because it stays hidden and adds a non-overpowering scent to your car that can be controlled with the intensity of your heater.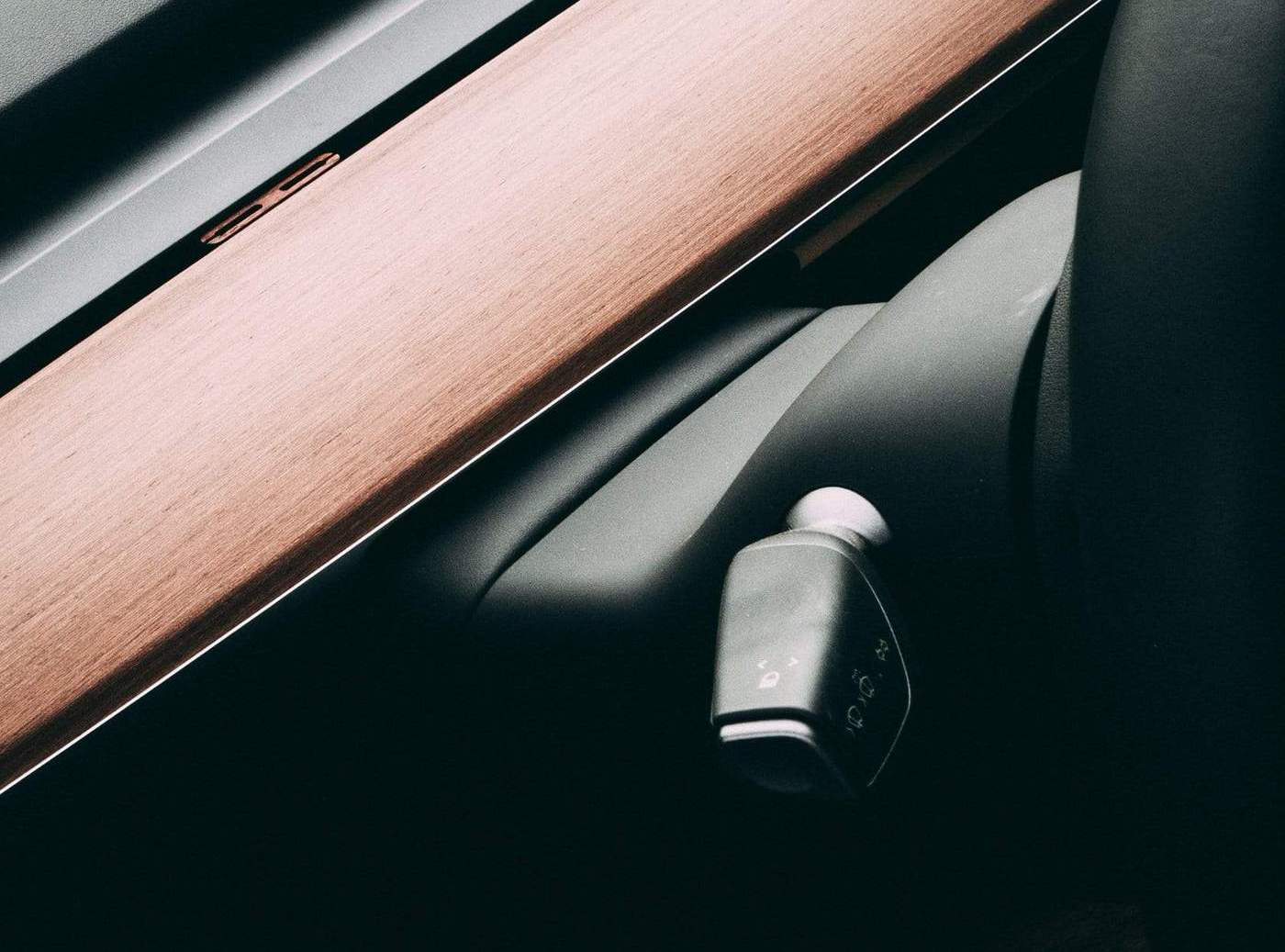 Tesla Model 3 Center Console Wrap by Tesla Bros  
Tesla Model 3's OEM center console is a glossy piano black finish.  Some like it but many despise it because it attracts a ton of lint, scratches, and fingerprints. Tesla Bro's makes a premium 3M vinyl wrap that's easy-to-apply and available in a variety of colors and finishes to suit your taste!
This Tesla Model 3 center console wrap is a quick, easy, and cheap way to give your car a unique look while protecting it at the same time.

Tesla Model 3 Seat Safety Lock by Drop Lock
With the rise of Tesla Model 3 break-ins via the rear quarter window, giving thieves access to the trunk, having a way to secure the back seat latch is the number one defense for the unattended intrusion. Tesla's Sentry Mode has helped capture footage that led to captures of criminals, but keeping your valuables safe in the trunk is arguably even more important.
Because of that, we recommend DROPLOCK. A simple, cheap and easy way to "lock" the back seats from being able to be folded down. This will protect your valuables in your trunk from being stolen and deter any would-be thieves.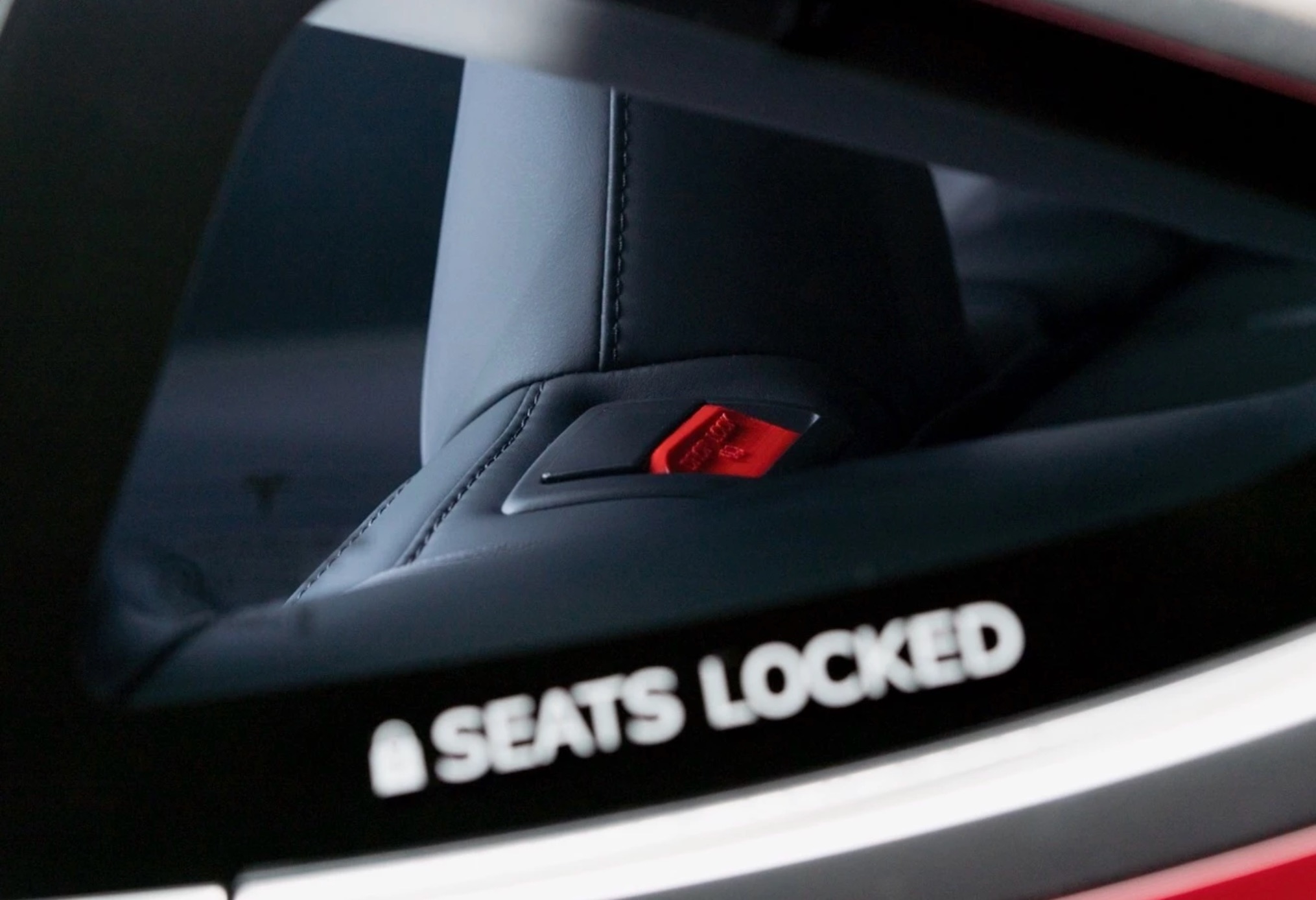 Tesla Model 3 Screen Protector
Model 3 has one large, amazing touch screen which is used to control just about everything in the car.  However, the downside to having everything touch-based is… well… they show fingerprints! Additionally, fingerprints combined with the reflective glass can make it difficult to clearly view the screen when in sunlight.
For those reasons, we recommend this popular Tesla Model 3 screen protector on Amazon that's popular with the Tesla community, easy to apply, and makes Model 3's touchscreen simple to see, any time of day.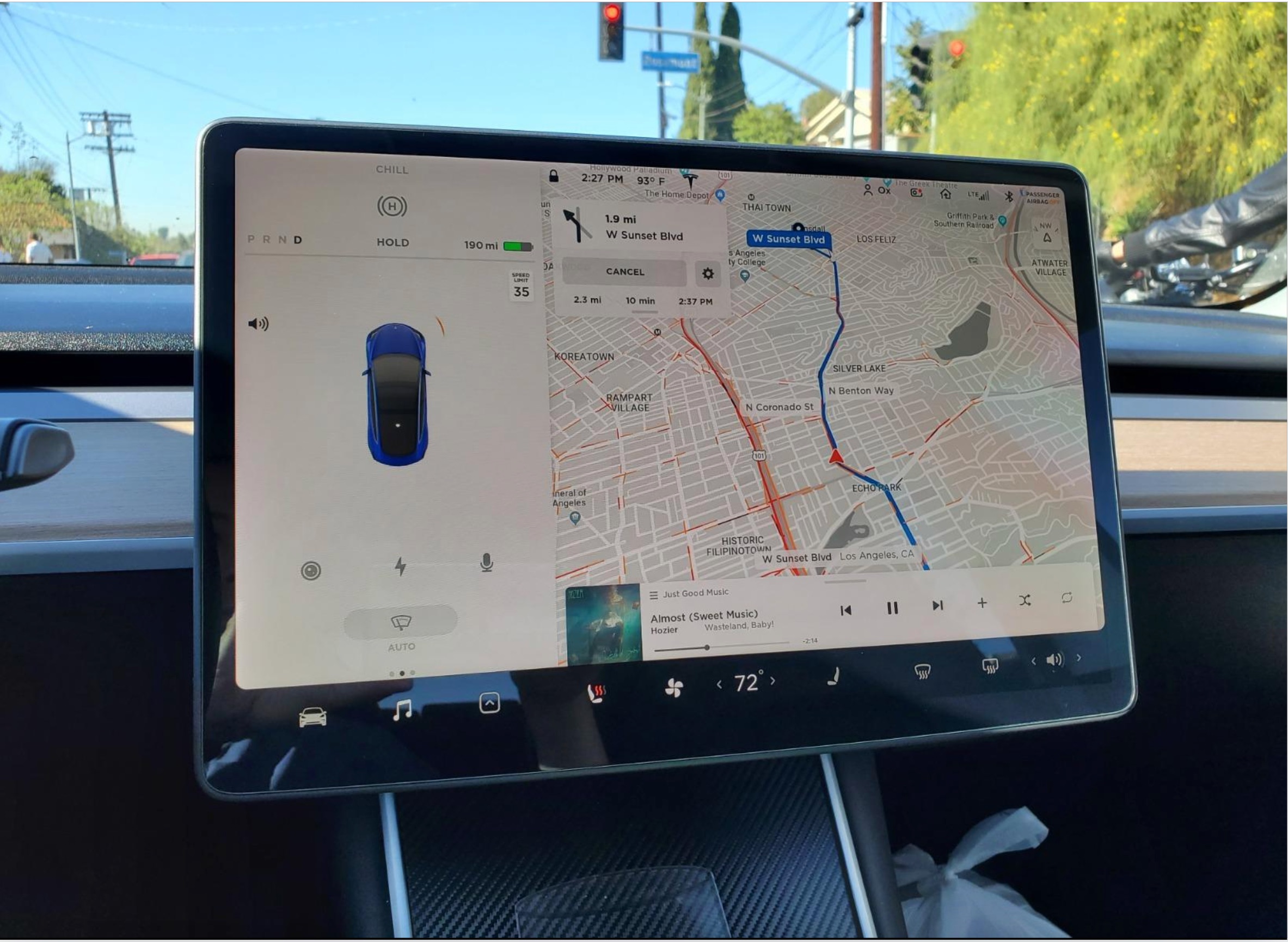 All-weather Tesla Model 3 Custom Fit Floor Mats
With the need for all-season protection from rain/snow/dirt and general everyday use, the Tesla owner's community has turned to this proven, all-weather floor mat. We recommend the 3D MAXpider Tesla Model 3 Custom Fit Floor Mats because of its anti-slip design, precision fit with a non-invasive look that blends with the Model 3 interior, and its affordable price point!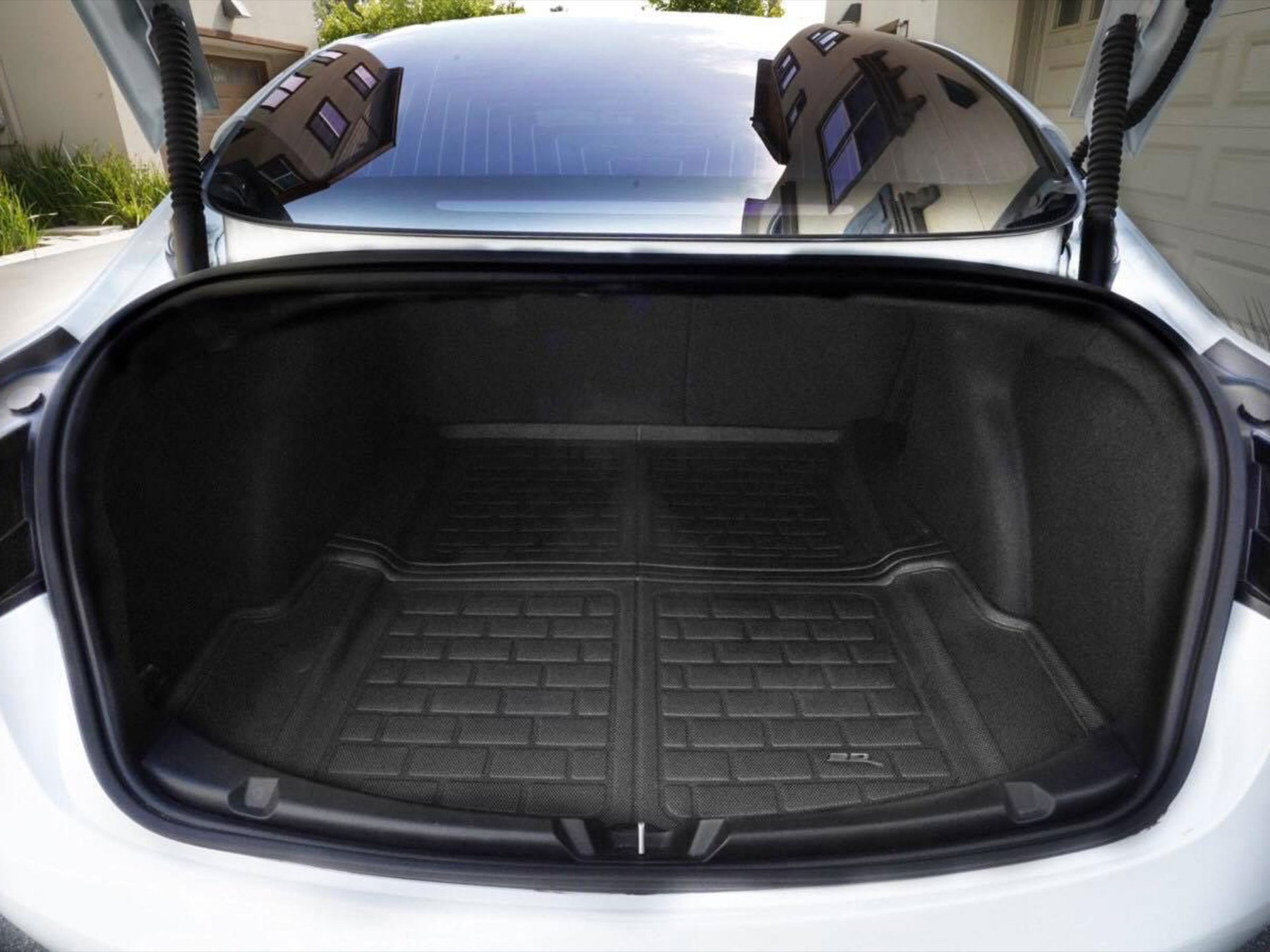 Tesla Model 3 License Plate Holder
In many states, there is a requirement for front license plates however Tesla's option is to drill a license plate holder onto the vehicle. Naturally, Tesla Model 3 owners wouldn't like the idea of sticking something to their new car and so enters The Bandit. This lightweight and durable license plate bracket is CNC-machined in California for a precision fit onto the bottom grill and doesn't touch the paint of the car.
Be it for a car show or washing your car, The Bandit's Tesla Model 3 license plate bracket can be easily secured and removed.

Tesla Model 3 Center Console Organizer
We get it. You love your stuff, but Tesla Model 3's minimalistic interior may not.
Without a good way to organize your belongings inside the Tesla Model 3 center console, many owners find their loose belongings clunking around inside the center console while being virtually impossible to find. It needs some organization.
This Tesla Model 3 Center Console Organizer brings additional functionality to the big, bucket-like openness of the factory console. Doing away with the need to reach down to the bottom of the center console, while fishing around aimlessly in an attempt to find something is a thing of the past.
That's why we like the Model 3 center console organizer. It's cheap; it's very functional and takes the frustration away from finding our favorite sunglasses and the FastTrak!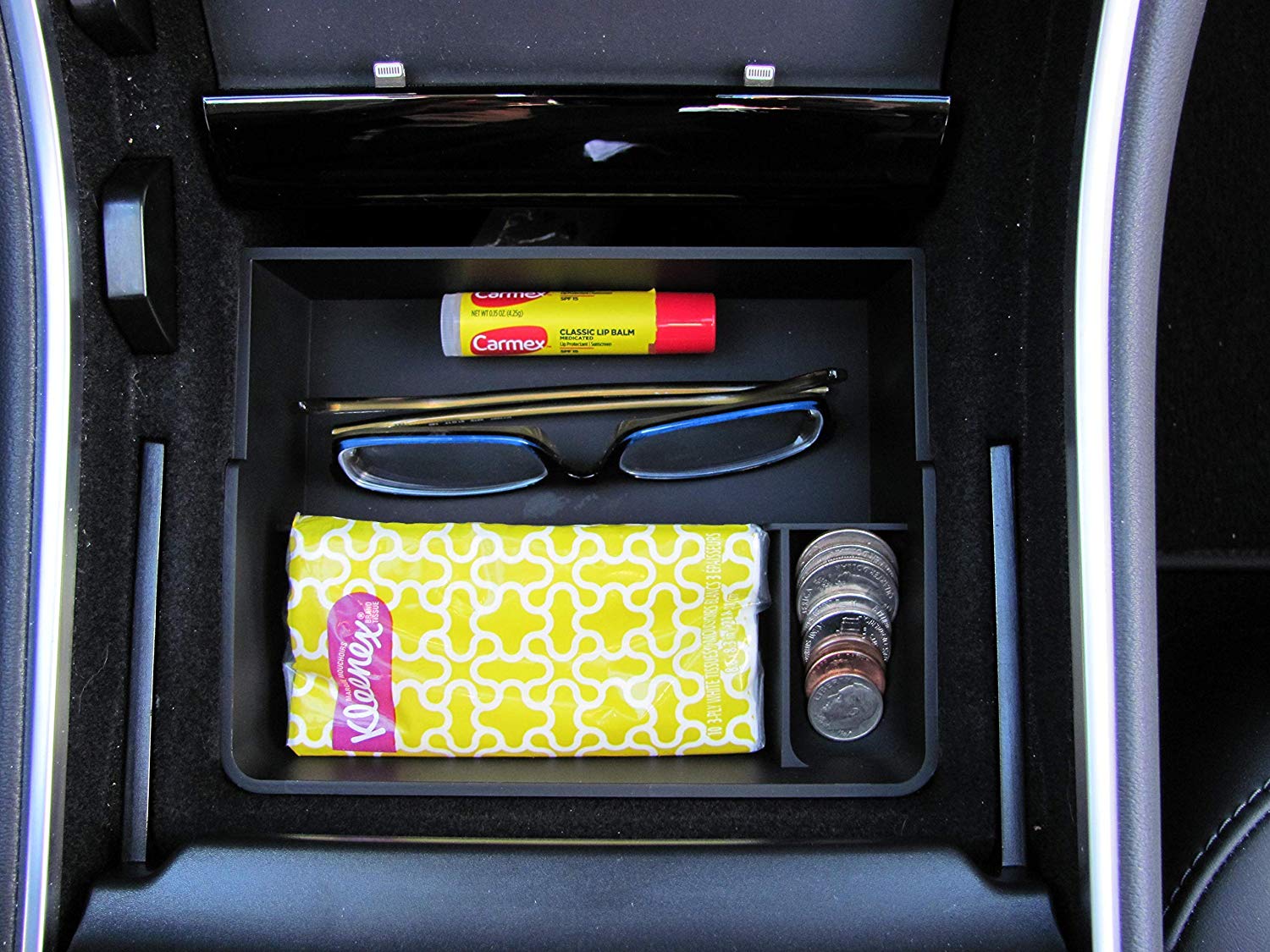 USB Drive for Model 3 TeslaCam and Sentry Mode
With safety and security in mind, the best part of the Tesla Model 3 is the built-in Sentry Mode Alarm system.  However, to make the most out of this we recommend getting a good USB drive so that the video footage can be recorded for you to view later.  The USB drive that we recommend is Sandisk iXpand Mini 128gb USB drive, which provides ample storage space for TeslaCam footage.
But, perhaps, our favorite feature of this USB stick is Sandisk's compatibility with the Sentry View app, giving Model 3 owners a way to quickly view the footage directly from their iPhones without needing to download the footage.