In the two months since SpaceX first debuted its Falcon 9 Block 5 rocket upgrade with a successful May 2018 launch and landing, the company has forged ahead with final Block 4 or older launch and two additional launches and recoveries of brand new Block 5 boosters, growing the fleet of flight-proven and thus flight-worthy rocket boosters to three.
Given the dramatic changes implemented in Block 5 and the pathfinder nature of these new boosters, SpaceX has spent much of the following time conducting tests and extensive analyses to verify new designs and new technology, ranging from teardowns to tests of specific components like landing legs on a recently-recovered East Coast booster.
Most prominently on that to-do list was a deep-dive teardown of inaugural Block 5 booster B1046, which was apparently completed within the last week or so – as evidenced by the sooty booster's appearance at SpaceX's Cape Canaveral Launch Complex 40 (LC-40) around July 24th. The purpose of that teardown was to give most of Falcon 9's many thousands of individual and critical components a thorough examination, particularly those parts most impacted and worn by launch, reentry, and landing. That most likely includes B1046's black octaweb and interstage thermal protection, its nine upgraded Merlin 1D engines, the "dance floor" heatshield at the rocket's base, and landing legs, among myriad other smaller aspects.
More recently (July 27 and 28), SpaceX technicians attempted and completed the first retraction of a Block 5 booster landing leg (B1047 in Port Canaveral, Florida), compared with the current practice of removing both the landing legs and booms before rotating the recovered rocket horizontal and transporting it to a nearby refurbishment facility. Briefly discussed by CEO Elon Musk, Block 5 includes a number of landing leg optimizations, intended to improve robustness, increase reliability, and significantly ease reuse.
"So essentially deploying the landing gear and stowing the landing gear is now a very easy thing to do [on Block 5 boosters], whereas previously it required several hours to re-stow the landing gear. Which can now be done with an actuator, pretty easily."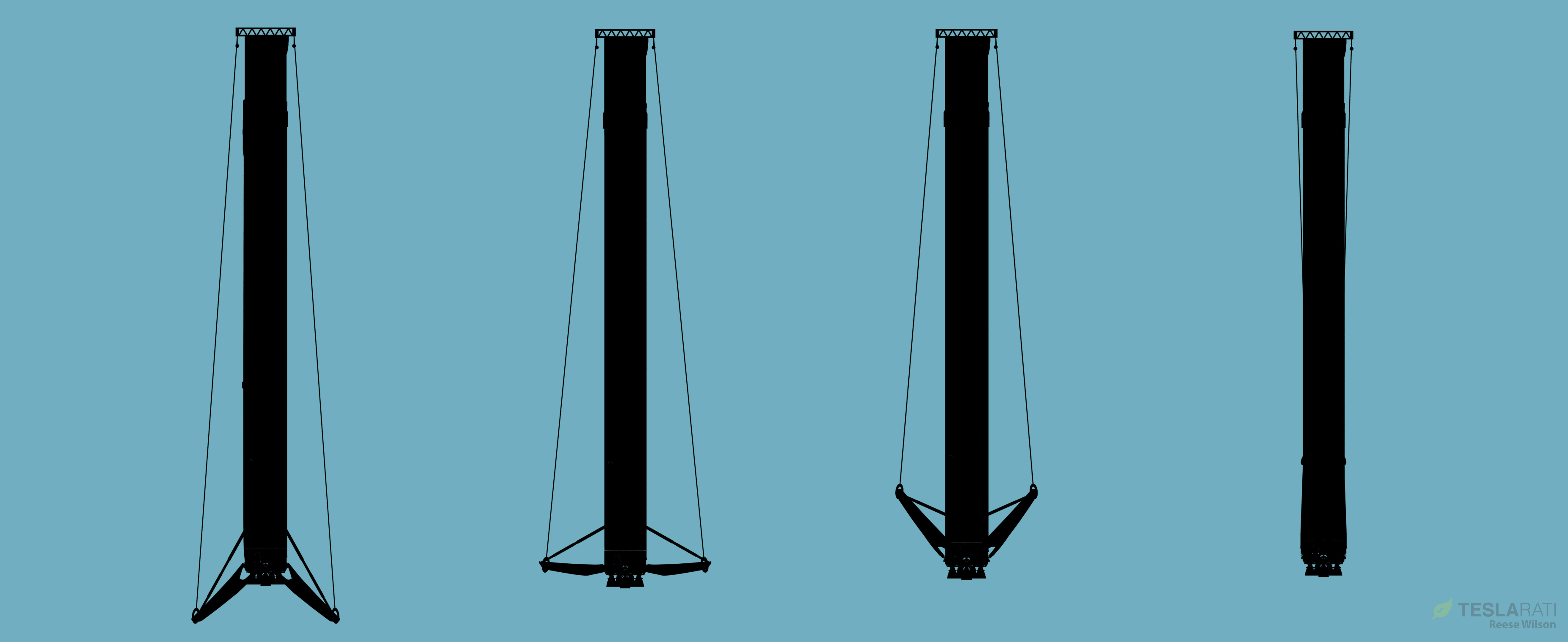 Given the fact that it took a full day to prepare for the retraction of the first leg and that the task appears to be accomplished with a fairly complex and manual lifting mechanism requiring several workers to function, it's possible that the retraction and leg hardware described by Musk is still undergoing some form of testing or production optimization before being added to flight hardware. Nevertheless, photographer and journalist Ken Kremer observed the retraction sequence from start to finish (movement-wise) and pegged it at around 40 minutes total to go from fully deployed to fully stowed.
4 shot sequence:1st time ever #Falcon9 landing leg retracted from recovered @SpaceX 1ststage booster-using cables & pulleys pulling left leg from cap apparatus on top, flush to side, techs assist.took 40min 7/27. #Block5 #Telstar19V launch.Cred:@ken_kremer https://t.co/G4fyocB13Q pic.twitter.com/RPbgT8LdKf

— Ken Kremer (@ken_kremer) July 27, 2018
In all fairness, truly rapid and near-automatic leg retraction would only be of value to SpaceX once the company needs to refly Falcon 9 with less than a week or two between launches, at which point spending a day or two carefully removing or stowing landing legs outweighs the cost of adding highly specific hardware useless during flight (and thus stealing mass that could otherwise be fuel for a gentler booster recovery or a higher payload orbit).
Keeping as much of that leg retraction hardware on the ground as possible thus makes a lot of sense in today's launch industry, where SpaceX simply has no material need for near-automatic, internally-actuated leg retraction on Falcon 9 (only necessary for extremely rapid turnaround). Still, if the company hopes to achieve Musk's 24-hour booster turnaround challenge by the end of 2019, SpaceX technicians and engineers will need to have a solution in place to retract Falcon 9's landing legs as quickly as practically possible – every minute will count for such a rapid reuse.
---
For prompt updates, on-the-ground perspectives, and unique glimpses of SpaceX's rocket recovery fleet (including fairing catcher Mr Steven) check out our brand new LaunchPad and LandingZone newsletters!