Update: Starhopper briefly ignited its single Raptor engine before a methane vent caught fire and the hover test was rapidly aborted. The prototype rocket does not appear to have left the ground, the fire is now out, and SpaceX is reportedly analyzing opportunities for another hover test attempt tonight (July 24th).

SpaceX's Starhopper aborts first free flight after igniting Raptor engine, catching fire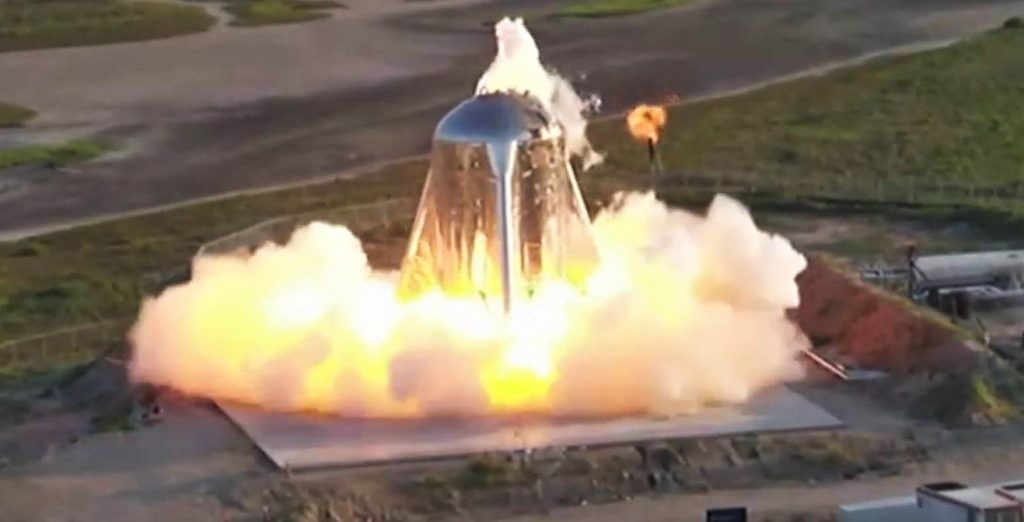 According to updates from NASASpaceflight.com, SpaceX's Starhopper prototype remains on track for a planned hover test debut later this evening (July 24th), set to become the first time the vehicle has flown in an untethered configuration.

Despite suffering a minor fireball on July 17th following a successful Raptor static fire test, Starhopper was quickly deemed to be unharmed and any minor damage suffered was easily repaired in a handful of days. Delayed from early to mid-July due to issues with Raptor SN05 that led to Raptor SN06 taking its place as the hover test engine of choice, SpaceX has nevertheless taken that and other hurdles in stride and is now ready for Starhopper's first untethered flight test.
According to tireless Boca Chica local Mary (username BocaChicaGal), Starhopper fueling began around 6:10 pm Central Time (CDT), just a few minutes behind SpaceX's nominal hover test schedule. Due to just how close local residents are to Starhopper's launch pad, the actual act of propellant loading – enabled by strong pumps – is easily audible to residents and visitors of Boca Chica Village.
Assuming Starhopper operations are similar to Falcon 9 and Falcon Heavy, the unusual Starship testbed and prototype should be ready for its inaugural untethered flight, hover, and divert test sometime between 7 pm and 8 pm CDT (5-6 pm PDT). According to CEO Elon Musk, the test will be livestreamed by SpaceX itself, on top of an array of unofficial livestreams hosted by local residents and visitors.
Check out Teslarati's newsletters for prompt updates, on-the-ground perspectives, and unique glimpses of SpaceX's rocket launch and recovery processes.