The next generation of Teslas could see battery-infused carbon fiber body panels.
Tesla Motors and Panasonic could be employing nanotechnology to increase battery power density, reduce recharge times, and increase battery shelf life on the next generation of Tesla vehicles, but one challenge it will continue to face is determining a means to efficiently scale energy storage while keeping weight to a minimum.
RELATED: Unplugged Performance Tesla Model S Carbon Fiber Body Kit
A recent unveiling by Swedish auto manufacturer, Volvo, provides a glimpse of what just may be the solution to bringing forth a lightweight and extended range electric vehicle. Volvo has spent the last few years on various electric vehicle projects, one of which they replaced the traditional steel body panels with carbon fiber composite panels infused with nano-batteries and supercapacitors.
In their experiment, Volvo replaced the hood, door panels and trunk lid on a S80 (curb weight: 3,700+ lbs) with rechargeable carbon fiber panels.  Each of the carbon fiber composite panels were infused with flexible supercapacitors capable of harnessing the energy generated through regenerative braking, and discharge back into the electric motor when needed.
The combined energy that the battery panels were able to store translated to a range of nearly 80 miles (130 km) and a 15%+ weight reduction assuming a portion of the structural components were to also be replaced with this new material. If we were to apply these same metrics to a hypothetical 85kWh Model S* with proprietary Tesla battery-infused carbon fiber body panels and sub assemblies, the end result would be a vehicle with roughly a 30% increase in range and a curb weight far below the beefy 4600+lbs.
* Tesla Model S
Curb weight: 3949 lbs
Range: 345 milesHorsepower: 488 hp
Editor's note: Numbers are purely speculative and based on many assumptions.  Horsepower measurement is derived from Original Curb Weight / New Weight-to-Power Ratio
[tabs slidertype="simple"] [tab]
[/tab]
[tab]
[/tab]
[tab]
[/tab]
[tab]
[/tab]
[tab]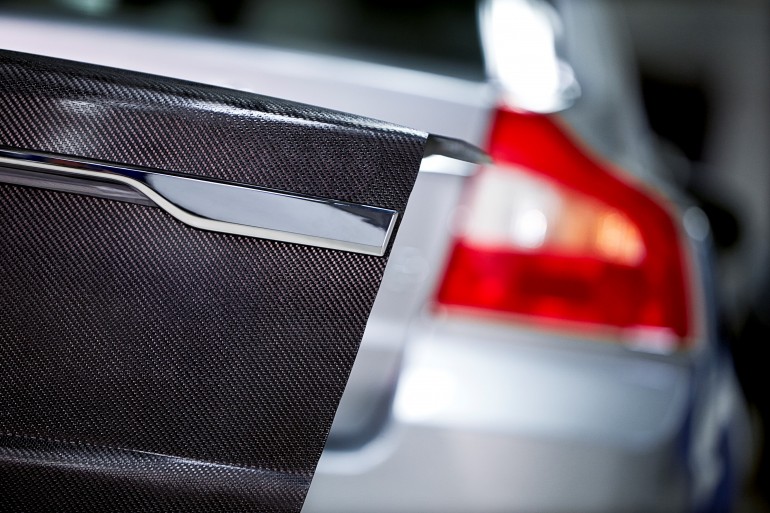 [/tab]
[/tabs]
Image Source: Volvo.com
Although the bearing strength by weight of carbon fiber composites can be significantly stronger than aluminum and steel, it's also much more brittle and provides little value in terms of energy assumption. Manufacturing quality carbon fiber goods continues to be a labor intensive and time-consuming process, thus driving price points that's generally outside the realm of most consumers.