Stock commentary site Tip Ranks looked at trades made by insiders in the last year and found Tesla CEO Elon Musk to be top dog on its leaderboard for biggest gains among most volatile trades in 2016, topping business magnate and investor Carl Icahn.
Tesla (Nasdaq: TSLA) stock receives more than its fair share of commentary from Wall Street which comes with strong short action due to the negative speculation around the company's industry-disrupting business model.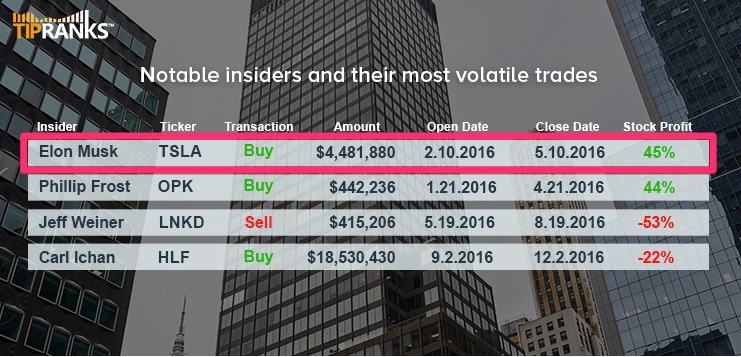 These factors combine to create a stock with lots of die hard fans, visionaries who support the bold ideas Musk brings to the table and day traders looking to cash in on the extreme volatility of an arguably over inflated stock value based on future potential.
Looking at some of the more tactical trades, Tip Ranks noticed a trade by Musk where he bought at the ultimate low point of TSLA stock last year when the stock tanked on negative speculation prior to the Model 3 reveal. The stock would balloon after news of unprecedented reservations numbers for Model 3.
The stock soared on news of the reservations, eventually hitting $265 in April. Musk rode the roller coaster and:
"made a whopping 45% profit on his purchase of $4.4 million worth of Tesla stock in February last year. Elon Musk has a 63% success rate and incredible 122.7% average return." – Tip Ranks
Not bad for an investment in something he fully believes in, is fully committed to and has some insights in what's coming down the pipes for.
Disclaimer: I own TSLA stock but have no buying or selling activity planned in the next 72 hours.