When Elon Musk posted his Master Plan, Part Deux back in 2016, he highlighted that solar solutions like the Solar Roof and Powerwall could smoothly integrate energy generation and storage. Over the years, Musk has also noted that solar panels are essentially "money printers" if homeowners are able to sell their energy back to the grid.
With a Virtual Power Plant, such a scenario is definitely possible. And for California-based Powerwall owner Mark, his compensation for his home's participation in several Virtual Power Plant events last year allowed him to earn over $500. That's more than $500 gained while the house's solar panels were just gathering energy from the sun and storing it in battery storage units. 
As shared by the Powerwall owner with Teslarati, he recently received an email from Tesla stating that he would be receiving $575 in compensation for his participation in several Virtual Power Plant events last year. Overall, the homeowner participated in 10 VPP events. His Powerwall batteries discharged a total of 297.1 kWh of energy back to the grid. 
Following is Tesla's message.
Hi Mark, 
Thank you for participating in the California Emergency Load Reduction program through the Tesla Virtual Power Plant. 
By supporting the grid with your Powerwall in 2022, you earned $574.77. Your payment has been mailed to you at the address associated with your Tesla Account. To learn more about program participation, incentive payments and how to configure your system for the coming season, visit our Support page. 
Best regards,
The Tesla Team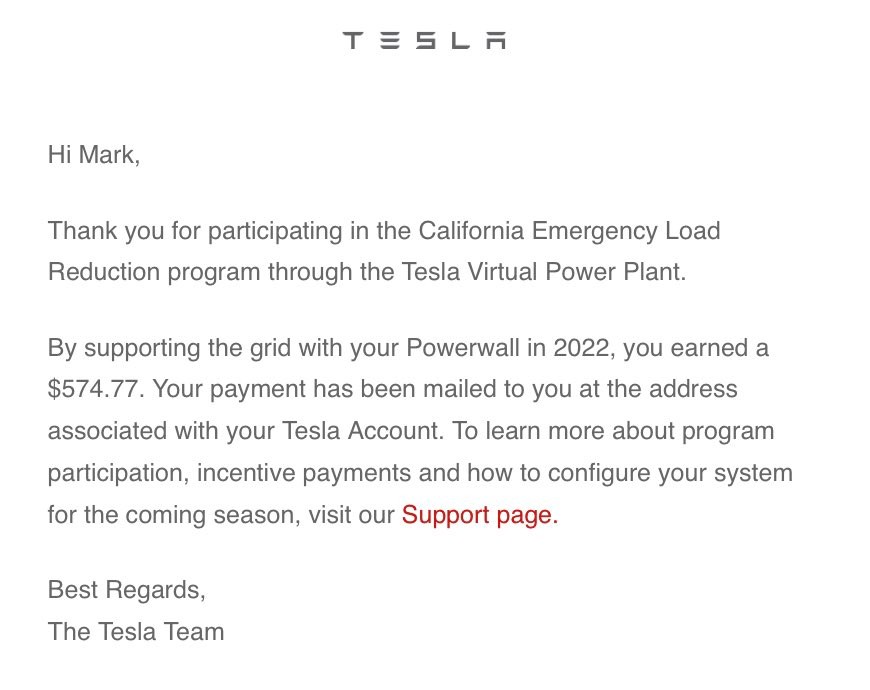 The Tesla Powerwall owner's experience proves that Elon Musk's comments about energy storage devices being capable of providing homeowners with monetary compensation are accurate. Such experiences could also encourage other homeowners who have solar panels and Powerwall batteries to participate in the VPP program.
A Virtual Power Plant is comprised of homes equipped with solar panels and energy storage devices. The homes are interconnected and function like a peaker plant, providing backup energy to the grid when needed. Tesla has been touting the benefits of VPPs over the years, with the company launching a pilot program in California in 2021. This program was expanded last year, and later on, Powerwall owners were compensated $2 for every kWh sent to the grid. 
Don't hesitate to contact us with news tips. Just send a message to simon@teslarati.com to give us a heads up.