It's the final day of 2022, and Tesla is still hard at work delivering as many vehicles as it can. The company has initiated a number of efforts to boost its numbers, from $7,500 discounts for new inventory units to free 10,000 miles of Supercharging for the Model S and Model X. Needless to say, Tesla is pushing hard to end the fourth quarter on a strong note. 
Amidst these efforts, Tesla VP of Investor Relations Martin Viecha has sent a message featuring Tesla's latest company-compiled delivery consensus. As per the estimates, which were from 24 sell-side analysts, Tesla would likely deliver about 417,957 vehicles in Q4 2022, comprised of 19,211 Model S and Model X and 396,147 Model 3 and Model Y. 
The analysts also estimated that Tesla could deliver 1,325,161 vehicles in 2022, comprised of 68,726 Model S and Model X, 1,254,935 Model 3 and Model Y, and 11 "other" vehicles, which likely corresponds to the Semi, Tesla's Class 8 all-electric truck whose first deliveries were held at the beginning of December.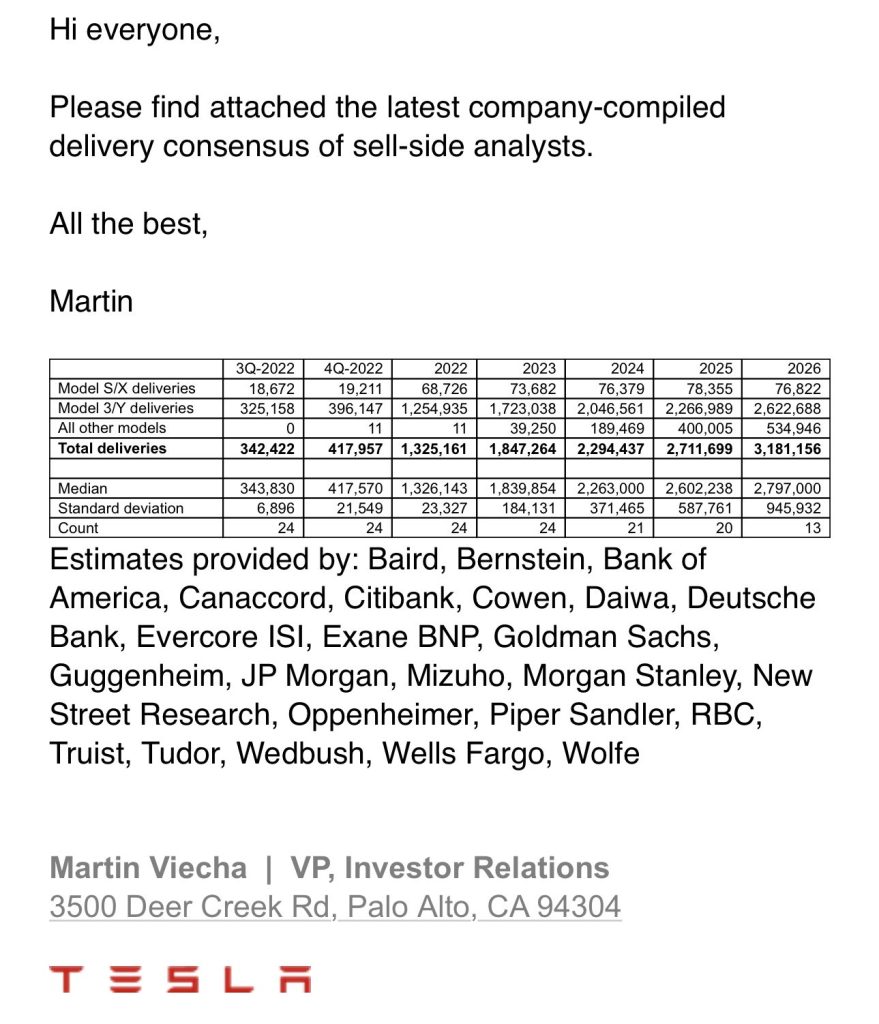 While the figures provided by the analysts seem quite feasible for the fourth quarter, the figures estimated for Tesla's models outside its current S3XY lineup in the coming years seem extremely conservative. Tesla is expected to release the Cybertruck next year while ramping the production of the Semi, and the company is also expected to launch a more affordable electric car in the future. Elon Musk has hinted at a dedicated, "futuristic" vehicle that's specifically designed for Robotaxi services and a "highly configurable" Robovan that can carry a lot of people as well.
Despite this, the analysts recently polled by Tesla expect the company's vehicles outside the Model S, Model 3, Model X, and Model Y to only see 534,946 deliveries in 2026, four years from now. This seems conservative especially if Tesla manages to start the production and deliveries of its affordable EV by then. Elon Musk, after all, has suggested previously that Tesla's affordable car would exceed the Model 3 and Model Y's output. Its platform would also likely cost about half of the Model 3 and Model Y. 
Considering the addition of Tesla's affordable car, the Semi and Cybertruck's ramp, and the potential launch of the Robotaxi and Robovan, there seems to be a good chance that Tesla would be able to deliver far more than 534,946 vehicles outside the S3XY line in 2026. This would likely be the case if Tesla would really be pursuing its goal of 20 million vehicles per year by the end of the decade.
Don't hesitate to contact us with news tips. Just send a message to simon@teslarati.com to give us a heads up.