It appears that Tesla is doing what it can to ensure that it can sell as many Model 3 sedans as possible before the end of the quarter. With roughly two weeks left in Q2, the electric vehicle maker has rolled out a new incentive for customers of Model 3 inventory units — free Supercharging.
As indicated on Tesla's inventory page for the Model 3 sedan in North America, customers who purchase and take delivery of an inventory unit between June 14 and June 30, 2023 are able to receive three months of unlimited free Supercharging. Used inventory Model 3 units, as well as vehicles that are part of business orders, are not included in the promotion.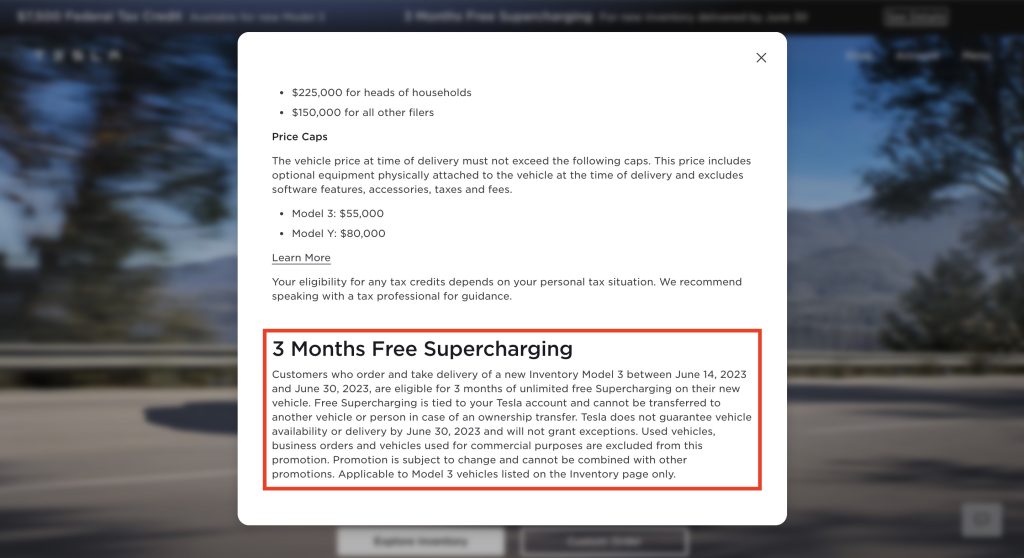 Considering the limited duration of the Model 3's free Supercharging promotion, EV enthusiasts are speculating that the initiative may be a way for Tesla to clear out its inventory of the vehicle before the release of the highly anticipated Project Highland update. Project Highland is expected to introduce several key changes to the Model 3 sedan like a revamped exterior and interior. It's also expected to be more cost-efficient to produce. 
Three months of free Supercharging could be valuable to electric vehicle owners, especially among those who tend to travel a lot. For regular customers, however, a three-month free Supercharging perk may not be enough of an incentive to get a Model 3 inventory unit now. This may be especially true for some would-be car buyers who are willing to wait for the rollout of the Model 3's "Project Highland" update.
The Tesla Model 3 may be eclipsed by the Model Y crossover in sales today, but the vehicle is truly the electric car that brought EVs to the mainstream auto market. Its sales has also been fairly consistent despite the presence of its crossover cousin. With its Project Highland update, however, the Model 3 could very well see a substantial resurgence in sales. 
Don't hesitate to contact us with news tips. Just send a message to simon@teslarati.com to give us a heads up.