The Audi-e-tron, once dubbed by news outlets as a potential "Tesla Killer" or "Tesla Fighter" recently received its first impressions review from Consumer Reports. Reviewers from the organization proved impressed with the all-electric SUV, noting that the vehicle "takes charge among new EVs."
Consumer Reports' reviewers were particularly impressed with the Audi e-tron's luxurious amenities such as its high-quality interior and its quietness at highway speeds. This is quite notable, as cabin noise was a point of improvement given to the Tesla Model 3 during the electric sedan's first impressions review back in February 2018.
The organization also praised the e-tron's two-screen interface, particularly the SUV's dedicated screen for its climate system. The displays' haptic feedback, which simulates the feeling of pressing a physical button, also got the approval of CR's reviewers. Nevertheless, reviewers did point out that some of the technology in the e-tron was "needlessly complicated," as shown in its gear selector, which was not intuitive at all.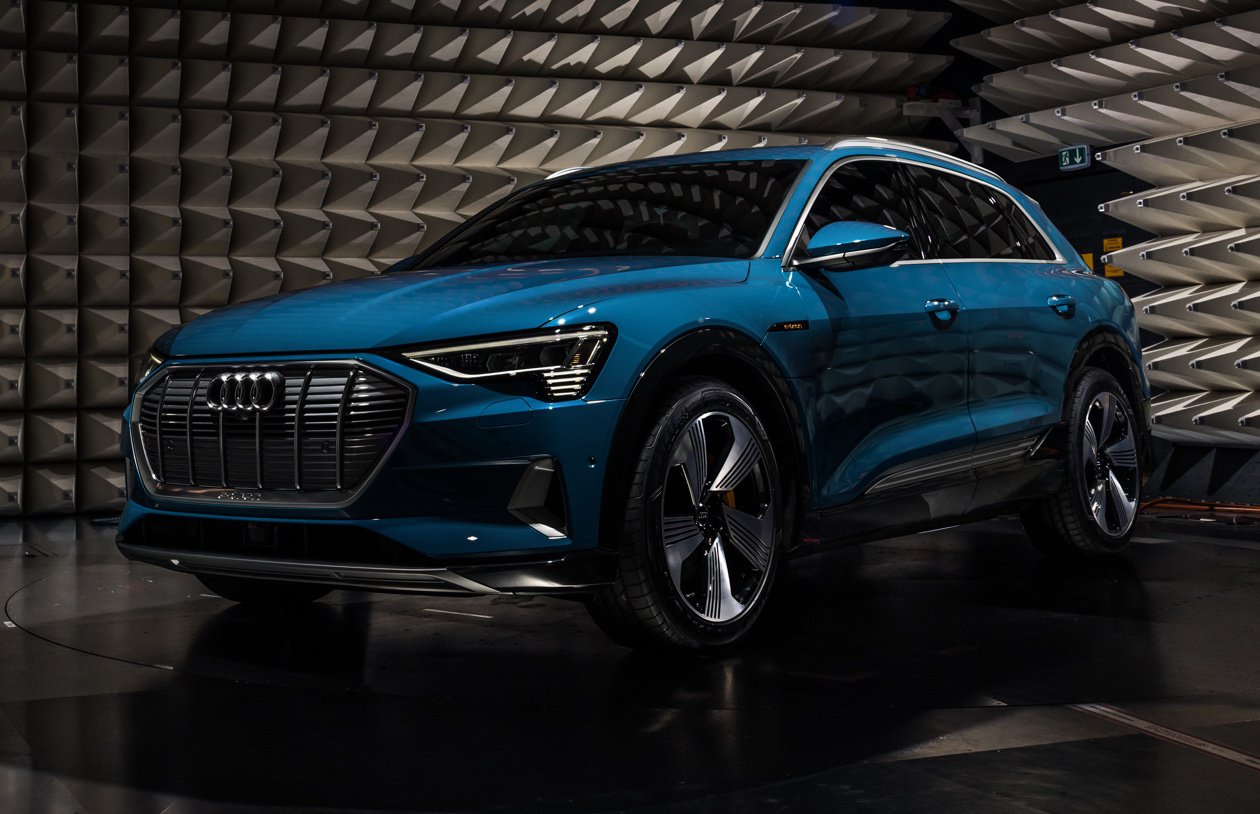 Quite interestingly, the e-tron's rather leisurely acceleration, which was less aggressive than other electric cars such as the Model 3, was dubbed as "appropriate" considering the SUV's luxury segment. "Unlike some other EVs we've recently tested, the E-Tron doesn't lunge off from a stop; it has a more leisurely rollout. That's appropriate for a luxury vehicle… On the plus side, there is no spinning of wheels that we have experienced in some other EVs… Once the E-Tron is moving, drivers get smooth and effortless power on demand, at any speed," Consumer Reports noted.
Considering that the organization has only conducted an initial review of the vehicle, the e-tron's fast-charging capabilities were not tested. Nevertheless, the organization was optimistic about the vehicle overall, stating that the e-tron has an "air of maturity that exudes quality, and it's likely because it comes from an established luxury automaker." Until more tests are conducted, at least, it appears that CR perceives the Audi e-tron as a strong competitor in the growing premium EV segment.
While it is understandable for the organization to not include more details about the e-tron, it is quite interesting to see no mention of the challenges that Audi has and is reportedly facing in bringing the vehicle to market. Currently, reports from reservation holders in Norway have indicated that e-tron deliveries are still delayed, and all units that have been sold so far are presently being recalled due to a fire risk. These details were missing in Consumer Reports' initial review.
It should be noted that unlike the e-tron, Consumer Reports' first impressions review of the Model 3 included notable sections on the vehicle's points for improvement, particularly in terms of references to Tesla's then-ongoing production issues. "Hype has surrounded this car since Tesla CEO Elon Musk first announced it about two years ago, with hundreds of thousands of shoppers placing $1,000 deposits within days. But many of those prospective buyers have had their patience tried, since the Model 3 rollout has been plagued by Tesla's production headaches and delays," the organization wrote in its first impressions review last year.
Tesla and Consumer Reports have had a mixed relationship over the years. Take the Model 3, for instance. The organization initially opted to not give the vehicle a "Recommended" rating due to its braking distance, but after Tesla rolled out a software update to address the issue, CR updated its score for the electric car. This February, the organization changed its tone once more, removing the Model 3's "Recommended" rating after it aggregated reports from owners that listed complaints about issues such as fit and finish. Tesla, for its part, noted that it had already addressed the customer complaints that were aggregated by the organization.