Update: Bloomberg updated its ratings recently, making the Lucid Air Dream Edition the Greenest EV on the market, followed by the Tesla Model 3 Long Range. Now, the Lucid Air has a greenpower rating of 71.1/100, while the Tesla Model 3 Long Range received a 66.7/100 rating. The Lucid Air also received the highest rating for charge speed and range.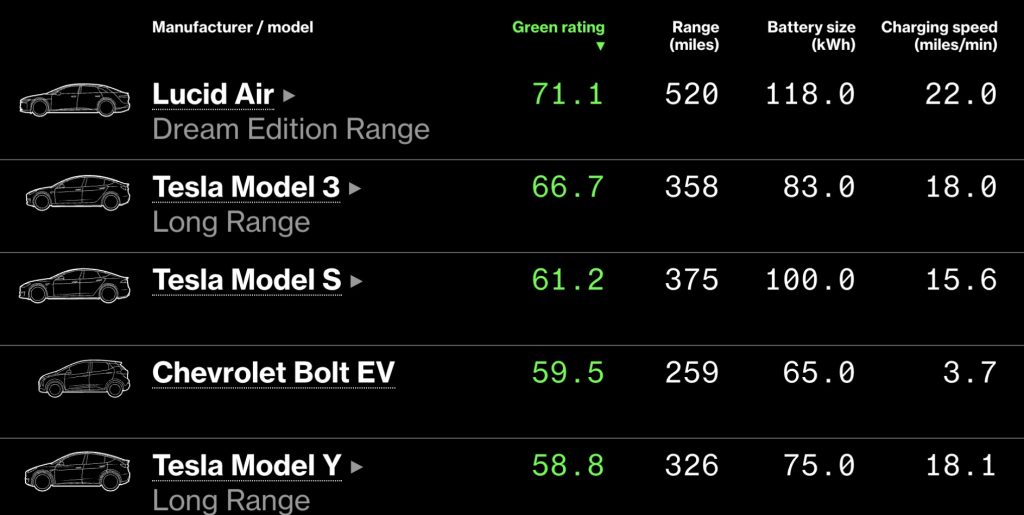 The Tesla Model 3 Long Range was rated the greenest EV in the US battery electric vehicle market by Bloomberg Green's Electric Car Ratings. The Lucid Air followed close behind, coming in second place in the ratings.
Bloomberg bases the ratings on the driving economy and battery size of the vehicles. Driving economy makes up 70% of the score, while battery size makes up 30%.
The Tesla Model 3 Long Range topped the charts with a 74.2/100 "greenpower" rating. It has an EPA range of 358 miles. The Model 3 LR has a battery size of 83.0 kWh and a charging speed of 18.0 miles/minute.
Meanwhile, the Lucid Air ranked second in the ratings with 70.5/100 greenpower. It's interesting that the Air ranked second despite having the largest battery of 112 kWh among all the cars that made it to the list. Lucid's vehicle also has a more range than the Model 3 LR at 451 miles versus Tesla's 358 miles. However, the Air's charging speed is higher at 20.1 miles per minute.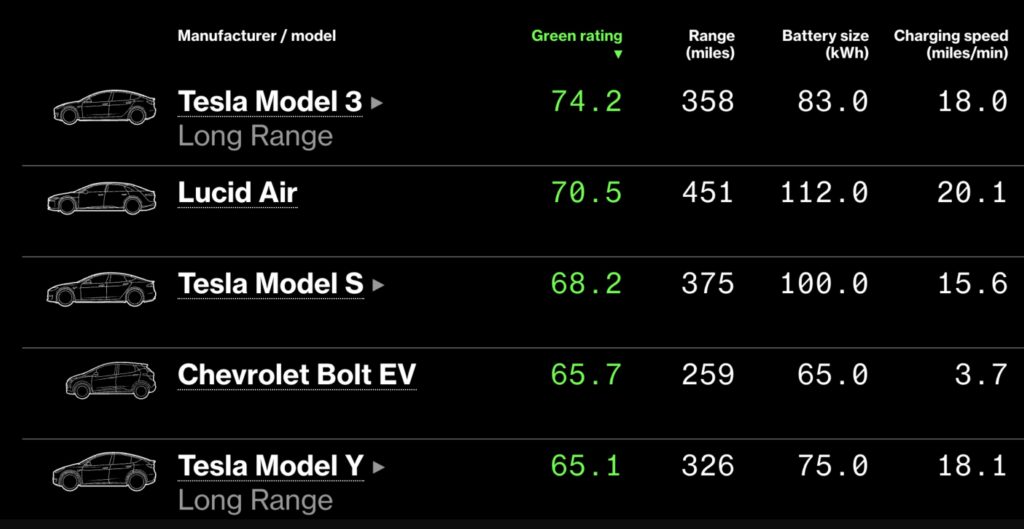 The ratings also revealed why Tesla still leads the EV market by a mile. Besides the Tesla Model 3, the Model S and Model Y Long Range also made Bloomberg's top five greenest EVs in the US market.
The Tesla Model S came in third place with 68.2/100 greenpower, while the Tesla Model Y Long Range placed last with a 65.1/100 rating. The Chevrolet Bolt EV took fourth place, barely beating the Model Y Long range with a greenpower rating of 65.7/100.
Soon, most of the Model Y units Tesla delivers will be equipped with the company's structural battery pack using 4680 cells. It would be interesting to see how the Model Y ranks when equipped with 4680 cells.
The Teslarati team would appreciate hearing from you. If you have any tips, contact me at maria@teslarati.com or via Twitter @Writer_01001101.