After the Model 3 lead the charge in surpassing 40,000 total Tesla registrations in Norway in June this year, the Standard Range Plus variant is finally arriving in the country. Registration statistics tracked by Norwegian website Teslastats.no revealed an initial count of 26 Model 3 SR+ delivered to their new owners thus far this month. As with other Tesla Model 3 variants in Norway, that number is expected to climb rapidly as more shipments arrive.
Nearly 11,000 Tesla Model 3 vehicles are now registered in Norway, which is over half of the number of Model S registered (over 20,000) and fast approaching the number of Model X (around 12,000). Tesla ownership is contributing to the increase in zero emissions vehicles (ZEV) overall in the country. Around 52% more ZEVs were registered in July 2019 over July 2018, according to the Norwegian Road Traffic Information Council. Additionally, ZEVs made up about 38% of passenger car sales in July 2019, all of which were battery-electric only.

Tesla's popularity in Norway isn't surprising given the country's commitment to and aggressive policies in support of clean energy vehicles. ZEVs represent over 35% of Norway's total auto market share, altogether representing an intended outcome of their commitment to a carbon neutral economy that bans fossil fuel cars by 2025. A system of tolls, fees, and taxes favoring electric vehicles are currently in effect.
Along with sharing a similar energy vision with Tesla, Norway's enthusiasm for the brand has roots in its advantages for drivers in the region overall. Norwegian winters are aptly handled by the technology in Tesla vehicles such as exceptional handling in cold weather thanks to enhanced traction provided by digital torque control in the front and rear wheels. Tesla proudly puts this capability on display annually in its Winter Experience events.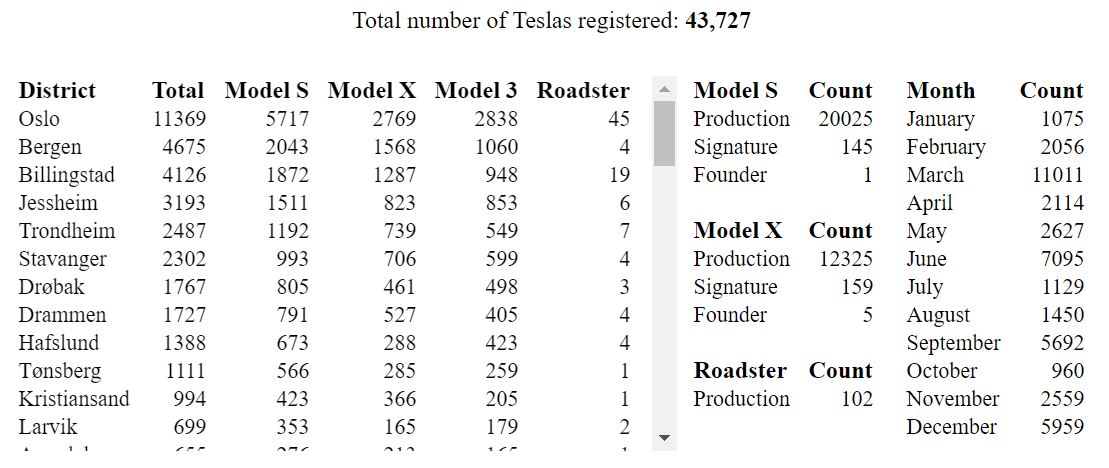 The increased range of the Model 3 Standard Range Plus will also be of great benefit to Norwegian drivers. The country's beautiful and idyllic landscapes make for great road trips, and extra mileage on their electric cars means more time enjoying the sights and less time at the Supercharger. Of course, Supercharging isn't really much of a chore anymore thanks to the latest games and features to arrive in over-the-air updates, including the ability to stream movies.