Coincidentally, on the day it was reported that the Insurance Institute for Highway Safety failed to award Tesla's Model S with their Top Safety Pick rating, an accident involving a Model S and tractor trailer showcases the level of real-world safety the vehicle provides.
The silver Model S seen in the photo had been purchased by Redditor ExMachina70 on eBay, and was being driven to him by a person hired by the original owner. The photos make it pretty clear what happened. The tractor trailer slammed into the rear of the Model S while it was on the highway. The driver of the car walked away with no reported injuries. The rear of the Tesla was heavily damaged but what is surprising is the amount of damage done to the front of the semi. The photos you see here were taken by the driver and forwarded to the new owner, who posted them on his Imgur account, as scooped by The Drive.
Title had not yet passed, so the loss is on the original owner, not the buyer. If you are selling a car, there's a good reason not to cancel your insurance until the money has been paid and the paperwork completed.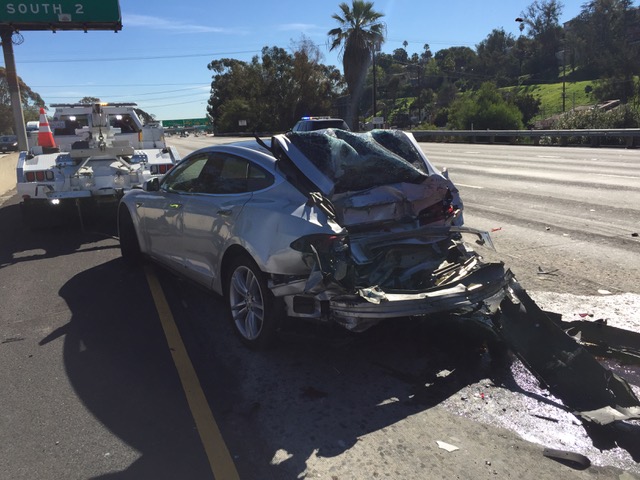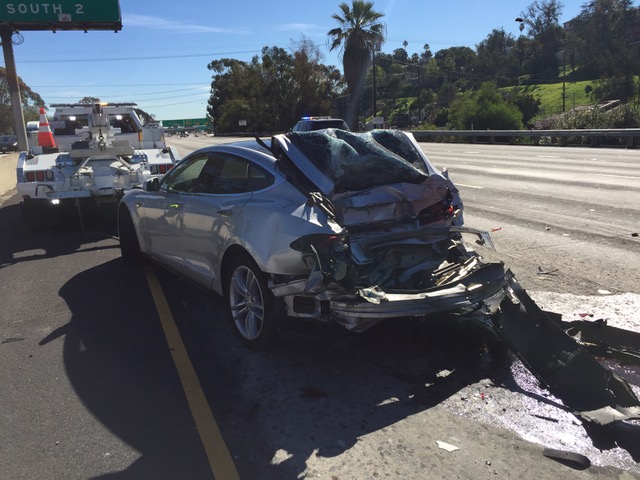 The latest IIHS report faulted the Model S for a less than perfect performance during the small overlap front collision test. The testers found the seat belt allowed the driver's head to come in contact with the steering wheel in that test. They also had concerns about lower leg injuries. Although neither issue was deemed life threatening, together they were enough to prevent the Model S from getting a "Good" rating for that test procedure. A car must score a "Good" rating in all five crash test categories to earn the coveted Top Safety Pick status.
Crash tests are theoretical and naturally the results are important. But real-world experience has its own story to tell. In this case, the pictures tell the story — the Tesla Model S really is one of the safest cars on the road.