What better way to ring out the old year than to announce the Tesla Model S was the best selling plug-in electric car in the world in November? According to figures put together by InsideEVs, the Model S handily out performed its two closest rivals, the Kandi Panda EV and the BYD Tang. Sales of the Nissan LEAF have plummeted since the company announced it was introducing an extended range model in 2016 and an all new second generation car in 2017.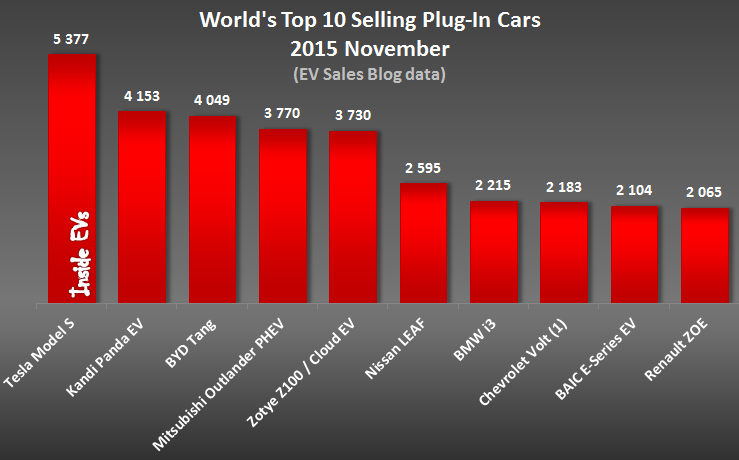 Based on what we know at this minute (Tesla's fourth quarter sales will be announced on Monday, January 4) it appears the Model S is also the global sales leader for all of 2015. It sold about 600 more than the Nissan LEAF through the end of November and all reports are that December may be a record setting month for Tesla. Global Equities analyst Trip Chowdhry says the pace of activities at the Fremont factory is frantic as the company races to push as many cars out the door as possible before the end of the year.
All this good news should be tempered with a firm grasp of reality. 2016 will see many more new competitors for Tesla. On January 4 at 8 pm PST, Faraday Future will take the wraps off its new car, which it promises will make us rethink everything we know about cars. That's a bold claim and the world is waiting to see if Faraday can back it up.
Google has just announced a partnership with Ford to build autonomous driving cars. It is also investing $4.5 billion to bring 13 new plug-in or electric cars to market in the next few years. Audi is readying its new Q6 Quattro e-tron for market, a car that will compete directly with the Model X for SUV customers. BMW and Volkswagen are rushing plug-in cars to market.
One company that is little known in the United States but which is destined to be a top player in the electric vehicle market is China's BYD. It is offering electric vehicles in every category, from intercity and long distance buses to airport and seaport service vehicles, heavy trucks, and construction equipment. It operates a fleet of electric taxis in Chicago and is about to begin a similar service in New York City.
BYD is considering building manufacturing facilities for batteries and vehicles in the US soon. It already has a Bus & Coach Factory in Lawrence, California that will produce 300 electric buses this coming year. When all the models of electric cars that BYD builds are combined, it sold more EVs worldwide than any other manufacturer through the end of November.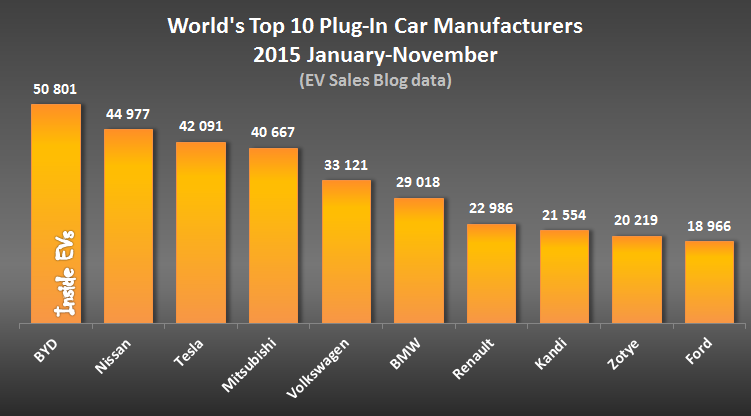 Lerner-Lim, BYD's director of eastern U.S. business told Electric Cars Report recently that fossil fuel vehicles will be steadily replaced by environmentally responsible solutions. "The time has come for electric vehicles, and BYD is ready to meet the growing demand," he said. "It's a very exciting opportunity to take technology that was developed in China—and leveraged and matured in large scale there—and adapt them to American standards, lifestyles and infrastructures."
Tesla can claim to have jump started the electric car revolution, but it may have its hands full keeping ahead of the competition in the market it created.
Image Credit: InsideEVs