A recent patent published late August has revealed that Tesla is working on a monitoring system and apparatus that will allow the electric car maker to detect deformations in battery cells in a more effective manner. 
Tesla's patent application, titled "Apparatus and Method for Detection of Deformation in Battery Cells," notes that battery cycle life is among the most crucial parameters to ensure optimal performance in machines such as electric vehicles and energy storage devices. Over the course of their lifetime, battery cells will be subjected to multiple charge and discharge cycles, at times in vastly varying conditions and environments.  
As noted by the company in its patent application, there are instances when cells operate in an environment where the ambient temperature may intermittently surge to levels above the stable thermal temperature for normal operations. Cells could also be subjected to high charge and discharge rates and large periodic loads, which could result in significant heating, among other reactions. 
Subjected to these factors, battery cells could experience several effects, such as the thickening of electrodes or the volume expansion of electrochemically active materials within the cell itself. These expansions could ultimately result in cells experiencing deformation, which could, in turn, result in both reversible and irreversible mechanical strain, as well as the potential degradation of the battery's electrodes.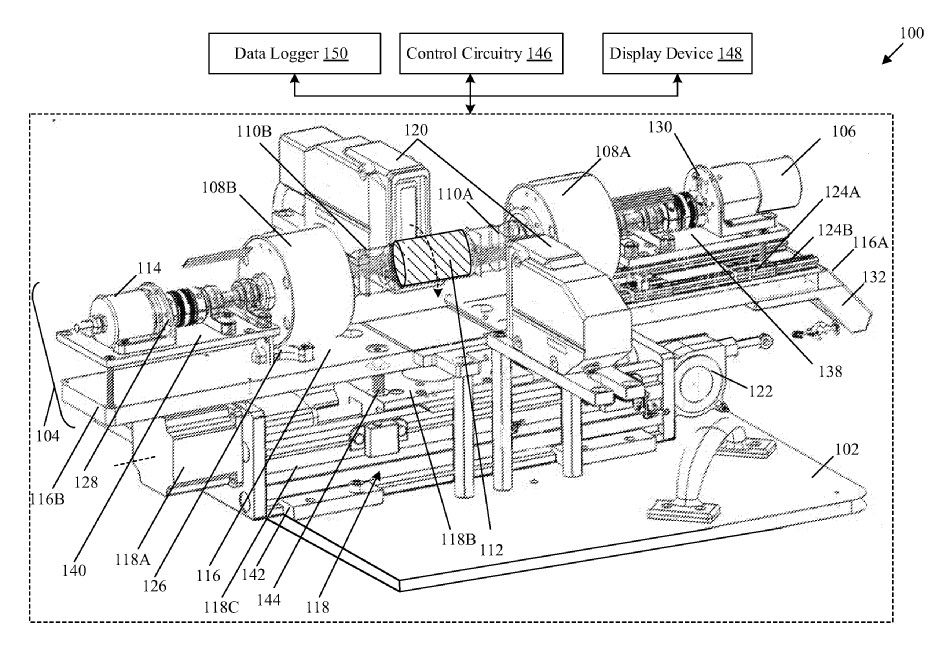 These battery cell deformations are traditionally monitored using strain gauges or optical gauges that exclusively detect and evaluate deformations at single points in a cell. Tesla noted that this system has space for improvements, since optical evaluations might not provide the correct status of deformation across the entire surface of a battery. This could result in strain and deformation measurements that are inaccurate. 
With these factors in mind, Tesla has come up with a deformation detection apparatus that enables the contactless detection of deformations and/or swelling of the battery across the entire surface of the cell itself. Tesla describes the deformation detection apparatus as follows. 
"A deformation detection apparatus includes a cell movement-control assembly to handle a linear motion and a rotational motion of a battery cell, a body that supports the cell movement-control assembly, a digital micrometer, and control circuitry. The control circuitry controls a displacement of the battery cell between a first position and a second position along a longitudinal axis through a scanning region of the digital micrometer and a plurality of rotational positions of the battery cell at a plurality of charge states and a plurality of discharge states. The control circuitry measures a plurality of outer diameter values of the battery cell for a plurality of linear positions and a plurality of rotational positions along the longitudinal axis of the battery cell and determines a change in a geometrical shape (deformation and/or strain) of the battery cell for the plurality of linear positions and the plurality of rotational positions."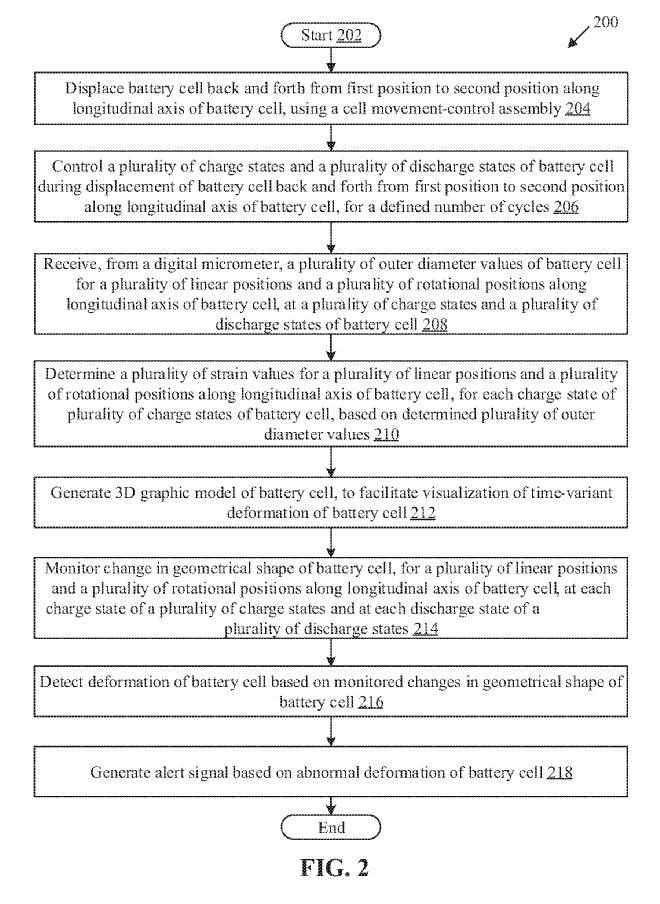 According to the electric car maker, the battery cell deformation monitoring process outlined in its patent will provide advantages over traditional monitoring methods. 
"The disclosed apparatus, such as the apparatus 100 and method of determination of deformations in the battery cell 112 advantageously provides a contactless solution for deformation detection in the battery cells, as compared to conventional contact-based solutions. Further, instead of measuring the plurality of outer diameter values/strain values at a specific point in time, the disclosed apparatus 100 advantageously facilitates measurement of the plurality of outer diameter values/strain values at a plurality of points on the battery cell 112. The apparatus 100 enables detection of localized/non-localized deformation regions on the battery cell 112, which may exhibit signs of deformation at different charge/discharge states at different points in time."
Tesla's recently published patent application for its new battery cell deformation detection apparatus could be accessed in full here. 
The implications of Tesla's recent patent are notable. By adopting its deformation detection system, the company would be able to evaluate the quality of its cells and their operating limits more effectively. This could open the doors to improvements in the company's batteries, which could, in turn, result in even more range and performance for Tesla's electric vehicles. 
Tesla holds a notable lead among automakers in terms of battery technology, as exhibited by the company's electric vehicles' vastly superior range compared to the competition. This is represented by Tesla's recent "Raven" update to the 100 kWh Model X, which allowed the SUV to travel 325 miles in one charge. This is notably impressive, considering that the Audi e-tron, a smaller, lighter vehicle equipped with a 95 kWh battery pack (5% smaller than the Model X), is only EPA-rated for 204 miles per charge (38% less range than Tesla's larger, heavier vehicle). A report from German business newspaper Wirtschaftswoche has also determined that Tesla's batteries for the Model 3 have over four times less cobalt compared to the batteries utilized by Volkswagen today.