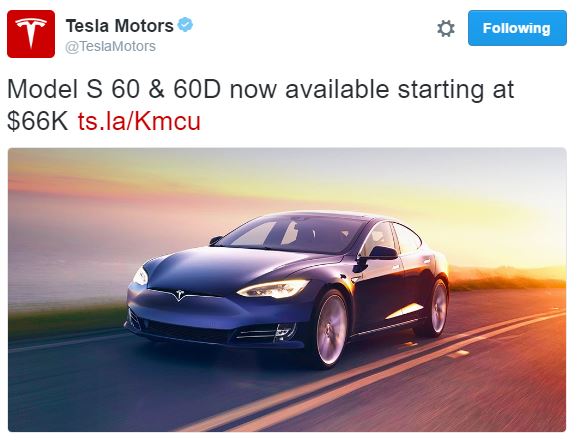 Tesla is constantly improving their batteries and range—as they like to remind us—and Thursday morning brought another example of that. The Model S Design Studio was updated overnight to include several new variations in packs and configurations. The net result is a cheaper entry point for the base model and some attractive possibilities for those who don't want or need the all-wheel-drive versions.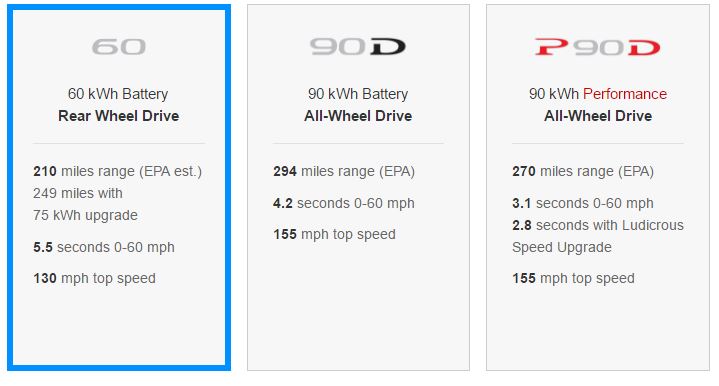 The 60 kWh battery pack has returned and is now being offered with a D version. The rear wheel drive only 60 is several thousand dollars cheaper than the "original" 60 that everyone thought was rendered obsolete by the introduction of the 70 last year. As before, adding AWD is a $5000 option to the 60. The 75 kWh battery pack is now offered as a "range upgrade" to the 60. It is available both in a rear wheel drive only configuration and as a the AWD D. Adding the extra 15 kWh will cost $8500 and extend the range of the car by 19%.  The ability to enable the additional battery capacity after delivery (for $9000) indicates that Tesla will be shipping all cars with 75 kwh packs, with the 60s being software limited.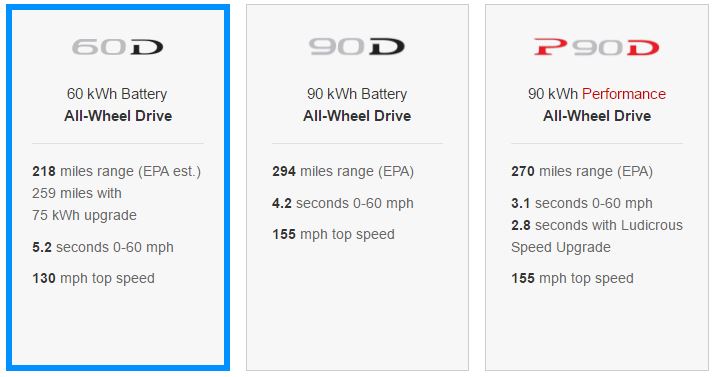 In addition to being cheaper than the original 60 kWh version of the Model S, the new one is faster too. When It was first offered, Tesla quoted a 0-60 mph sprint that took 5.9 seconds. The new version is listed as making the run in just 5.5. It is also listed with 210 miles range, compared to 208 for the original. The 60D gains another quick trip to the grocery store and back for a total range of 218. A 75 kWh car is rated at 249 miles range, a 75D at 259.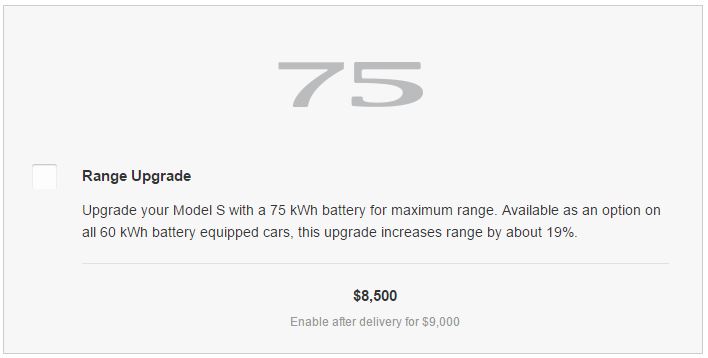 Pricing now starts at $67,200 for the base rear wheel drive 60 and $75,700 for a rear wheel drive 75.  Adding in the AWD option raises the entry bar to $72,200 and $80,700, respectively. The next step in Tesla's Model S line-up is the 90D, which is available only with AWD, for $90,700.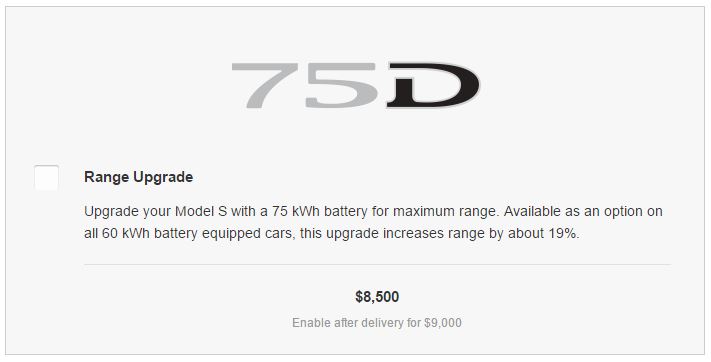 Still lurking off stage is the rumored 100 kWh battery pack. While that remains a largely unknown option (new model or just a range upgrade from a 90?), what is clear by the new pricing of the 60 is that Tesla is beginning to narrow the gap between the Model S and the upcoming Model 3. By effectively dropping the price on the earlier version of the car, Tesla is likely kissing the top configuration price of a performance version Model 3 with AWD. Closing gaps between the S and 3 could lead to more sales now and easier conversions of 3 reservations into the more profitable Model S later. Worth noting: the $10,000 price premium of the 90D over the 75D is also consistent with the gap between the earlier 60 and the 85 kWh.