A new report from Rate Your Charge shows the massive gap in reliability between Tesla and its competitors.
While many are glad to see EV charging infrastructure availability improving across the United States, many worry about the quality of this newly installed infrastructure, seeing as a broken charger is just as helpful as no charger. Today, the organization Rate Your Charge has published a report showing that Tesla continues to lead regarding charger reliability, and it's not even close.
Rate Your Charge posted its results for the past week on Twitter, finding that Tesla leads competitors by order of magnitude in several key factors. The organization collects reports on user experience and organizes and reports its results weekly.
⚡️ Here's our fast charging report for the US this week! ⚡️
4/22 – 4/28

Link to the full report: https://t.co/xOSJfgnOOZ

Thank you all for tagging @RateYourCharge
with your photo and video charger check-ins pic.twitter.com/8XC045mJRo

— Rate Your Charge (@RateYourCharge) April 29, 2023
By far, the most notable statistic published by Rate Your Charge is the overall charging experience indicator, which the organization categorizes into three sections; good, bad, and failed. The Rate Your Charge website lists the numerous qualifications that must be met to achieve a good charge rating and what will be categorized as "bad" or "failed."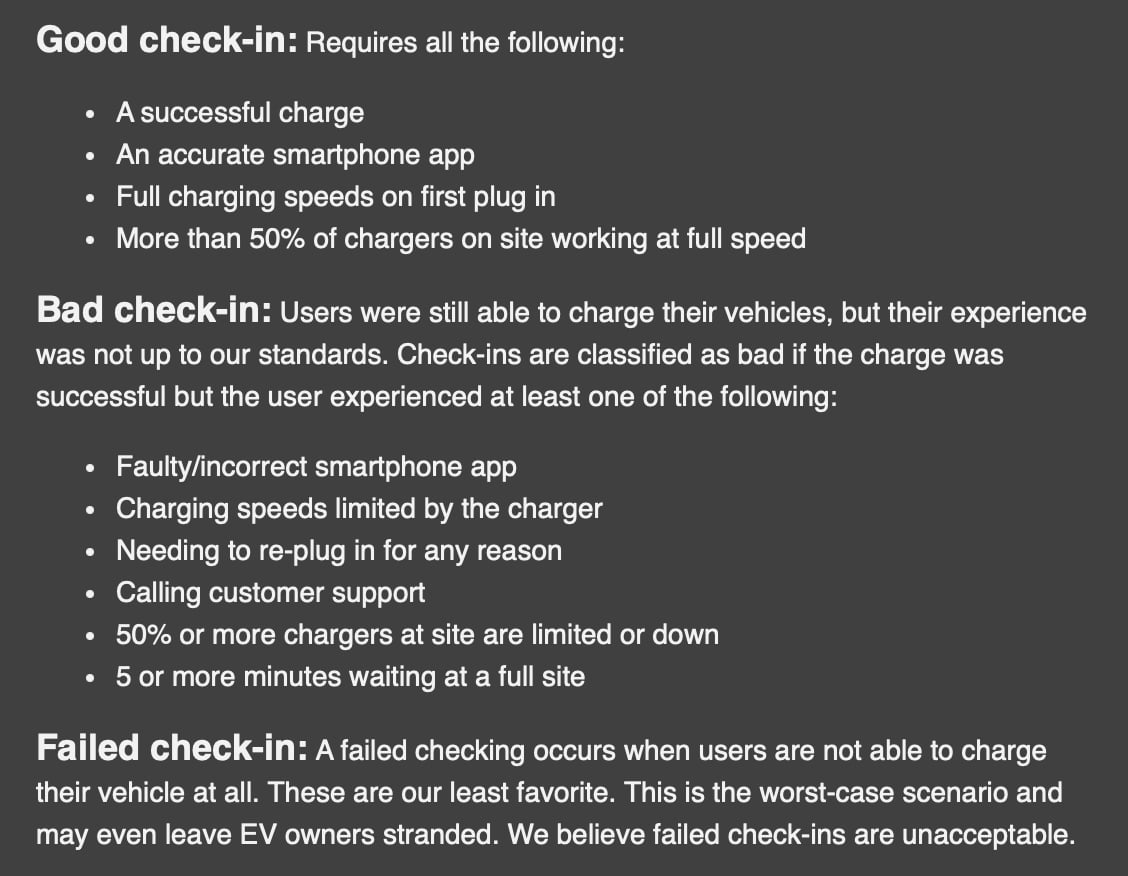 In monitoring these results, unsurprisingly, Tesla essentially only had good experiences reported (93% good), allowing it to stay in first place for another consecutive week. Tesla has yet to be toppled from its first-place perch. Behind Tesla, "Other Operators" achieved 68% good charges, EVgo came in third place with 61% good charges, ChargePoint came in fourth with 57% good charges, while Electrify America reported a dismal 52% good charges.
Besides Tesla's continuing dominance within the segment, Rate Your Charge also noted some other trends. Foremost, traditional second-place rival Chargepoint fell to third place. Second, "Other" charging operators continue to improve reliability and usability consistently. And third, Electrify America continues to remain the least reliable network tracked by the organization.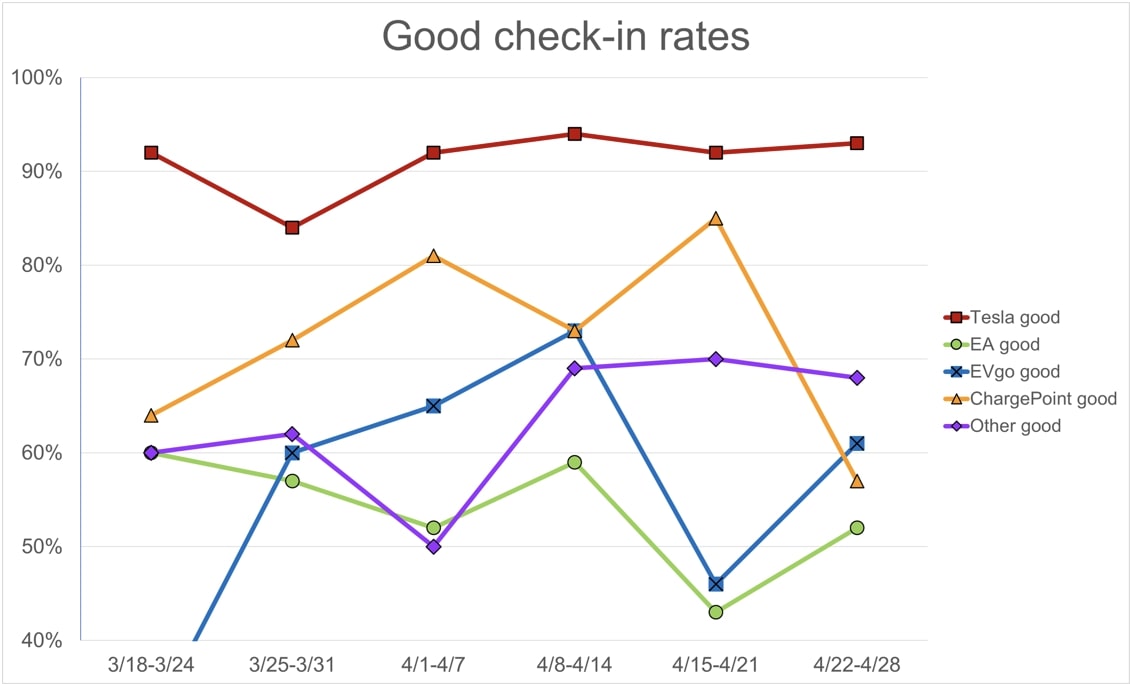 The rate of failure and bad charges, as pointed out in the report, was not only driven by a poor charging experience, but a poor integration with phone apps, which Rate Your Charge is now asking specifically for charging operators to address.
While it is great to see Tesla continue to be a leader in yet another segment of the mobility space, it is concerning that other charging operators have yet to replicate the automaker's success. Looking to the future, while investing in expanding infrastructure is a noble goal, hopefully, these charging competitors can redouble their efforts to make the charging experience more reliable than ever before.
What do you think of the article? Do you have any comments, questions, or concerns? Shoot me an email at william@teslarati.com. You can also reach me on Twitter @WilliamWritin. If you have news tips, email us at tips@teslarati.com!