It's a Tesla sweep again for the 2023 Cars.com American-Made Index. And just like the previous year, the Tesla Model Y stood at the top of the website's rankings, becoming the country's most American vehicle in the market today.
Cars.com's American-Made Index ranks qualifying vehicles that were built and bought in the United States for 2023. The organization vetted 388 vehicles that are sold in the US. From this number, 100 were selected, evaluated, and ranked for the index. Vehicles that are part of the index are judged on five criteria: assembly location, parts content, engine origin, transmission origin, and US manufacturing workforce.
A look at the 2023 American-Made Index shows that the Tesla Model Y is once more the country's most American car. But more impressively, the Model Y is immediately followed by its stablemates. In fact, the 2023 rankings are completely swept by Tesla, with all four of the EV maker's vehicles taking the top spots in the index. Immediately following the Model Y was the Model 3, then the Model X and the Model S.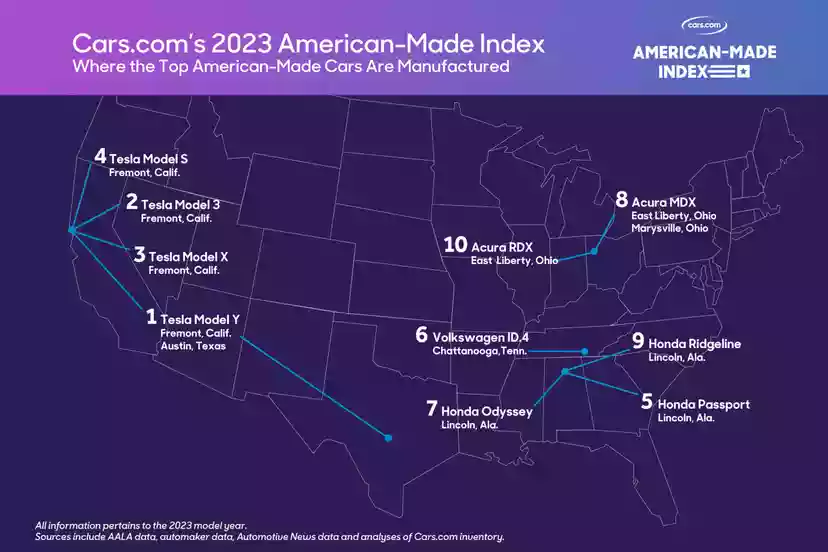 As noted by Cars.com, Tesla's stellar results this year were due in part to the ramp of the company's workforce at Gigafactory Texas, where the Model Y is produced. Thanks to the EV maker's growing American workforce, even vehicles that were not included in previous years, such as the Model S and Model X, made it to this year's Top 10 rankings. 
It should be noted that the Tesla quartet and the Volkswagen ID.4 are the only electric vehicles that made it to the Top 10 list of the 2023 American-Made Index. The other vehicles in the rankings, such as the Honda Passport, Honda Odyssey, and Acura RDX, are still powered by the internal combustion engine. The organization noted that the appearance of multiple Hondas in this year's index is largely due to the automaker's Alabama plant, which builds vehicles like the Passport and Odyssey.
Other popular electric vehicles today, such as the Ford F-150 Lightning, are listed far below in the index at No. 38. The rest of the index is dominated by ICE-powered vehicles, though the Mercedes-Benz EQS SUV made it at No. 92, and the Nissan Leaf made it at No. 93.
Cars.com's full report on the 2023 American-Made Index can be accessed here. 
Don't hesitate to contact us with news tips. Just send a message to simon@teslarati.com to give us a heads up.