Shares of Tesla saw an abrupt halt on Tuesday afternoon after CEO Elon Musk shared a series of tweets about possibly taking the company private.
"Am considering taking Tesla private at $420. Funding secured," tweeted Musk just before 1 pm Eastern. Investors saw it as a vote of confidence that the Silicon Valley company could meet its ambitious growth plans and sent the stock up over 7% to an intraday high of $371.15. Others interpreted the tweet as a joke, in specific Musk's reference to "420": a popularized reference to the consumption of cannabis by the marijuana culture.
Still, the tech-heavy NASDAQ exchange where Tesla is listed halted trading over the uncertainty of whether Musk's tweet may have violated any Securities and Exchange Commission rules that prevent company executives from making market-moving statements.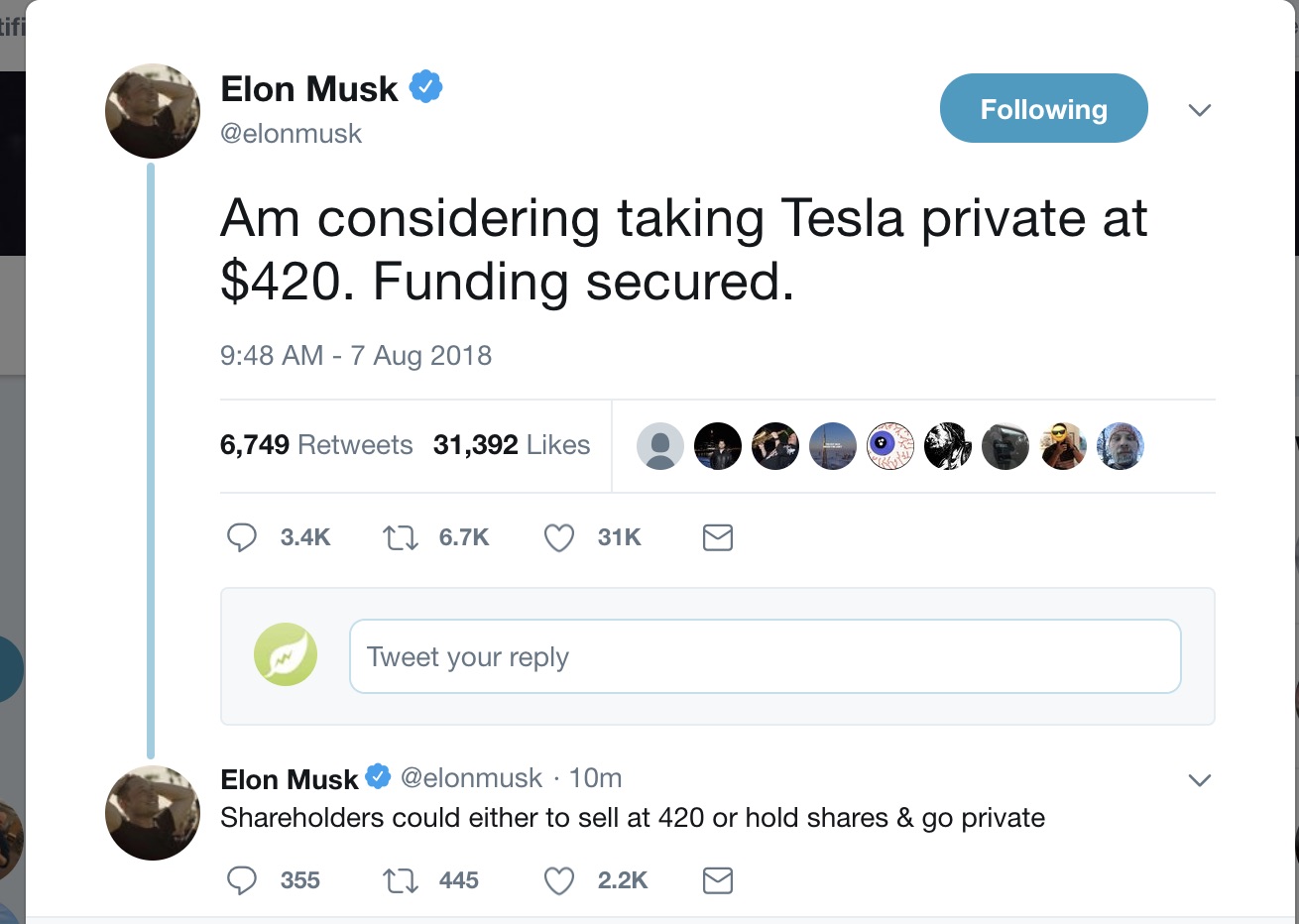 Former SEC chairman Harvey Pitt spoke up about the matter to CNBC, noting that Musk's tweet "might constitute fraud if any of the facts he disclosed are not true" or if there's any indication that his tweet was sent for the purpose of boosting Tesla's stock price by soliciting investor hope.
Gene Munster of Loup Ventures, said Tuesday that Musk's tweet could fall within the guidelines of the SEC as long as investors have been alerted. Additionally, the Tesla bull weighed in on the likelihood of Musk taking the company private. "There is a 1 in 3 chance he can actually pull this off and bring Tesla private," said Munster, adding that even at a market capitalization based on a $420 share price, it "may not be high enough to incentivize existing shareholders to support the sale."
Tesla and its investors are no stranger to seeing the company's share price follow a rollercoaster trajectory. Shares jumped in Tuesday trading following reports that the Saudi Arabian sovereign wealth fund took a $2 billion stake in the company earlier this year. In the past year alone, Tesla shares have seen a wild swing, trading as low as $244.59 last April to reaching its all-time high less than six months later amid upbeat Model 3 sentiment. Beyond skyrocketing Tesla's valuation to over $70 billion at $420 a share, taking the company off of the public markets would relieve some of the pressures of having to report earnings and face volatility from traders, thus giving the company better financial footing.
Between widely publicized skepticism by its staunchest critics, who's short-sale positions are fueled by strong motives to drive Tesla's stock price down, to the Tesla faithful whom are arguably blinded by Musk's ubiquitous bite-off-more-than-he-can-chew grandiose plans that include anything from a self-driving cross-country escapade to an all-electric semi-truck – let's not forget about Tesla's upcoming 200 mph+ Roadster with rocket thrusters; one thing investors could certainly agree on is that the road to 420 could be glorious, or just as easily go up in smoke.
Updated: Elon Musk took to the company's blog post to explain his tweet about taking Tesla private
via Tesla's Blog
Earlier today, I announced that I'm considering taking Tesla private at a price of $420/share. I wanted to let you know my rationale for this, and why I think this is the best path forward.
First, a final decision has not yet been made, but the reason for doing this is all about creating the environment for Tesla to operate best. As a public company, we are subject to wild swings in our stock price that can be a major distraction for everyone working at Tesla, all of whom are shareholders. Being public also subjects us to the quarterly earnings cycle that puts enormous pressure on Tesla to make decisions that may be right for a given quarter, but not necessarily right for the long-term. Finally, as the most shorted stock in the history of the stock market, being public means that there are large numbers of people who have the incentive to attack the company.
I fundamentally believe that we are at our best when everyone is focused on executing, when we can remain focused on our long-term mission, and when there are not perverse incentives for people to try to harm what we're all trying to achieve.
This is especially true for a company like Tesla that has a long-term, forward-looking mission. SpaceX is a perfect example: it is far more operationally efficient, and that is largely due to the fact that it is privately held. This is not to say that it will make sense for Tesla to be private over the long-term. In the future, once Tesla enters a phase of slower, more predictable growth, it will likely make sense to return to the public markets.
Here's what I envision being private would mean for all shareholders, including all of our employees.
First, I would like to structure this so that all shareholders have a choice. Either they can stay investors in a private Tesla or they can be bought out at $420 per share, which is a 20% premium over the stock price following our Q2 earnings call (which had already increased by 16%). My hope is for all shareholders to remain, but if they prefer to be bought out, then this would enable that to happen at a nice premium.
Second, my intention is for all Tesla employees to remain shareholders of the company, just as is the case at SpaceX. If we were to go private, employees would still be able to periodically sell their shares and exercise their options. This would enable you to still share in the growing value of the company that you have all worked so hard to build over time.
Third, the intention is not to merge SpaceX and Tesla. They would continue to have separate ownership and governance structures. However, the structure envisioned for Tesla is similar in many ways to the SpaceX structure: external shareholders and employee shareholders have an opportunity to sell or buy approximately every six months.
Finally, this has nothing to do with accumulating control for myself. I own about 20% of the company now, and I don't envision that being substantially different after any deal is completed.
Basically, I'm trying to accomplish an outcome where Tesla can operate at its best, free from as much distraction and short-term thinking as possible, and where there is as little change for all of our investors, including all of our employees, as possible.
This proposal to go private would ultimately be finalized through a vote of our shareholders. If the process ends the way I expect it will, a private Tesla would ultimately be an enormous opportunity for all of us. Either way, the future is very bright and we'll keep fighting to achieve our mission.
Thanks,
Elon
Disclosure: I hold long positions in TSLA as well as short-term contracts.