Concepts of The Boring Company's futuristic, ultra-high-speed tunnels show a sleek system transporting passenger pods and private vehicles at speeds of around 124 mph (200 km/h). As revealed recently by Elon Musk during a "fireside chat" in Los Angeles, though, the tunneling startup is also open to building tunnels that are far less glamorous.
While addressing around 3,800 mayors and city officials from across the United States at the National League of Cities' 2018 City Summit last week, Elon Musk stated that the Boring Company's technology could be used to build tunnels for utility lines. Candidly conversing with LA Mayor Eric Garcetti, Musk noted that his tunneling startup would even take on projects like sewer lines in the future.
"The Boring Co. is also going to do tunneling for, like, water transport, sewage, electrical. We're not going to turn our noses up at sewage tunnels. We're happy to do that too," Musk said.
The Boring Company is built on the premise that current tunneling technologies and techniques still have areas for improvement. Just by reducing the size of the tunnels themselves, for one, The Boring Company expects to reduce tunneling costs by a factor of four. Elon Musk has also mentioned that the company is designing and building an all-electric tunnel boring machine, which would be capable of digging 10-15 times faster than a traditional TBM. Being small, the Boring Company's tunnels are also capable of maintaining a vacuum, making them capable of supporting Hyperloop transportation systems in the future.
Ultimately, using The Boring Company's tech to build tunnels for utility lines could prove strategic for cities. In a statement to Forbes, Constantine Samaras, an associate professor of civil and environmental engineering at Carnegie Mellon University, noted that the Boring Company's faster, cheaper, and smaller tunnels would likely be a big benefit to cities.
"A lot of these systems (power, water, communications, and sewer lines) are old and in bad shape. Often, fixing utilities means cutting open the street and disrupting traffic. If the Boring Co. can use their tunneling technology to make it faster and cheaper to install and upgrade underground utilities, it will be a big benefit to cities," Samaras stated.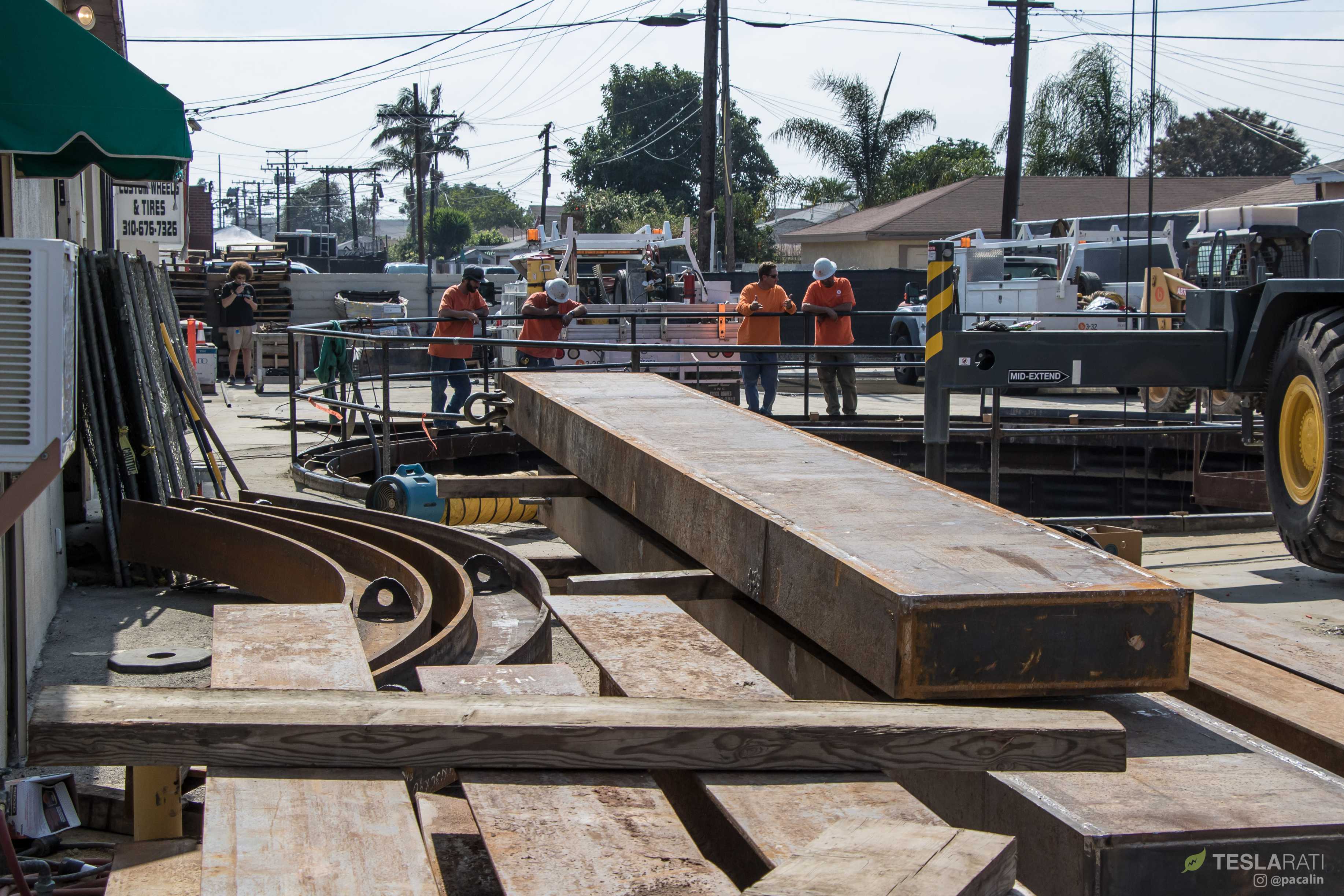 Elon Musk might have found the Boring Company's first customer for its sewage tunneling services too. During his chat with Musk, LA Mayor Garcetti candidly asked the Tesla and SpaceX CEO if Los Angeles could get the first sewage tunnel from The Boring Company. Elon Musk answered in the affirmative.
As the Boring Company prepares its Hawthorne test tunnel for its public showing on December 10, the company is also hard at work building its prototype garage-elevator concept at a private lot in 120th Street and Prairie Avenue. Photographs taken by Teslarati photographers Pauline Acalin and Tom Cross indicate that the Boring Company is moving fast to complete its futuristic garage-elevator concept, while constructing what appears to be a gantry for the tunnel boring machine it would use for its high-profile high-speed tunnel project in Chicago.
The Boring Company has the potential to disrupt several industries. With its high-speed tunnels, the tunneling startup could usher in an alternative, sustainable, and more efficient way of transportation. The company also has the potential to disrupt the low-cost housing market thanks to the Boring Bricks, which Musk estimates would cost around 10 cents per brick.