5 laps of pure adrenaline – Tires and brakes cooking, power limiter kicking in – just a final push to the finish line and…breath again!
Enduro racing, when autocross just isn't enough. How about 5 continuous laps of autocross? Do you want to see when your car starts to overheat the tires go gooey and brakes begin fading? Experience it all in Enduro!
RELATED: Autocross in a Tesla Model S
There have been complaints about power limitation when tracking a Model S. During the typical ~1 min autocross course the car will not become power limited no matter how hard you punish it. The tires just barely get warm and brakes keep tight, no worries about overheating. A 5 lap Enduro is a different beast entirely. Turbos break, hoses rupture, I have seen brakes glowing and smelled the death scents of tortured ICE cars. This is the Kart Track at the Jackson County Sports Park in southern Oregon and the last autocross event of the year put on by the Siskiyou Sports Car Club (SSCC) is the Fall Enduro.
This event is a clockwise 5 lap race around the outside of the track, roughly 3.3 miles total. The 'grid' where cars line up to race is near the lower left corner, cars are launched from the green mark and the start/finish line is at the red line. A 2 second penalty is added to your time for toppling a cone (very few out there to worry about) and 10 seconds for putting all 4 wheels in the grass – don't do that! Racers have the opportunity to practice several laps at a time on Friday and/or Saturday and then just 1 shot at the full 5 lap time trial on Sunday.
The track record for this Fall Enduro event is 3:39.12 set by a TUI formula in the A Modified class, an average of 43.824s per lap and 54mph! My best laps during practice were in the 52.0xxs range but I wasn't that quick in the race. I drove a different race line from what I had practiced and feel that it was better but I just wasn't faster (you can watch a set of practice laps here). Earlier this year in the Spring Enduro race I 'drove' off of the track once during practice laps so I became a little overly cautious about my braking points during the actual races. With such a heavy car the margin of error is pretty tiny when going from floored at 75mph+ to full brakes and into a turn.
This last fall I managed to break the F Street track record of 4:25.195 by over 2 seconds but then I was 'ICEd' by a mere 3/10ths of a second- so close! My local F Street class competition comes from a CTS-V and an M3 .   The CTS-V driver has raced for years so I guess I feel ok about 'letting' him beat me (technically he was my 'teacher' at the race driving school I did, go figure.)
Vehicle                                   Lap1      Lap2      Lap3      Lap4      Lap5       total time
'13 Cadillac CTS-V Coupe   53.146   52.684   52.265   52.502   51.976     4:22.573
'12 Tesla Model S                52.145   52.318   53.033   52.712   52.704     4:22.912
'13 BMW M3                         53.393   53.026   53.264   53.400   53.091     4:26.174
During the race I was pushing close to 75 mph on the straight and used 6.5 kWhr at an average rate of 1.99 kWhr/mi. The S didn't seem to become noticeably power limited until somewhere around the 4th straight. Through the first 3 laps there was enough power that I could spin the wheels on most of the track so keeping just at the edge of slipping and not dropping too much power can be tricky. Power limiting kicked in on the straights for the last 2 laps and the brakes lost a little confidence by the last lap. For these last laps I pretty much just mashed the throttle to the floor on corner exits, surprising how similar my lap times were…think it means I need to do a bit better in the first 3 laps, read:drive smoother and tighter lines! Driving faster isn't always faster, taking smooth lines without a lot of slop is usually faster but from an observer it may look slow.
Before I headed out to the track I tried sketching a race line and checking turn radii. After practice and speaking with some locals I tweaked my planned line a bit and ended up with something a little different. My goal was to try and hit all of the apex points that I could on the backside, hopefully something like this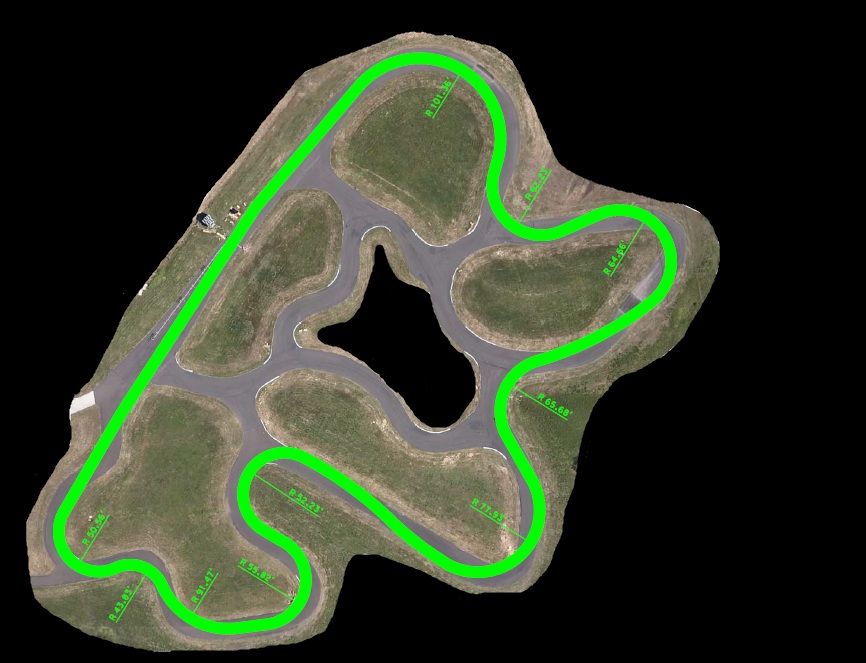 Next Siskiyou Sports Car Club event and the first race of 2015 is the SSCC Spring Enduro,  Counter clockwise around the wide curve at the top, past the start line then a hard left and right into the lower loop clockwise up the gut and back around to the finish…
See you there!