What is Autocross?
Do you just have a fast car or are you a fast driver? Turn, turn, turn, and more turns!  Autocross is a motorsport that demands diver skill and vehicle handling rather than outright speed.
In 'thrills-per-second' autocross is on par with Indy racing! Different forms of autocross are practiced around the world; some include unpaved surfaces while others challenge multiple drivers at the same time in 'wheel to wheel' racing. All of my experience comes from American Autocross. American Autocross typically consists of a course marked out with cones set up in an open parking lot or tarmac. Cars run through the course one at a time while being monitored by a timer.
Events are open to most vehicles, daily drivers, 'beaters,' built race cars, and even some classic cars compete. With such a wide assortment of vehicles there will clearly be some that have advantages over others. These differences are mitigated through the use of a car classing system which keeps competition between different vehicles at a maximum by scaling the 'slower' cars by a time factor. Specs such as horsepower, weight, drive train/engine layout and what modifications have been made to a vehicle determine the class it may compete in.
What's fun about Autocross?
Fun, adrenaline, competition and more! My introduction to autocross was through a local race driving & safety school. We practiced high speed emergency lane changes, some slalom, a figure 8 and a decreasing radius spiral. This event also included a day of autocross which was enough to get me a little hooked. Autocross allows you to legally learn your cars limitations and boundaries + push them a bit. In many emergency situations this may be extremely invaluable (I recommend every driver do some form of auto X at least once!).
RELATED: 5 Laps of Autocross (Enduro) in a Tesla Model S
Our paved space is rather small but there are so many ways to set up a track that I doubt I'll ever see the same thing twice. Each morning before the race you get to walk the course and try and figure out the best line to drive, kind of like a puzzle (I like puzzles) Most of the kids and elder kids that participate locally are out to have some fun. We have some pretty competitive drivers in a variety of competitive (quick) cars. One of the most exhilarating things to do at an event is ride along with one of these people. It is pretty much like being in a flat land rollercoaster but even more thrilling with a good driver in a proper car.
Tesla Model S autocross setup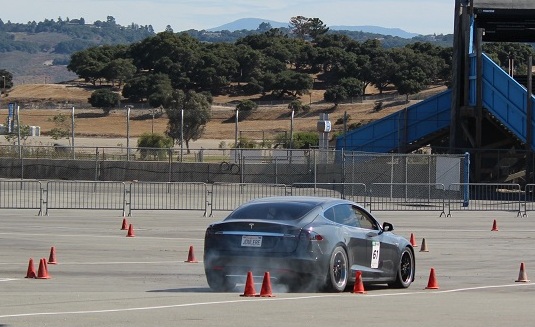 My car is a 2012 P85 with air suspension and pano roof. I started out doing the race driving school on my 21" Continentals from the factory which ended up killing my tires that very same day, and this was on tires that barely had 8k miles on them! Within a few weeks I bought a set of 19" staggered MRR wheels and put some Potenza RE-11s on them. I bent one of the MRRs at Laguna Seca and am currently running 255/285 Michelin Pilot Super Sports on 19" Forgestar CF5V wheels.  This set up feels pretty nice to me (I think I might try the Hankook RS3 V2s next).
I run with regenerative braking on standard and traction control turned off.  My seat position for racing is set much higher and a little more forward than I normally like.  It really helps see the front corners of the car a bit plus it gives better steering control. I am still torn on what steering setting I prefer, I have tried all. Comfort is good sometimes because you can really move the car quick but almost too quick and it loses the feel of traction. Sport feels almost too stiff in hard braking/turning transitions but allows a better feel of what the front wheels are doing – scrubbing or sticking. I currently have been using the standard setting but may try a couple during some events. My alignment is to factory spec and I haven't played with that yet.  I think I might look into front shocks/ alignment if I do any changes.
Pros of a Model S in autocross
Well, it is quiet and it doesn't smell funny either! I think the biggest advantage of the S in Autocross is that there is only 1 gear and the quickness of the S is in the <50mph region. The car is in the peak power band for most of an autocross course.  Balance of the S is perfect and the rear wheel drive allows you to slightly drift out of corners or upset the car a bit to get it to rotate.  The Brakes on the S are amazing, I have only really started to feel brake fade once and that was in a 5 lap Enduro event. Regen is also a bonus for the S in autocross.  As you let off of the brakes when turning into a corner regen allows a tiny bit of natural trail braking into an apex.
Cons of a Model S in autocross
It is a massive car! Big size wise and it is quite heavy to be tossing around. Conservation of momentum is not your friend when completely changing directions. The Silence of the car is not good for safety of course workers either, loud exhaust notes of all the other cars gives a heads up that you should be watching.  The S only really lets out squealy tire noises.
How does it compare against other cars?
Well, I have never raced in any other car so I really can't give a firsthand comparison to anything. The Tesla Model S is classed in the F Street category (Formerly F Stock).  This class is comprised mostly of V8 sedans, pickups and sedan derived convertibles. A few of the vehicles included are the V8 Audi S4, Camaros, Chrysler 300C, Dodge SRT8, Mustangs, and Firebirds. Until recently my competition has come from a 2013 M3. There have only been a few times that he has run faster than me but the competition between us has been pretty tight. Now I am being challenge by a 2014 CTS-V coupe driven by a man that comes from a racing family and has raced his whole life!  In the last autocross I managed to top his time by over 1 second so I am holding my own pretty well.  I have heard quite a few compliments of my driving skills and such so I take it I am doing it 'right'. Personally I think the Model S is the best F Street car but I *might* be biased.