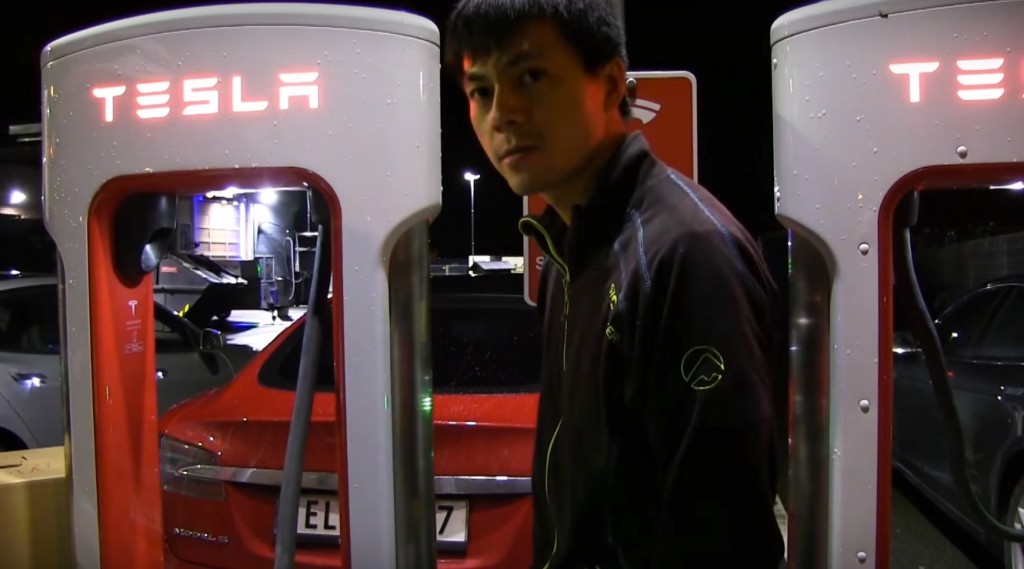 Tesla Motors sent an e-mail to Norway's Bjørn Nyland on Wednesday informing him that he has won yet another free Tesla, this time a Ludicrous enabled Model S P90D. Once again, Bjørn referred more new Model S buyers in the European region than anyone else by the December 31st contest end deadline. He also won the first contest that ran from late June through the end of October of 2015. His prize for that victory was a Founder's Series Model X.
Thanks to all my fans for the support. Thank you @TeslaMotors and @elonmusk for wanting to change the world. pic.twitter.com/YRmqtqk1fr

— Bjørn Nyland (@BjornNyland) January 7, 2016
Bjørn has made a successful career for himself as a video blogger. His YouTube channel features many stories about his journeys around Europe in his red Tesla Model S, code named The Millennium Falcon, since he first purchased it during the fall of 2013.
Tesla has a brilliant advertising strategy which is no advertising. Unlike traditional car companies, Tesla relies on its base of passionate owners to spread the word and evangelize the brand, a tactic that seems to be working quite well. Globally, the overall leader among all contestants is a person named Wei from China, who referred an incredible 188 people in just two months.
Canada's Sylvain Juteau won the first referral contest for the North American region and is on track to win the second contest as well. He has 34 referrals toBjørn's 51. Juteau has made winning the contest a full time job. During the first program, referrers received a $1,000 credit to their Tesla Motors account, a feature not included in the second contest. He used that money to buy several dozen CHAdeMO adapters, which he offered free to anyone who purchased a Model S because of his referral. His reward, a car worth about $130,000 which is pretty good wages for 2 months of work.
While Wei, Juteau and Bjørn referred many customers each, many Tesla owners referred just one or two. But Juteau, who runs Roulezelectrique.com,  says the total number of referrals totaled almost 5,000 and accounted for nearly a third of all the 17,400 Model S cars Tesla delivered in the 4th quarter. At an estimated average sale price of $85,000, which is probably on the low side, Juteau puts the value of all the sales via referral at $425,000,000.
Congratulations to all the winners and a big thank you to every Tesla owner who referred a new customer in the past two months.
Photo credit: Bjørn Nyland via YouTube