The Model 3 is quite possibly the most important car to Tesla's future. The Roadster, Model S and Model X were somewhat exclusive cars given the high price and low production volume, but the Model 3 is targeted to mid-market consumers and has been part of  Tesla CEO Elon Musk's not-so-secret Master Plan for years. Musk is finally at a point where he'll be delivering on this incredible long term vision and I'm proud to be a part of it.
As much of the world already knows, Tesla Stores began taking reservations on the morning of March 31 for the Model 3. The announcement prompted anxious fans to line up hours before official store opening hours with some going as far as camping out overnight to be first in line to drop a $1,000 for a Model 3 reservation. But despite the efforts, Tesla has already stated that several factors come into play that will determine your real place in line to receive the coveted Model 3.
Reservation Number
Existing Tesla owners get preference
Higher optioned cars will be delivered earlier
Where you live (will start rolling out on US West Coast first)
In essence there isn't as much benefit being the very first in line to reserve a Model 3 at stores than some might think.
Hundreds of people lined up in front of stores, with some reports indicating 800+ people in line before store opening. Despite the long lines the reservation process itself was quick and painless.
Like thousands of people worldwide,  I got in line before store opening for my chance to grab an early reservation number and participate in the event. I own a Model S and love the car, but I also have three other ICE vehicles in my family many of which are nearing 200k miles, an age where the vehicle begins to deteriorate and cost more to maintain than the value of the car itself. I see the Model 3 as a viable replacement for at least one of those ICE vehicles so my hope is to stretch the life of these cars until the Model 3 becomes available.
I got to my local Tesla store at Natick Mall in Natick Massachusetts just before 8am to find 70 people lined up already. The line grew to about 225 by the time reservations began at the 10am store opening time.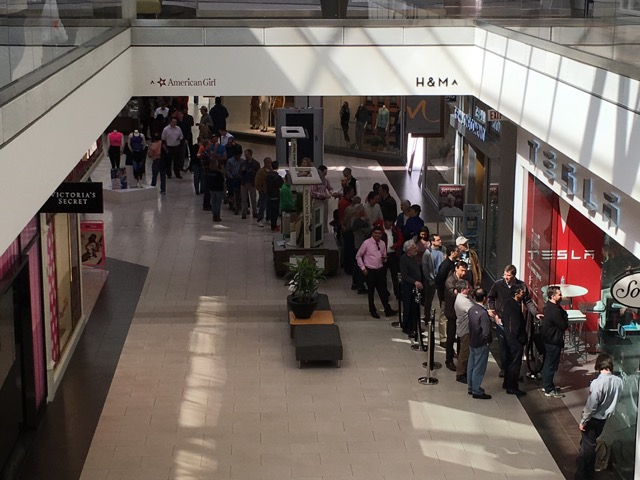 Most of the people I met in line did not yet own a Tesla which was not only a surprise but fantastic to hear. It was really encouraging to learn that many people waited years for this opportunity to drive electric, but more importantly drive electric in a Tesla.
The experience waiting in line was pleasant. Tesla did a great job of managing the throngs of people funneling into the store once it opened. Each reservation took approximately 2 minutes per person with 4 stations taking reservations simultaneously. By 10:30 am ET my reservation was complete and I was now a proud future owner of a Model 3.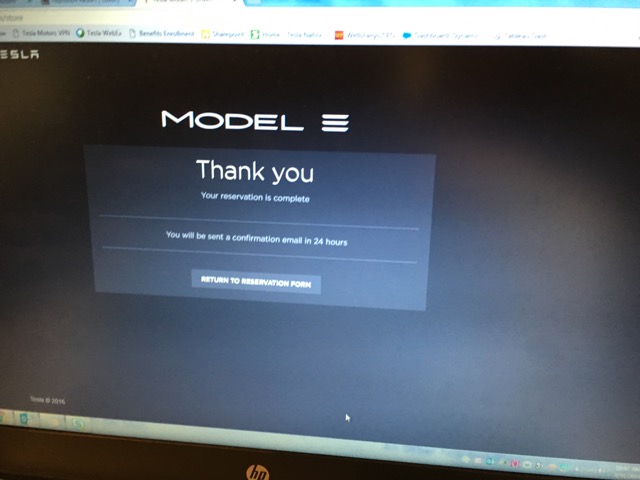 A line remained in front of the store until 1:30pm local time and shortly dissipated to the point that one can simply walk in to reserve a Model 3 with no wait.
An hour before Elon officially unveiled the Model 3, Tesla opened up its online reservation system for the Model 3. The servers were sluggish and required some patience but they held up. Elon would later announce during his speech at the event that Tesla had booked over 115,000 reservations for the Model 3, and in less than 24 hours. His master plan was being validated considering this impressive number of reservations was for a car nobody knew much about or even seen.
Tesla Model 3 Specifications
Tesla live streamed the event. Elon started by revealing new details for the vehicle followed by a live demo and test ride of working prototypes. Even at a base price of $35,000, the Model 3 is well-equipped with features that makes it a compelling car to own.
EPA range: 215 miles

The EPA range for the Tesla Model S 60kWh is 208 miles so this is even better.
Superchargers have been strategically placed such that you can drive the Model S 60 across the country between superchargers (but on the S60 you must be more careful) so this means whatever you can do with a S60 you will be able to do with the Model 3 which is fantastic news!

0 – 60: Under 6 seconds

For reference my Model S is 5.4 seconds and this number is for the basic Model 3. I have no need for more performance than what I have now and 5.4 feels very quick. People will love this level of performance.
Like the Model S, there will be performance options for the Model 3 to make it even faster for significantly more money.

Seating for 5 adults

Tesla made a point of mentioning the work they did to move the front driving position forward thanks to the empty room in the front of the car where an engine would normally go. I think there's going to be a lot of legroom in the Model 3 — more than competing cars within its category such as the Audi A4 and BMW 3 series. This fact will be a key selling point.

5 Star Safety Rating

Elon led with this point again just like he did when he revealed the Model X. Most people have the mindset that the bigger the vehicle, the more safe it is, but knowing a Model 3 has a 5 star safety rating in all categories, this could give Tesla a real competitive advantage and shift buying behavior.

Autopilot Safety Features

The Model 3 will have Autopilot hardware and have autopilot safety features included but, like the Model S and X, it won't have autopilot enabled unless you pay an upgrade price.

Supercharging Standard

Elon said the Model 3 will include Supercharging as a standard feature. I took this to mean there's no extra charge for it, not just the ability to use it with a surcharge.
Reducing the friction to charge especially for first time Tesla owners is a great idea, but one thing the company must keep in mind is that this action could lead to more local Supercharger abuse. Tesla will have to figure out a strategy that will account for this.
One important point Elon made during his presentation was around the 215 mile range and 0 – 60 mph acceleration in under 6 seconds being the specs for the entry level Model 3. It's almost certain that Elon will surprise us with a lot more range and performance when he presents Part 2 of the Model 3.
Tesla Model 3 Design – Exterior
During the Model 3 presentation Elon pointed out a few key points to the design:
The roof is one continuous pane of glass for extra headroom and a sense of openness
Front trunk (frunk) and Trunk (hatchback) are part of the design
The Model 3 will have more cargo capacity of any ICE car with the same external dimensions
My initial reaction to the front of the Model 3 was one of ambivalence, but as I continue to look at Model 3 pictures the visual styling of the car has grown on me. I had a similar initial reaction when I first saw the Models S and Model X. I got past it on the S and actually like it now, but on the X I haven't gotten there yet.
We know the Model 3 will have a dual motor all wheel drive capability, but it's unclear whether this will be standard or available as an upgrade. The Model 3 prototypes seen at the unveil event also had varying door handles among the three vehicles present. As we begin to see more Model 3 sightings across California, we'll soon find out which direction the Tesla team will take in terms of the final specs.
Tesla Model 3 Design – Interior
The Model has a spacious interior and one that differs significantly over its Model S and Model X siblings. Photos of the Model 3 shows a missing dashboard and a 15″ center-mounted touchscreen in landscape orientation.
Similar to early pictures of the Model X prototype that showed a large screen protruding from the dash, I believe the Model 3 touchscreen in its current configuration is just a placeholder and will change once in production. I doubt the screen will remain in its current set up as it would be prone to being damaged due to lack of structural rigidity in its mounting position.
Tesla also seems to have gotten over their aversion to center consoles. New Model S and Model X come with a center console as a standard offering, and the Model 3 seems to have one as well.
Summary
Part of Elon's presentation that I thought was critical to Tesla's future success is the continued expansion of the Supercharger network, Stores, and the Service centers they operate across the world. The company plans on doubling the Supercharger network and quadrupling destination chargers by the end of next year.
Overall I was very impressed with the Model 3 launch event. The stores handled the volume well, the presentation was pretty much on time, and provided just enough information to keep potential buyers intrigued, while holding back on future details. The Model 3 didn't have that many surprises and thats a good thing. Tesla didn't need another over-engineered car.
Watch the full Model 3 unveiling presentation by Elon Musk: