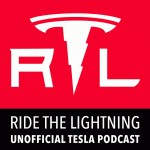 "I rode in the Model 3"
Longtime Tesla super fan Ryan McCaffrey places his deposit on a Tesla Model 3 at the Burlingame, CA store and then hops on a plane to attend that evening's unveiling event at Hawthorne. Ryan finally meets DaveT from the TeslaWeekly newsletter, interviews people's reactions of the Model 3, and finally goes along on a test ride. Plus more.
Listen to Podcast below.
This week on Ride the Lightning: Tesla Motors Unofficial Podcast:
"Model 3 is here, and I got to go see it and ride in it! I'll tell you about that, plus audio clips from my brief chats with Tesla representatives, my reservation line camp-out experience, some of YOUR reservation line experiences, and so much more! What do you think of Model 3? Like it? Love it? Got any good line stories? I'd love to hear them for next week's show! Leave a message on the Ride the Lightning hotline anytime with your stories or any other question, comment, or discussion topic. The toll-free number to call or (better yet) Skype is 1-888-989-8752."
Listen on iTunes, libsyn, and Stitcher