The rate of Model X reservations in the US reached an all time high of 35.5 reservations per day (44.8 orders per day on a global scale) following the recent Model X launch event according to Paul Carter, TMC member and founder of ModelXTracker.com.
While Tesla has been slow on providing specific details on the Model X, there's been no shortage of reservations likely boosted by media frenzy surrounding the electric crossover's trademark falcon wing doors, and their unique ability to pivot open while sandwiched between two cars.
We asked Paul about his thoughts on Model X adoption across the world and this is what he had to say. "Europe continues to grow by around 5% per month. Globally, the trend is heading in a similar direction, albeit at a slower pace than the two larger USA and Europe markets.  Over the past year we've seen the global average move from 21.1 reservations per day to 24.5 per day. At this pace the rolling annual average might break its record in mere months from now", says Paul.
If we were to extrapolate global Model X reservations over the next quarter based on the current growth rate, it's quite possible that we'll see close to 40,000 non-adjusted Model X orders by year end. With such a high ramp up in Model X reservations, each requiring a $5,000 deposit, while being production constrained – Tesla seems to be following a similar trajectory that the Model S once had when it first launched.
Paul notes, "This is going to be very interesting to watch over the next quarter. Now that the Tesla Model X has been revealed and details are becoming available and a few deliveries are out of the way, I would expect rates and orders to pour in like they are for the Model S. In some markets for SUV lovers its likely to even surpass that demand in quick order."
Footnotes:
1. Estimated 19,500 net reservations as of Dec 31, 2014 as per Q4 report of having "almost 20,000" on the books. Result:19,500 out of 23,643 = ~ 17.52% up to this date are likely cancelled.
2. Estimated Cancellations after December 31, 2014, currently estimated at 20/month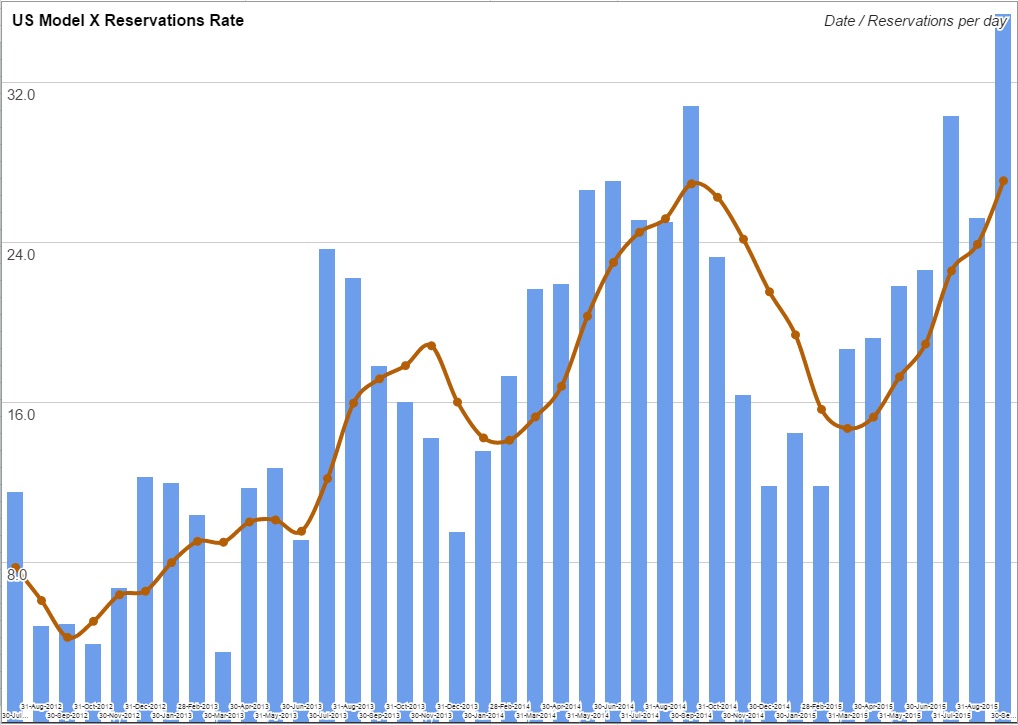 Model X News