Porsche appears to be putting the pedal to the metal with regards to the development and refinement of the Taycan, its first all-electric car and a possible rival to the Tesla Model S. The German automaker has announced that the Taycan is one of the most important vehicles in its lineup, particularly as it is the car that would ultimately start the company's transition to an electrified fleet, which it aims to achieve by 2025.
A lot is riding on the Porsche Taycan. If the vehicle impresses the market, Porsche will become one of the first legacy automakers that can create a truly compelling all-electric car with almost no compromises. If the Taycan fails to make an impact, the vehicle will end up just like other capable yet otherwise under-utilized vehicles like the Chevy Bolt, which has pretty much disappeared under the shadow of the Tesla Model 3.
In true Porsche fashion, the company has been heavily testing the Taycan. Over the past months, camouflaged prototypes of the vehicle have been spotted on racetracks like the Nurburgring, on roads in Germany, and even in New Zealand. Just recently, though, one of the Taycan's camouflaged prototypes was spotted in an area where Tesla's reign as the premier electric car manufacturer is undeniable — Mountain View, California.
The vehicle's sighting was shared on social media by Twitter user @PineappleTrev, who spotted the Taycan prototype as it was in heading north on the 101 in the afternoon of September 14. In a message to Teslarati, Trev noted that he observed two individuals inside the vehicle, though he was unable to determine any unique features of the all-electric car due to its camouflage.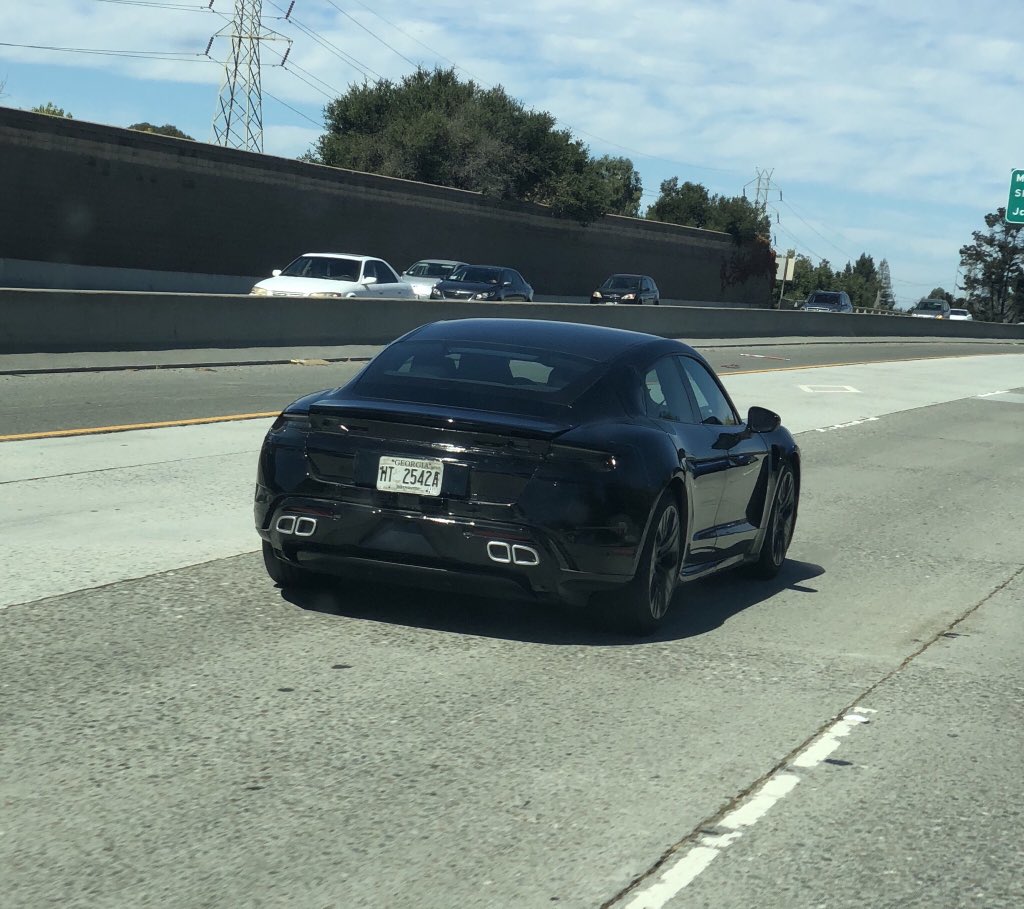 The image of the Taycan on the 101 seems to indicate that the vehicle is one of Porsche's more recent prototypes, as could be seen by the all-electric car's updated rear lights, wheels, and faux exhausts. Porsche's test mules for the Taycan were seemingly updated earlier this month, when the company equipped the vehicles with tail lights similar to that of the Mission E sedan concept car, wheels fitted with covers similar to the Tesla Model 3's Aero Wheels, and fake exhausts that are slightly different to the faux tailpipes found in the first prototypes. These design cues were all present in the vehicle sighted in Mountain View, CA.
Porsche is now starting to market the Taycan in select dealerships across the US through a customer deposit program. Buyers interested in the all-electric car could fill up a form online, then be sent information and updates about the Taycan from a selected Porsche dealer. So far, Porsche has not yet revealed the production version of the Taycan, though Managing Director Alexander Pollich announced that the carmaker is seeing a strong, positive reception to the electric car so far.