Elon Musk recently stated that Tesla's Software Version 9 was just undergoing final tweaks before it gets released, and that he is hoping for the update to see a wide rollout at the end of the week. Just hours after the bold CEO's announcement, reports emerged from the Tesla community suggesting that some advanced early access users have already started receiving the highly-anticipated update.
The release of Software V9 proved later than Elon Musk's initial estimates. During the company's Q2 2018 earnings call, which was held early August, Musk noted that Tesla would likely release V9 to owners participating in early access programs within the next four weeks, translating to an estimated initial rollout in late August to early September. Musk later posted an update on V9's release in September, though, stating that the software was running in his car, but "it's not right yet." Musk noted in his tweet, which was posted on September 5, that early access users will get the software in a week or two.
Just before the 3-week mark (20 days to be exact) since Elon Musk's September 5 announcement, drivers who signed up for Tesla's advanced early access program began receiving Software Version 9. Some members of Tesla's early access program have shared images of the update, such as Model 3 owner Marc Benton, who posted pictures of V9's menu and some new functionalities. A member of the r/TeslaMotors subreddit, u/dellfanboy, further noted that early access users who own early VIN Model 3 seem to be the ones receiving Software V9 first, at least for now.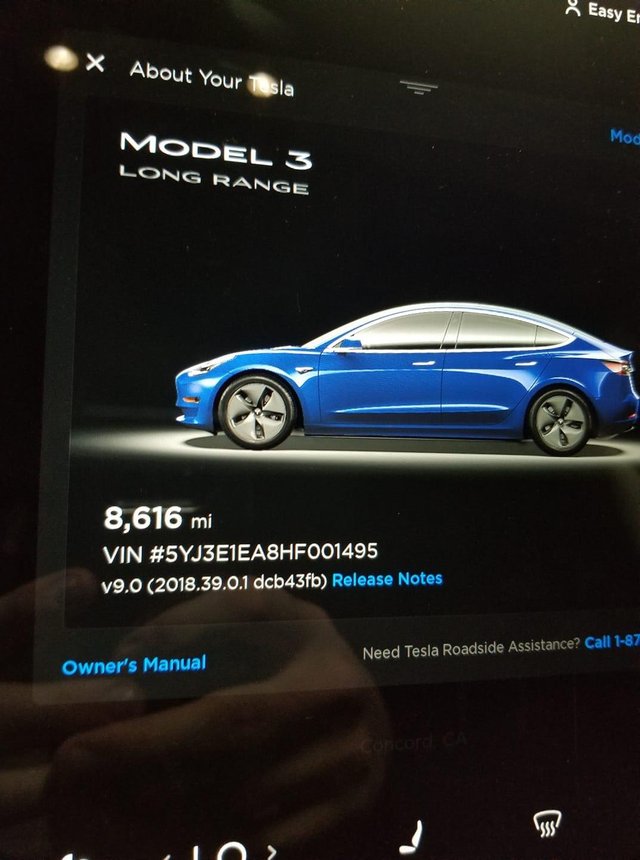 Tesla's release notes for Software Version 9 lists several features that were teased by Elon Musk and by early leaks in the past, such as Navigate on Autopilot, Calendar integration, and further improvements to Navigation. Following are the release notes of Software Version 9, particularly for the Model 3.
Version 9.0
Version 9.0 introduces new applications including Calendar, Energy and Web Browser, which can be accessed from the application launcher in the bottom bar. For those with Enhanced Autopilot, we are also introducing Navigate on Autopilot (Beta) — our newest Autopilot convenience feature, designed to get you to your destination more efficiently by guiding your car on and off the highway. Finally, we have made improvements to the Tesla mobile app, Status Bar, Navigation, Climate, Media, and Seatbelt Card in addition to several safety features.
Tesla's Mobile App has also been given some updates with Software Version 9, particularly for owners who are using iOS devices. Following are Tesla's release notes for the Tesla Mobile App update.
Mobile App
With this car software version, you can now do even more with your vehicle from your mobile app.
You can now start navigation in your car by using the share button in your favorite phone apps. In iOS, you can enable sharing to your vehicle by opening up the app you want to share from, tapping the More button in your sharing media, and then scrolling to the right until you find your vehicle.
You can also allow your passengers to quickly control the media. Play/pause, previous/skip, and cycle through your media favorites. Note: You can disable this feature by going to Media Settings > Allow Mobile Control.
The shared images from the early access Model 3 owner also feature new menus and icons for the electric cars' functions, including a unique phone icon shaped like a telephone from the early 1900's era. Graphics on the Model 3's 15″ display were reportedly enhanced as well, as could be seen in the seemingly improved clarity of the vehicle's satellite maps.
An early look at Tesla's Software Version 9 currently being released to early access users. [Credit: Marc Benton/Twitter]
Also notable is the Energy App, which allows owners to view their vehicle's consumption in real time. Tesla's new classic Atari Easter Eggs are also included in the update, particularly Missile Command, which could be accessed and played on the car's display. The Model 3's air vent controls have also been updated, with the airflow of the vehicle now being simulated on the electric car's display.
Stay tuned for updates, particularly from early access users who own Model S and X vehicles.
And a little video of the new AC/Heat controls. pic.twitter.com/eW1B8e9MY7

— Marc Benton (@marc_benton) September 26, 2018