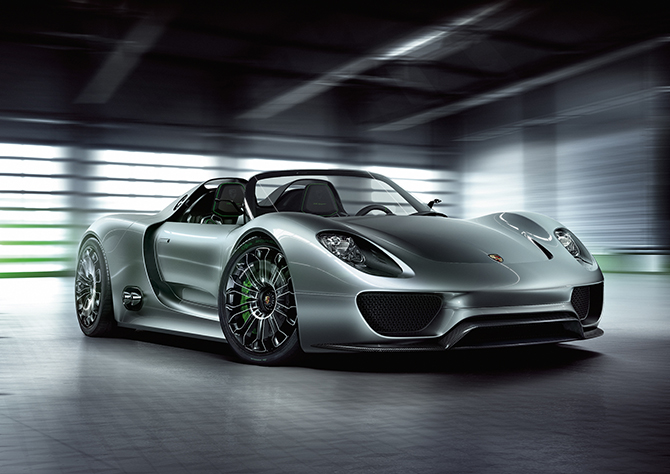 It makes sense for Porsche to jump on the opportunity to build its own electric car. After producing the stunning plug-in hybrid (PHEV) 918, will Porsche use its experience to compete with Tesla Motors?
Can Porsche compete with Tesla?
When it comes to experience and lifestyle, Porsche is one of those rare automakers that can claim a strong culture around their products. The clientèle Porsche covers is wide and varied from your local automotive enthusiast to the who's who in Hollywood, Porsche customers are well diversified. After the company developed its amazing 918 PHEV with much fanfare, it stands to reason it has learned enough about electric vehicles (EV) to make its own. At the very least, of all German carmakers, Porsche would be the best bet for a clear competition to Tesla.
Porsche, the original electric car.
We would be remiss not to mention that Porsche's first car was electric, back in 1897. To be clearer, Ferdinand Porsche's first car was electric and his second was a hybrid. It was basically the idea with an internal combustion engine (ICE) mated to it. Fast-forward 117 years later, and the company seems set to once again ready return to electricity.
Porsche is an odd bird. Starting its commercial life with an inherently flawed unstable design, putting an engine behind the rear axle certainly calls for some spectacular slides coming out of curves enthusiastically. But over the decades, the designed was so refined, albeit through copious use of electronics to make its 911 series one of the most versatile car in the world. Your grandmother to Sebastian Vettel can drive one and not be bored.
Still, many would consider Mercedes and BMW to be better direct competition to Tesla. We, however, have a harder time seeing how their gasoline cars, or even hybrids can. They are very different, not simply in terms of design, but by definition. Also, BMW and Mercedes' electric vehicles are small, and certainly no match for the sedan Model S. Mercedes might have a certain lifestyle associated with the brand, and BMW has a strong culture behind it, neither one of them has that Tesla Motors feel, that combination of modern startup meets the performance of wildest daily dreams.
Porsche would be a great competition. It had a pilot program three years with three Boxster E prototypes. They sported two electric motors on each axle producing a combined 240 HP with 398 Lb-ft of torque, which launched it from 0 to 62 mph in 5.3 seconds. However, we don't know much, if anything at all concrete about how and when the company would build a commercially available EV. The few extrapolations we can make is that the electric Porsche would aim for performance, something a Porsche buyer would expect.
What other competition?
The only other competition Tesla would have would be from Porsche's other family member, AUDI. The company notoriously teased us with its all-electric e-tron, back in 2009. However, it has gone from a yes, to a no, to a maybe, and now, back again to a yes. The A3 e-tron is a good step forward, but it certainly isn't a direct contender to Tesla's amazing Model S. Would Porsche be a better contender?