The demand for all-electric pickup trucks is definitely there. This was hinted at once more when recent aspiring buyers of the Ram 1500 REV tried to secure a spot in line for the upcoming all-electric pickup truck. Since opening on Super Bowl Sunday, the reservations for the Ram 1500 REV appear to be full.
As shared by members of the Ram 1500 Revolution Forum, members who were trying to secure a spot as early as February 17, 2023 were greeted with a message informing them that memberships for the Ram REV Insider+ program have "reached max capacity." "Due to high demand, the Ram 1500 Insider+ membership is now closed. You can still be the first to know when doors open up again," Ram's website noted. 
The notice on the vehicle's official website also explained that reservations were closed due to high demand, though visitors were urged to leave their email addresses and zip codes for updates on the upcoming all-electric pickup truck.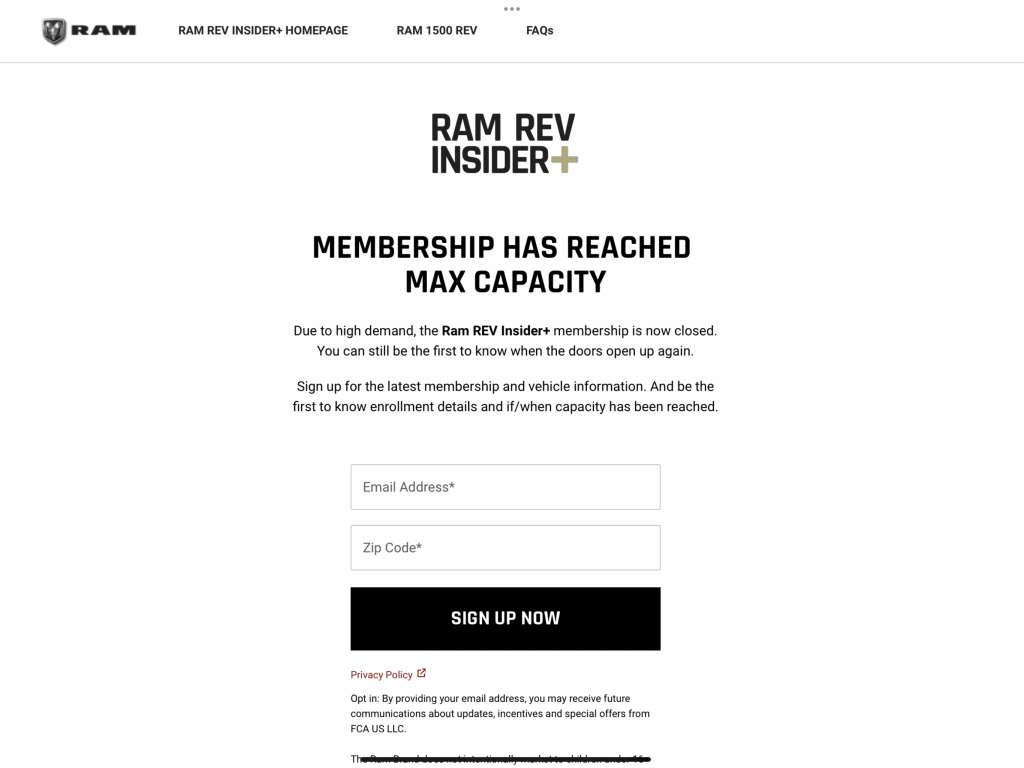 This is not the first time that reservations were closed for an upcoming all-electric pickup due to high demand. The Ford F-150 Lightning saw the same trend, and so did the GMC Hummer EV. It's also quite unsurprising to see numerous customers looking to secure a spot for the Ram 1500 REV, considering the $100 refundable membership fee to the Ram REV Insider+ program. 
The excitement for the Ram 1500 REV gained momentum last month after Stellantis showed off a concept version of the vehicle. The Ram 1500 Revolution concept was stunning, with its stretched wheelbase and swept-back windshield. It was also filled to the brim with features, like digital side view mirrors, an augmented reality (AR) heads-up display (HUD), Level 3 autonomous driving, third-row jump seats, and "Shadow Mode," which allows the truck to follow its driver as they walk ahead. 
The production version of the Ram 1500 REV was arguably watered down compared to the Ram 1500 Revolution Concept, but Stellantis has been clear that its all-electric pickup truck is a contender. During Stellantis' Dare Forward 2030 presentation last year, CEO Carlos Tavares noted that while an electric Ram 1500 will be late to the game, the vehicle would be leading in metrics such as range, towing, payload, and charging time. 
Don't hesitate to contact us with news tips. Just send a message to simon@teslarati.com to give us a heads up.