One of the greatest benefits of owning a Tesla Model S beyond the fact that it's electric, has amazing performance, and seats seven is being able to store tons of cargo in its spacious interior. There's a front trunk also known as the "frunk" with ample storage space, along with a huge trunk large enough to store a full-sized bicycle. But with all that space comes the challenge of being able to organize and secure loose items so that they don't rattle or shift when the car's in motion.
The new Trunk Organizer for Model S by EVannex was intended to do just that. I recently had the opportunity to pick one up and test it out. Here's what I thought of it.
Trunk Foot Well Space
The Model S trunk has a hidden gem in the form of extra storage space in the foot well of the trunk seating area. This area is designated as the third row for seating young children assuming one purchased the optional foldaway seats. Since the Model S does not have an exhaust system or muffler beneath the vehicle, Tesla was able to provide a rear foot well which also doubles as a storage area for the child seats when tucked away.

However, if you didn't pick up the optional child seats like me, you're left with an empty footwell that inevitably ends up collecting … stuff.
Mine contains a mixture of cleaning supplies, charging cables, adapters, tire maintenance items, things for walking the dog, the list goes on. Finding anything within this section generally requires a lot of digging around. Putting it back is just as painful as I'm often left shuffling items around and repositioning them in a way that allows the top cover to mount flush.
I've often thought about how to solve the problem by using various tote type boxes but never found anything to my liking.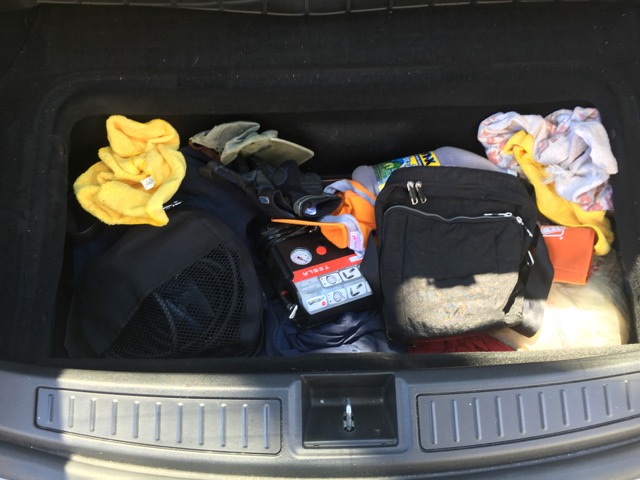 EVannex Trunk Organizer for Model S
The ROLA Trunk Organizer is an aftermarket product carried by EVannex but also sold on Amazon that's designed to help one organize their stuff within the Model S trunk footwell.
The product comes in a long flat box and simply pops open to form the organizer. The process couldn't have been simpler.
The organizer has a number of nice features:
It folds completely flat and locks into position when needed
The dividers are completely removable and attach securely with velcro on the sides and bottom
There is a mesh pocket running along the front and back of the organizer for smaller objects
There are handles on each end to help with lifting and carrying the organizer
The sides, dividers and bottom are sturdy
Installation
Installation was super-easy — the hardest part was clearing out all my crap from the footwell. After that you simply pop it open and drop it into the foot well. Be sure to angle the organizer when initially placing it into the footwell as it's a snug and near perfect fit. Once in place you can straighten it back out.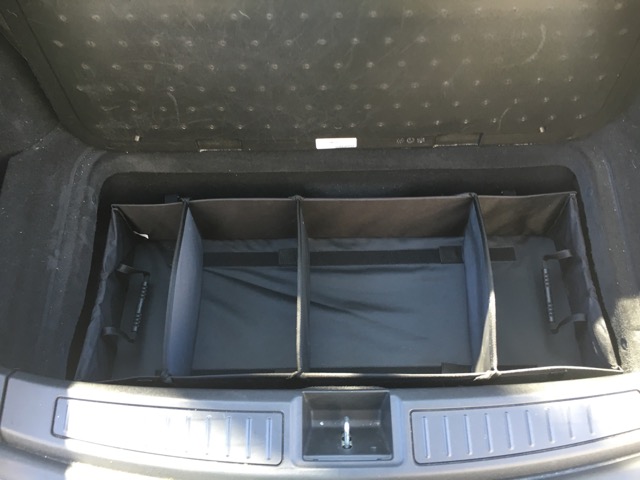 Those who purchased the premium sound system will have the area to the left and right of the organizer filled with subwoofers. But for those of us that didn't, there is extra storage space to be found – perfect for storing taller objects such as windshield washer fluid bottles.
Prior to installing the trunk organizer, I often encountered the issue where items stored in the side pockets would slide into my belongings stashed in the footwell. That's because there's no divider between each section. Having the trunk organizer in place alleviated this issue as items would butt up against each respective side of the organizer itself.
What I liked about the organizer is the removable dividers that can be positioned to fit your needs depending on the number and types of items being stowed. Thanks to the velcro attachment, securing it in various configurations was a simple process. I ended up compartmentalizing by theme. One section was for cleaning supplies, another for charging, and one was for tire related products.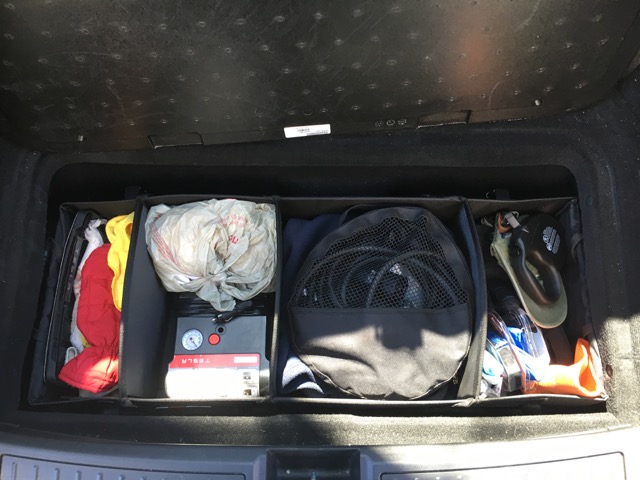 One of my concerns when I first saw the dividers was their height. I wasn't sure if the footwell cover would be able to sit flush but luckily I found it to be a near perfect fit. I kept my all-weather Tesla mat installed on the bottom of the footwell just in case something leaked, and even with that in place the footwell cover closed flush.
All in all, I'm quite happy with the ROLA trunk organizer and glad I got it.