The Royal Caribbean Group's first solar-powered cruise terminal will have eight EV charging stations. The cruise line plans to open the world's first zero-energy cruise terminal at the Port of Galveston in Texas on November 9. The new cruise terminal will generate 100% of its energy from 30,000 square feet of on-site photovoltaic solar panels. Royal Caribbean will also provide the infrastructure for 8 EV charging stations in its parking lot.
The new terminal's generation of needed energy through on-site solar panels makes it the first in Texas to achieve LEED Gold certification, which is expected to be received sometime in the first half of 2023.
Royal Caribbean Group developed the new terminal with design strategies aligned with its goals of advancing sustainable infrastructure development. The new terminal is a $125 million, a 161,334-square-foot site that will include electric vehicle charging stations.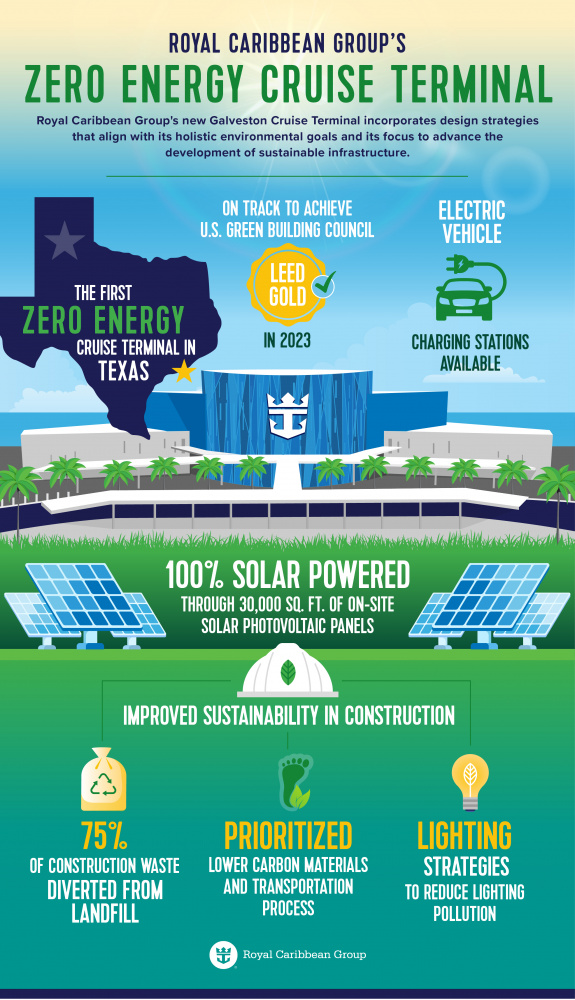 The cruise line will supply the infrastructure for the future installation of eight EV charging stations in its parking lot. It also plans to offer bicycle facilities and promote alternative means of transportation to reduce transportation-related carbon emissions.
Jason Liberty, president, and CEO, of Royal Caribbean Group, gave the following statement:
"We are focused on innovating across all aspects of our company, especially in our work to advance sustainability in the communities we visit."
"We deeply value both the oceans we sail and the communities we visit and operate in, and the modern design and development features at our terminal in Galveston will work in service of both."
The cruise line was also the first in the industry to purchase and deploy SpaceX's Starlink Maritime. The company will install Starlink on its International, Celebrity Cruises, and Silversea Cruise ships. And it will also add Starlink to all new vessels for the brands.
Your feedback is essential. If you have any comments or concerns or see a typo, you can email me at johnna@teslarati.com. You can also reach me on Twitter at @JohnnaCrider1.
Teslarati is now on TikTok. Follow us for interactive news & more. Teslarati is now on TikTok. Follow us for interactive news & more. You can also follow Teslarati on LinkedIn, Twitter, Instagram, and Facebook.