Over the course of the past week, Teslarati photographer Pauline Acalin has captured a multitude of unusual occurrences at SpaceX's Port of Los Angeles dock space, each time involving a Falcon fairing recovery vessel like Mr Steven or NRC Quest, a Falcon fairing half (flight-proven or otherwise), and one of several attenuating circumstances.
More likely than not, what appears as a menagerie of weird and disconnected events on the sidelines is actually a reasonably organized leg of a larger program, in this case focused on experimentation and testing to close the fairing recovery loop and secure Mr Steven's first successful fairing catch.
From @USCGLosAngeles – A captive carry test involving a helicopter picking an item from a vessel will be conducted 9/20, 11-1300, in the vicinity of San Clemente Island in the San Nicolas Basin. Mariners are requested to maintain a distance of 5NM from the operation. pic.twitter.com/nvy6Wo0IvF

— Marine Exchange (@MXSOCAL) September 19, 2018
The mystery of Catalina Island
Now-iconic fairing recovery vessel (or net-boat, or claw-boat) Mr Steven has been out of commission since late August, at which point SpaceX technicians removed all four of his arms and their eight complementary shock absorber booms towards unknown ends. If SpaceX's past is any judge, those arms are probably in the process of being upgraded, but it's impossible to judge thanks to the fact that they have simply disappeared from the Berth 240 docks where they were briefly stored. SpaceX certainly has a way with transporting massive, ungainly objects without stirring a whisper.
Despite lacking arms for more than a month, Mr Steven has still performed a number of sea-trials, ranging from average jaunts a few miles away to a mysterious armless test described in the tweet above. Why exactly Mr Steven was involved in an experiment involving a helicopter "picking an item" – in this case a flight-proven Falcon fairing – off of a vessel while entirely lacking the arms and net he would use to catch said fairing is entirely unclear. Perhaps it was meant to test a datalink or a change to fairing recovery hardware. Whatever transpired, a group of SpaceX technicians certainly flew to Catalina Island and were working alongside or with a Blackhawk helicopter capable of externally carrying up to 3600 kg (8000 lb) of cargo.
Multipurpose recovery vessel NRC Quest – nominally dedicated to Cargo Dragon spacecraft recoveries – returned to SpaceX-leased Berth 240 a few hours after the September 20th test window closed, sooty Falcon 9 fairing half in tow. Still, this certainly isn't the weirdest Falcon fairing-related activity to occur last week.
Fairings aplenty
Meanwhile, over at Mr Steven's old berth and drone ship Just Read The Instructions' current berth, a different Falcon fairing half appeared sometime in the last several days in an unusual state, seemingly either fresh out of the factory or in an advanced state of disassembly. The base of this particular fairing half seems to be entirely missing the usual layer(s) of material (cork, among other things) used to waterproof and act as a lightweight heatshield. A new fairing half sitting out in the elements with zero protection would be exceptionally unusual, as CEO Elon Musk has noted that they each cost several million dollars ($3m to be precise), and exposure outside of a cleanroom could very well prevent this half from ever being operationally flown.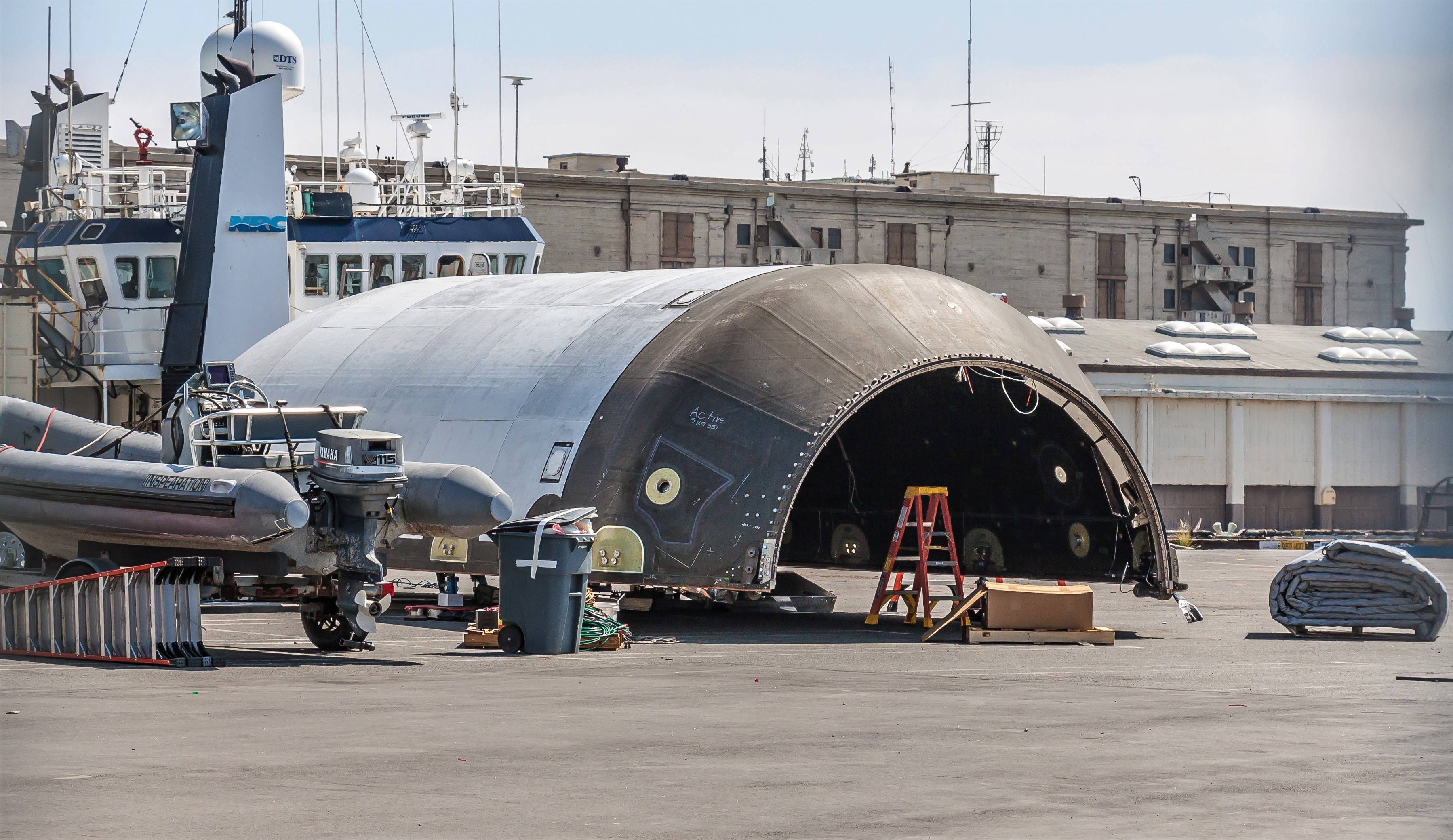 The next best conclusion to be drawn is that this unique fairing half is new or flight-proven (with skin and shielding removed), but sitting at SpaceX's dock space in order to prepare for one or several active drop tests in pursuit of Mr Steven's first successful fairing catch. But who really knows, to be honest. The fairing's bare carbon fiber composite construction is certainly a sight to behold, one way or another.
Doing…something.
This leads us to the grand (perhaps… titanic) finale of wholly unexpected Falcon fairing activities over the last several days. Presumably making the best of an opportunity to test NRC Quest's ability to recover Falcon fairings after splashdown (i.e. missing Mr Steven's net), the pictures generally tell the story better than any words ever could. Keep your eyes peeled for Fairing Wrangler job openings.
Up next for SpaceX, Mr Steven, and the West Coast recovery crew is SAOCOM-1A, scheduled to launch from California's Vandenberg Air Force Base on the evening (Pacific Time) of October 6th.
---
For prompt updates, on-the-ground perspectives, and unique glimpses of SpaceX's rocket recovery fleet check out our brand new LaunchPad and LandingZone newsletters!