SpaceX has successfully completed its second launch for OneWeb, carrying another 40 of the London-based company's small communications satellites into orbit.
Similar to SpaceX's own Starlink constellation, OneWeb's primary goal is to serve internet to customers almost anywhere on Earth, particularly in places where traditional high-bandwidth connectivity is currently unavailable or unlikely to ever be available.
SpaceX's Falcon 9 rocket lifted off from Cape Canaveral Space Force Station's (CCSFS) LC-40 pad at 11:50 pm EST on Monday, January 9th. The rocket performed perfectly, extending Falcon 9's record-breaking streak to 168 launches since its last failure. No rocket in history has launched more times between failures. Flying for the second time in 44 days, Falcon 9 booster B1076 supported the boost phase of OneWeb's 16th launch; lifting the payload, fairing, and an expendable Falcon upper stage most of the way out of Earth's atmosphere.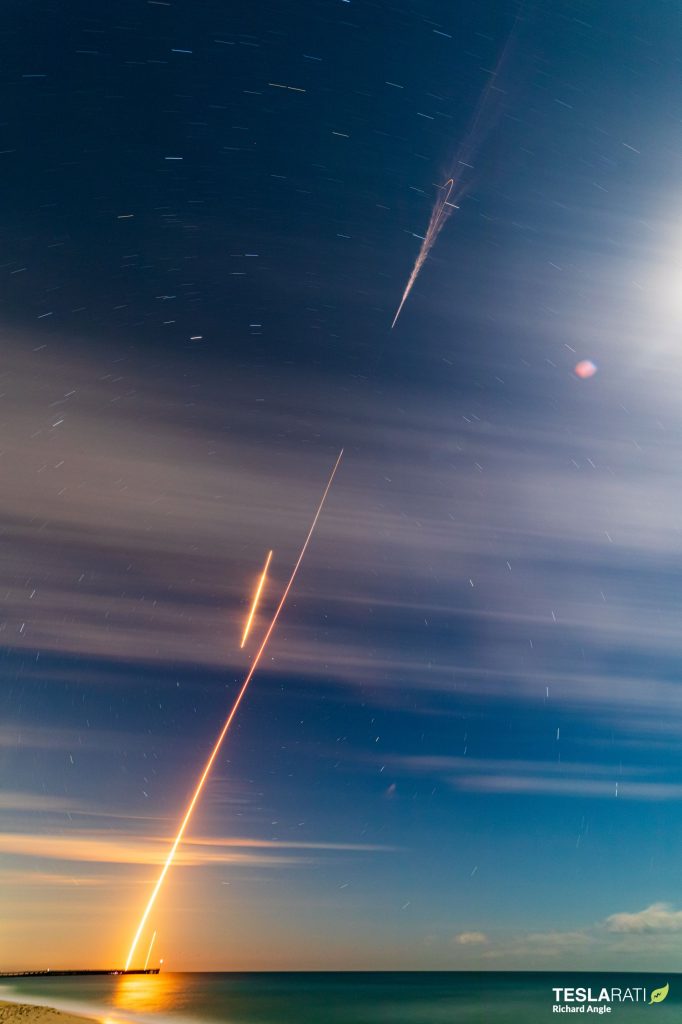 Traveling about 3800 miles per hour (1.7 kilometers per second) at an altitude of 70 kilometers (44 mi), B1076 separated from the upper stage and boosted back to the Florida coast. Measuring around 48 meters (160 ft) tall and 3.2 meters (6 ft) wide, the Falcon 9 first stage gently touched down a few miles from where it lifted off at SpaceX's LZ-1 landing pad. According to Next Spaceflight, B1076 will be converted into a Falcon Heavy side booster to support EchoStar's Jupiter 3 communications satellite launch as early as May 2023.
Once in orbit, Falcon 9's expendable upper stage was tasked with deploying 40 new OneWeb satellites in batches of three, wrapping up around 95 minutes after liftoff (1:25 am EST/06:25 UTC). Assuming all F16 satellites are healthy, OneWeb will have 540 working satellites in orbit. OneWeb needs 588 satellites in orbit to achieve full, global coverage with zero spares. Including spares, OneWeb plans to pause launches once 648 satellites are in orbit. The company has permission from the US Federal Communications Commission (FCC) to launch up to 716 first-generation satellites.
OneWeb has plans for three more launches after F16, which is SpaceX's second launch for the company. F16 and F18 will also launch on Falcon 9 rockets, while F17 will rely on India's LVM 3 (GSLV Mk3) rocket. The constellation should be completed by mid-2023.