SpaceX has successfully completed a static fire of its newest Falcon Heavy center core, a sign that the most challenging hardware is firmly on track for a late-June launch target.

Currently penciled in for June 22nd, Falcon Heavy's third launch is of great interest to both SpaceX and its customer, the US Air Force. Most of the two-dozen payloads manifested on the mission are admittedly unaffiliated with the US military. However, the rideshare – known as Space Test Program 2 (STP-2) – was acquired by the USAF for the branch to closely evaluate and certify SpaceX's Falcon Heavy rocket for critical military launches. The potential upsides of a successful demonstration and evaluation are numerous for both entities and would likely trigger additional positive offshoots.
The Center Core experience
Beyond the general contractual aspects of STP-2, the mission is significant because it will use the third Falcon Heavy center core and second Block 5 variant to be built and launched by SpaceX. Of the technical issues that complicated and delayed SpaceX's Falcon Heavy development, most can probably be traced back to the rocket's center core, practically a clean-slate redesign relative to a 'normal' Falcon 9 booster.

Most of that work centered around the extreme mechanical loads the center core would have to survive when pulling or being pulled by Falcon Heavy's two side boosters. Not only would the center core have to survive at least two times as much stress as a Falcon 9 booster, but that stress would be exerted in ways that Falcon 9 boosters simply weren't meant to experience, let alone survive. After years of work, SpaceX arrived at a design that dumped almost all of that added complexity squarely on the center core and the center core alone. The side boosters would need to use nosecones instead of interstages and have custom attachment points installed on their octawebs and noses, but they would otherwise be unmodified Falcon 9 boosters.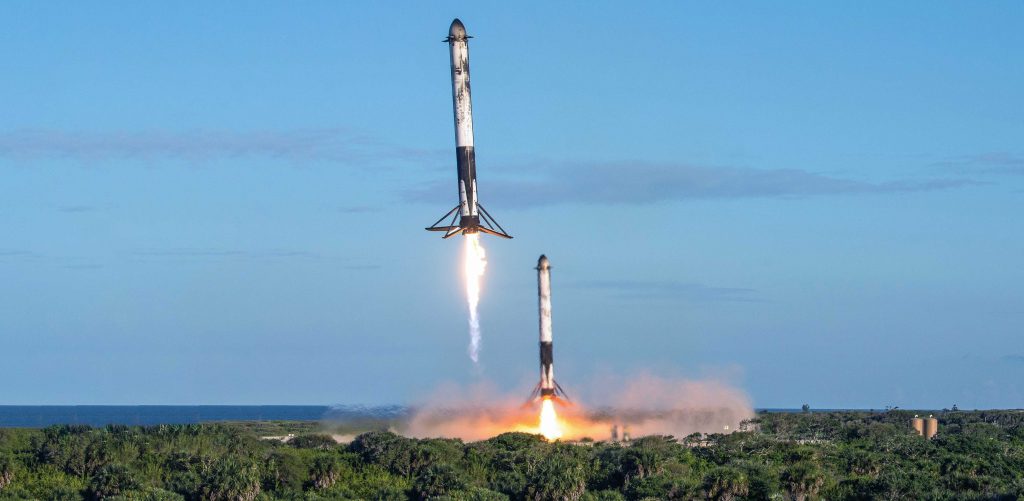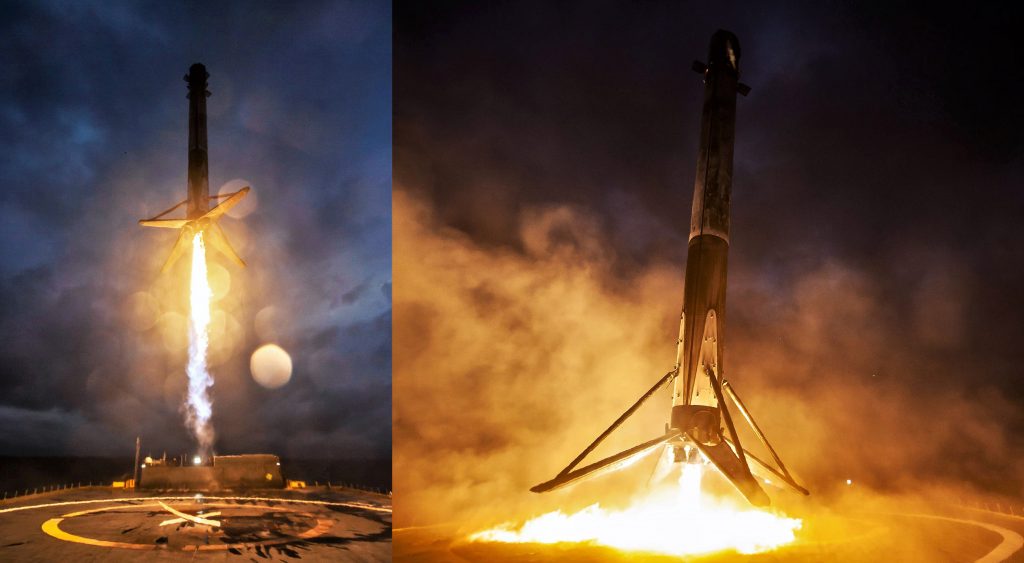 On top of that, SpaceX's Falcon upper stage and payload fairing would require no major modifications to support Falcon Heavy missions. On the opposite hand, the center core would require extensive rework to safely survive the trials of launch, let alone do so in a fashion compatible with booster recovery and reuse. Per the landing photos above, it's difficult to tell a Falcon Heavy center core apart from a normal Falcon 9 booster, but the small visible changes are just the tips of several icebergs. Aside from a slight indication that the center core's aluminum alloy tank walls are significantly thicker (they are), center cores feature a variety of unique mechanisms on their octawebs and interstages. All are involved in the tasks of locking all three boosters together, transferring side booster thrust to the center core, and mechanically separating the side boosters from the center core a few minutes after launch.

Underneath those mechanistic protuberances are the structural optimizations needed for a center core to survive the ordeal of launch. In short, to solve for those new loads, SpaceX wound up building a new rocket. Designing and building a new rocket – especially one as complex as Falcon Heavy's center core – is immensely challenging, expensive, and time-consuming, particularly for the first few built. Like most complex products, building the first two Falcon Heavy center cores was probably no different. To make things worse, boosters 1 and 2 were based on totally different versions of Falcon 9 (Block 3 vs. Block 5), requiring even more work to further redesign and requalify the modified rocket.
This is where the center core assigned to Falcon Heavy Flight 3 and pictured above comes into play. Built just a few months apart from B1055, the first finished Falcon Heavy Block 5 center core, the newest center core – likely B1057 – is also the first to be built with the same design and manufacturing processes used on its predecessor. In other words, SpaceX can at long last begin serial production of Falcon Heavy center cores, allowing its engineering, production, test, and launch staff to finally get far more accustomed to the unique hardware.

Given Falcon Heavy's healthy and growing manifest of 5-6 launches, SpaceX will probably need to build several additional Block 5 center cores over the next several years, hopefully resulting in a more refined flow for production, testing, and refurbishment. B1057 will be an excellent candidate for the first reused Falcon Heavy center core thanks to STP-2's lightweight nature and an extremely gentle landing trajectory. With respect to Flight 3's schedule, Crew Dragon's April 20th explosion means that Falcon Heavy will have Pad 39A all to itself for many months to come. Truly the epitome of bittersweet, no doubt, but it does improve the odds that Falcon Heavy's June 22nd STP-2 launch target will hold.
Check out Teslarati's newsletters for prompt updates, on-the-ground perspectives, and unique glimpses of SpaceX's rocket launch and recovery processes.