A Tesla Model S proved its 5-star safety rating during a major accident at the tunnels of Vallvidrera in Barcelona, Spain. As could be seen in footage of the crash, the owner of the all-electric sedan managed to walk away from a potentially fatal head-on collision seemingly unharmed.
The accident, which happened last week, involved three vehicles, one of which was a white Model S. While traveling through a three-lane section of the tunnels, what appears to be a gray station wagon seemingly lost control, heading full speed into the opposing lane. The vehicle first hit a sedan before getting into a head-on collision with the Model S.
The crash was massive, with the heavy all-electric sedan being moved to the side of the tunnel and the station wagon being thrown to the opposing wall. The violence of the impact could be seen from the aftermath of the collision. The Model S totaled its front area, and what appears to be part of the station wagon's engine was ripped off.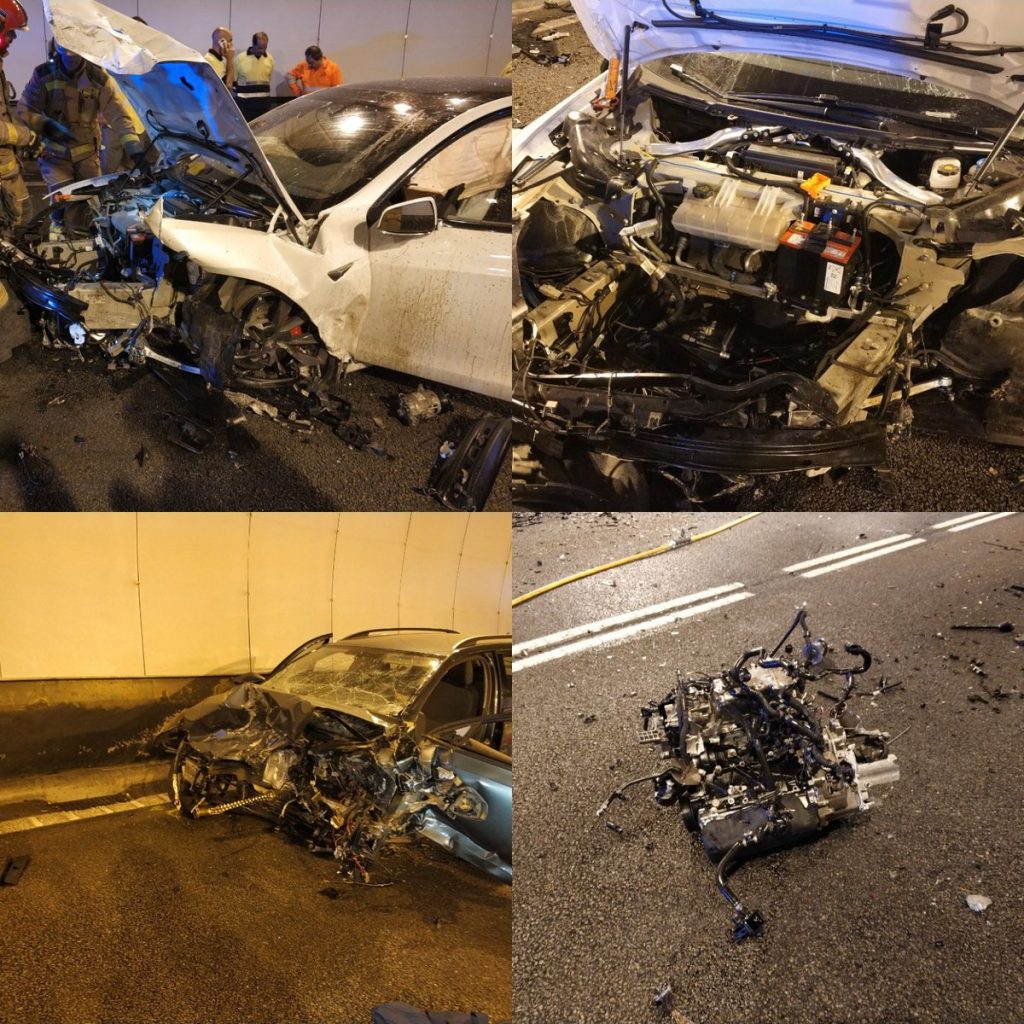 A video of the incident that has been shared online revealed that just seconds after the impact, the driver of the Tesla Model S walked out of the all-electric car seemingly unharmed. In the seconds that followed the collision, the Model S driver even moved as if he was surveying the damage to the vehicles.
Unfortunately, the same could not be said of the station wagon's driver. According to the Catalan Traffic Service, the 53-year-old driver of the wagon passed away after being rushed to a hospital. Local news agency Racó Català further added that a total of five people were injured as a result of the accident.
As could be seen in the forocoches.com forum community, initial news of the accident prompted a wave of speculations pointing to the Tesla being the cause of the crash. It was only after a video of the incident surfaced, which showed that the Model S driver was in no way at fault, that the unwarranted speculations were thoroughly debunked.
While undoubtedly tragic, the Model S' collision at the tunnels of Vallvidrera has exhibited how safe Tesla's all-electric cars are in the event of an accident once more. The Tesla Model S has a 5-star safety rating from the NHTSA, just like its siblings, the Model X and Model 3. These high safety ratings largely stem from the vehicles' all-electric design, which gives them extra-large crumple zones that protect passengers during a crash. These, together with Autopilot technology that's statistically safer than human drivers, makes the Model S one of the safest vehicles on the road today.
Watch a Tesla Model S owner walk away from a potentially fatal collision in the video below.