After a full two weeks spent waiting for an FAA permit, SpaceX CEO Elon Musk and local South Texas authorities appear to be preparing Starhopper for a second major flight test as early as Monday, August 26th.

Assuming the FAA comes through with a permit, Starhopper is scheduled to lift off no earlier than 5pm EDT (21:00 UTC) on August 26th for a flight test expected to smash the low-fidelity Starship prototype's previously altitude record of ~20m (65 ft). Confirming initial reports from NASASpaceflight.com, Musk also stated that Starhopper's second flight will be its last, after which the steel rocket test-bed will be converted for stationary use at SpaceX's South Texas facilities.
Prior to Musk tweeting that Starhopper may be nearing approval for its next flight, the SpaceX CEO revealed that delays were centered around the FAA's apparent unwillingness to permit the vehicle's next flight. Musk specifically stated that the FAA wanted more "hazard analysis", meaning that the US aviation administration had concerns that Starhopper could pose a serious threat to local residents in a tiny housing development known as Boca Chica Village.
Technically speaking, Boca Chica Village is just 1.5 miles (2.4 km) away from SpaceX's Starhopper launch facilities, where the vehicle is expected to reach a maximum altitude of no more than 200m (650 ft) as early as August 26th. FAA regulations tend to be prescriptive and extremely rigid, understandable given the breadth of US aviation-related activities the agency is tasked with regulating. However, a basic back-of-the-envelope analysis of Starhopper's 200m hop suggests that the risk to local residents – even those as few as 1.5 miles away from the test – is minuscule.

Based on Starhopper's inaugural flight, its lone Raptor engine – producing up to 200 tons (450,000 lbf) of thrust – is not exactly capable of rapidly moving the Starship prototype. For all accounts and purposes, Starhopper is a spectacularly heavy hunk of steel with the aerodynamics of a cylindrical brick – capable of flight solely through the brute-force application of a literal rocket engine. To make it even half of the distance from its launch site to the Village, Starhopper would have to remain in controlled flight while radically deviating from its planned trajectory, all while its flight termination system (FTS) – explosives meant to destroy the vehicle in a worst-case scenario – completely fails to activate.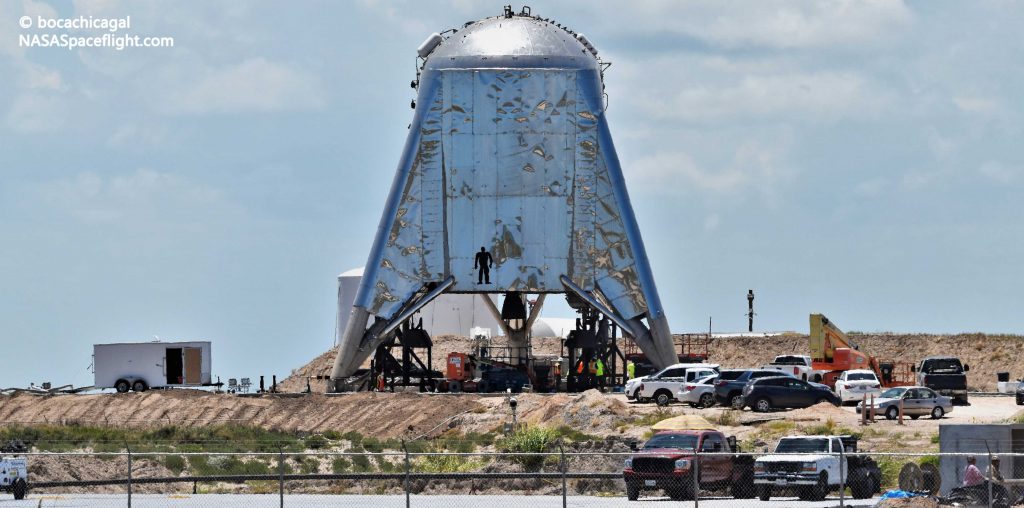 As evidence of the apparent lack of perceived risk to local residents, Cameron County, Texas officials distributed flyers to Village residents advising – but not requiring – those choosing to remain at their homes during the test to go outside during Starhopper's next flight. This is recommended to avoid flying glass in the event that the vehicle explodes, potentially shattering windows with the shockwave that could result, but clearly demonstrates the fact that county officials believe there is a near-zero chance of Starhopper actually impacting anywhere near the houses.

Ultimately, Starhopper's limited flight tests clearly pose little to no actual risk to residents, but this chapter does raise a far more significant question: what happens once Starship Mk1 is ready and the flight tests SpaceX is pursuing involve distances and heights on the order of several, tens, or hundreds of kilometers? For now, answers will have to wait til a later date.
A Hop and a skip into retirement
Aside from the delays and apparent lack of consensus on the safety of Starhopper's minor hop tests, Musk confirmed that the prototype's second test flight ever will likely be its last, providing some interesting insight into SpaceX's next steps. Most notably, the fact that SpaceX is willing and ready to fully retire Starhopper after such a limited test series serves as a fairly confident statement that orbital-class Starship Mk1 (Texas) and Mk2 (Florida) prototypes are extremely close to flight-readiness.
Roughly a month ago, Musk tweeted that those Starship prototypes could be ready for their first flights as early as mid-September to mid-October, "2 to 3 months" from mid-July. In additional comments made on August 20th, Musk stated that his planned Starship presentation would be delayed in light of Starhopper's own delays, and is now instead expected to occur around a major Starship Mk1 integration milestone in "mid September".
As previously discussed on Teslarati, Starhopper's brief service life is entirely unsurprising, delayed by issues with Raptor engines to the point that SpaceX's far more valuable Starship prototypes – having made relentless progress – are already nearing completion. Once those Starships are ready for almost any kind of integrated testing, Starhopper will be made entirely and immediately redundant.
"According to Musk, either or both of those orbital-class prototypes could be ready for their inaugural flight tests as early as mid-September, perhaps just 1-2 months from now. Given that Starships Mk1 and Mk2 are significantly higher fidelity than Starhopper, the ungainly testbed will likely become redundant the moment that its successors are ready for flight. In other words, Starhopper is fast approaching the end of its useful life, and SpaceX's fight for a 200m hop-test permit could ultimately be a waste of time, effort, and money if said permit doesn't also cover Starship Mk1."

Teslarati.com, August 20th, 2019
On another positive note, CEO Elon Musk says that Starhopper won't be 'retired' to the scrapyard and will instead be lightly modified to serve as an in-situ test stand for Raptor engines, a useful addition once SpaceX South Texas moves on to multi-engine Starship and Super Heavy testing.

With any luck, SpaceX will attempt to livestream Starhopper's second attempted flight. Stay tuned for updates on the 5pm EDT, August 26th test.
Check out Teslarati's newsletters for prompt updates, on-the-ground perspectives, and unique glimpses of SpaceX's rocket launch and recovery processes.