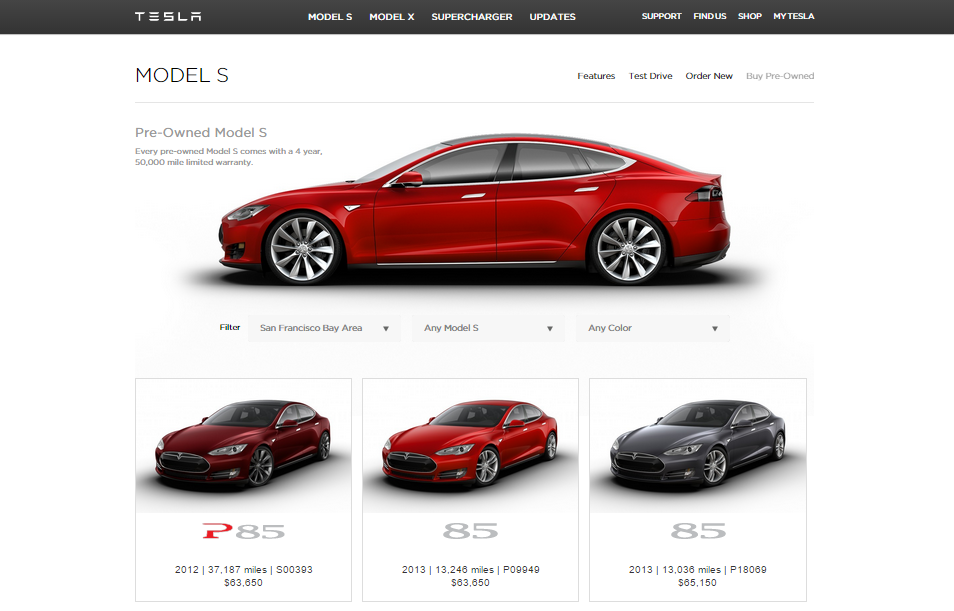 There has been no fanfare and no official announcement. No Tweets from Elon Musk, either. But the official Tesla website has a Certified Pre-Owned page that wasn't there yesterday. Now you can browse every CPO Model S in the entire United States on your computer or mobile device.
How much does a CPO car cost? The lowest price currently shown on the site is a 2012 Model S 60 with Tech Package and around 26,000 miles. It's listed at $53,000, which is about $20,000 below its original price new. But of course the buyer won't qualify for any federal, state or local tax credits or incentives. Or you can spend about $10,000 more and get a nice Model S P85 with under 40,000 miles.
The program has CPO stores in 11 US cities, including New York, San Francisco, and Los Angeles. Honolulu, Cleveland, Chicago, Denver and Atlanta are included as well. Some have lots of cars to choose from while others have only a few. If you happen to find a car on the Certified Pre-Owned page you want but is located far from your home, Tesla will probably arrange to have it shipped to your nearest CPO location — for a fee, of course.
Now people who want to drive a Tesla have the ability to buy a lightly used pre-owned car that has been thoroughly checked out by Tesla technicians and is in "as new" condition for between $50,000 and $65,000. Or they can get a brand new Model S 70D with dual motors and all wheel drive for only a few dollars more, after all federal state and local tax credits and incentives. For many, that's going to be a tough choice.
The Tesla CPO program will probably be quite profitable for the company, which should help calm the fears of investors who think the company has committed to spending way too much money on such ventures as building the GigaFactory, expanding the SuperCharger network and developing the Model X and Model III all at the same time. But for the "In Musk We Trust" folks, the CPO program is nothing but good news.