Tesla revealed in early May that it had begun collecting short video clips from the cameras found on Model S and Model X vehicles equipped with the Autopilot hardware suite. The announcement was made through an over-the-air software update, and ahead of the recent 'smooth as silk' Autopilot update, that prompted drivers with a new Data Sharing policy.
"We are working hard to improve autonomous safety features and make self-driving a reality for you as soon as possible." read the firmware notes. "In order to do so, we need to collect short video clips using the car's external cameras to learn how to recognize things like lane lines, street signs and traffic light positions. The more fleet learning of road conditions we are able to do, the better your Tesla's self-driving ability will become."
We now have a first visual that shows an increase in outbound data being uploaded from a Model S and back to Tesla servers beginning in May. Model S owner and redditor kutrod posted a photo that clearly shows an increasing amount of data being uploaded from their Model S over time.
"I think the neural net mining is just starting. This is my router view since 17.17.4 on AP2. I know they are uploading mini vids, but I think the data collection is just picking up and sum of all data will be monstrous" says kutrod on a post made to the Tesla subreddit.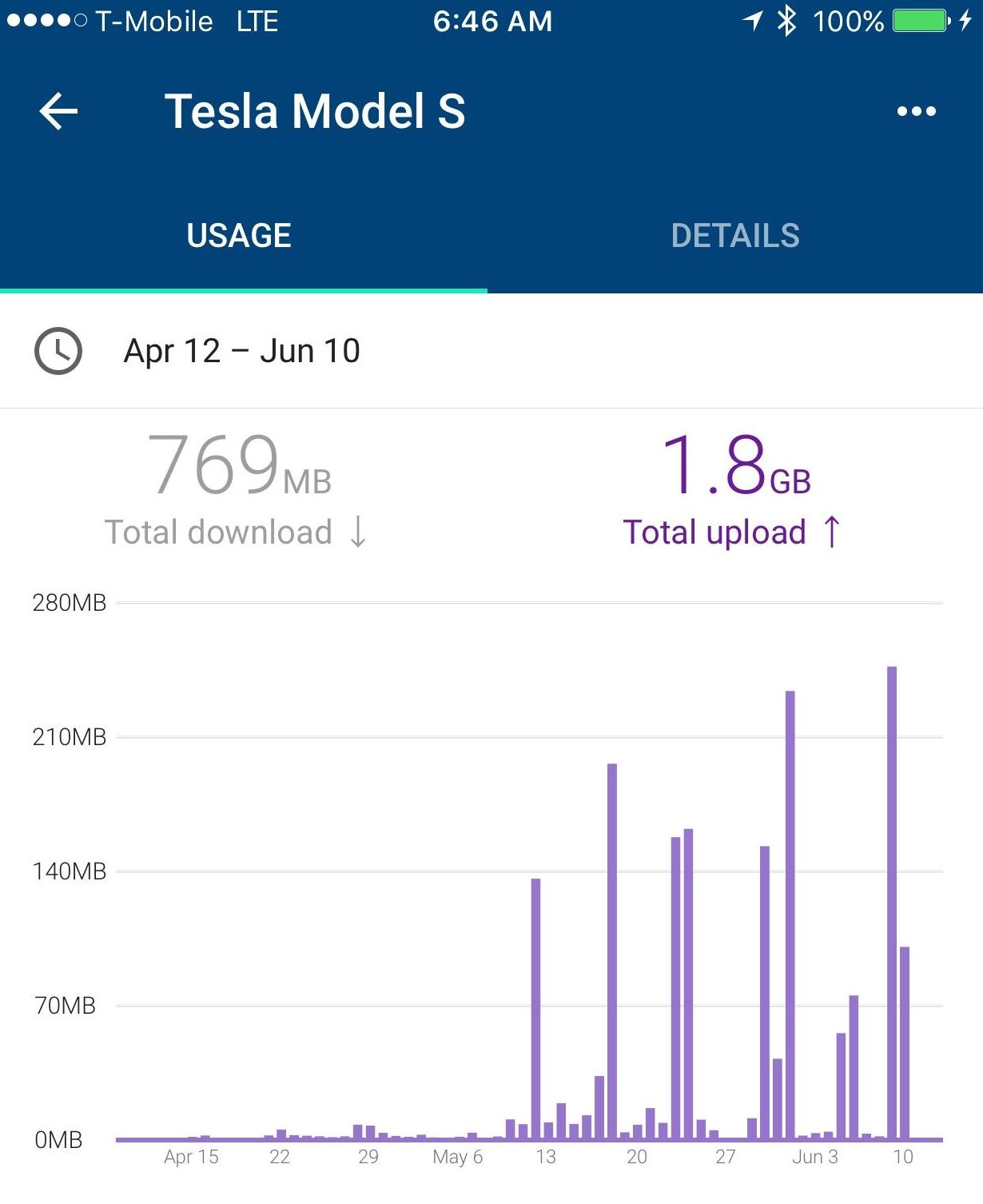 It's unconfirmed if Tesla has enabled data collection from all eight cameras on Model S and Model X vehicles equipped with Full Self-Driving hardware. But given the number of improvements being made to the company's Enhanced Autopilot feature and Musk's plan to demonstrate a fully autonomous drive from California to New York by the end of 2017, and one can presume that a massive amount of fleet data is being collected from the car's camera and radar suite, and then uploaded to the Silicon Valley electric car giant by the minute.
The implications of this increased data collection are staggering. Tesla is applying machine learning technology to the driving videos and data it collects to create a self-driving model around a 3D map of all city streetscapes. This virtual world that is being built and constantly refined in near real-time has paramount significance in Tesla's vision for a safe and reliable autonomous self-driving future.