Following last month's unveiling of Tesla's improved Powerwall 2 home battery storage system, boasting twice the capacity at half the price, the company said on Wednesday that it has opened up its online ordering system to the Australian market. Interested buyers can also purchase directly through Tesla stores in Melbourne and Sydney.
Tesla lists the price of Powerwall 2 as $8,000 Australian dollars with an additional cost for "supporting hardware" of $1,450. Australian publication Renew Economy reports that an online quote from one accredited Australian Tesla reseller revealed that a 3 kW rooftop solar system with a Powerwall 2 battery storage unit was being sold for a package price of $17,900 AUD or roughly $13,000 USD.
Renew Economy conducted an in depth economic analysis and was astonished to discover that "A typical household in the suburbs of Adelaide can now meet its electrical needs with solar and battery storage for about the same amount they would pay on a competitive offer from the grid." Electrical energy costs in Australia tend to be somewhat higher than the average cost of electricity in the United States.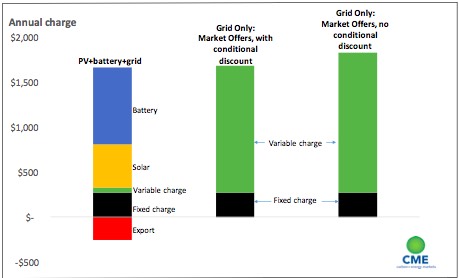 For the Australian market, Tesla's focus is on rooftop solar systems that no longer have the benefit of the premium feed-in tariff available at the time they were installed. "With over 275,000 Australian households affected by the reduction of feed-in tariffs …the timing for Powerwall 2 to launch into the Australian market is ideal," Tesla said on Wednesday.
"Most homes use only a fraction of the solar energy they generate, with owners currently using the benefits of the feed-in tariffs to gain the value from their asset. Powerwall 2 allows home owners to use more of their solar, storing the energy to use at any time rather than sending the excess energy back into the grid for the low return that is about to begin."
Tesla Powerwall in the news
As Tesla owners, solar advocates and obvious believers in the future of sustainable energy, we've partnered with a service for estimating solar costs based on one's location and energy requirement. Please consider supporting our solar-focused affiliate partner and fan to Teslarati by getting a cost estimate.