Traveling to the "Happiest Place On Earth" will soon become easier for Tesla owners with the upcoming grand opening of the company's new Buena Park Supercharger. Just seven miles north of Disneyland off of Interstate 5 will be eight new Supercharger stalls located directly in front of Tesla's existing showroom service center in Buena Park.
Currently, Tesla drivers looking to travel between Orange County and Los Angeles must pit stop at the often congested Fountain Valley Supercharger before making their way through the busiest freeway in the nation – the 405. Adding the Buena Park Supercharger will provide Tesla owners with a second route option that connects both counties, while bringing convenience to travelers looking to visit Disneyland in Anaheim.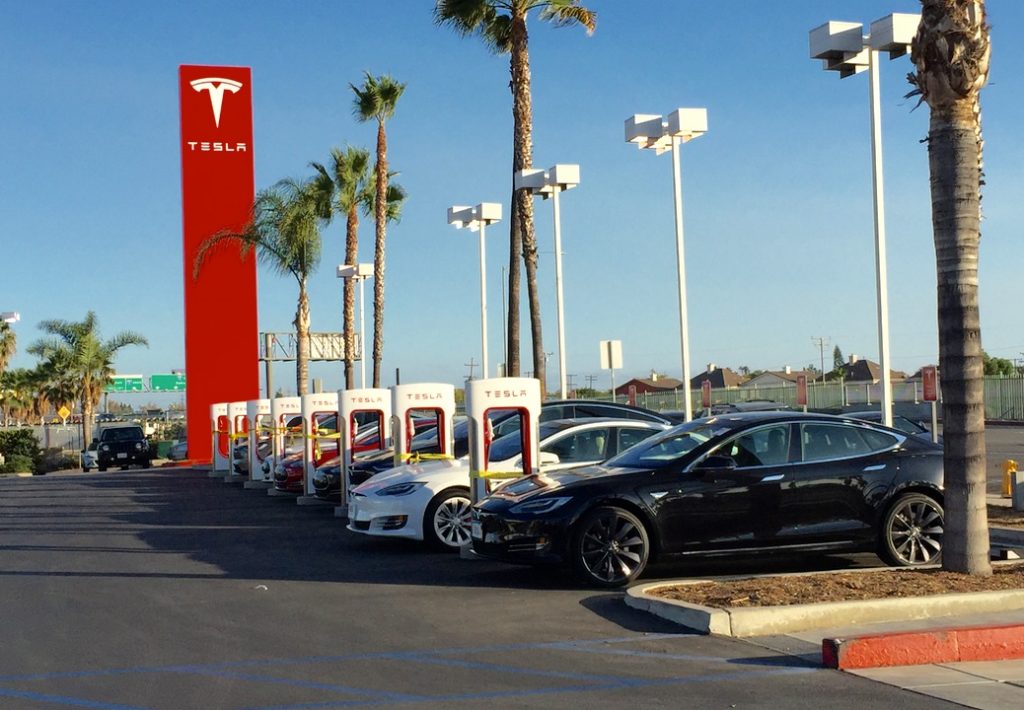 The enormous 23,000 square-foot showroom and service center, which opened during August of last year, resides on a 2.5 acre lot in an area best known for car dealerships – Buena Park Auto Center. Though it's widely known that Tesla's sales model is to sell its vehicles directly to consumers, skirting the traditional dealer franchise model, the location resembles that of a dealership with nearly one hundred certified pre-owned Teslas for sale on a parking lot. Interested parties have the option to pick one of the many "classic" pre-fascia-redesign 60S, 75D, P85, P85+ and P85D Model S's directly off the lot for purchase.
Tesla staff at Buena Park did not provide an exact date on when the new on-site Superchargers would be officially opened though they indicated that the station will likely be in service during October.
Amidst concerns from Tesla owners over long lines at popular Supercharger routes, the company continues to expand its fast-charging stations across the world. Just last week, Tesla unveiled a 20-stall Supercharger location in Norway making it the world's largest fast-charging station. There's also been recent speculation that the company is in negotiations with gas station and grocery store chains on the scale out of its charging network.
Tesla Buena Park Showroom, Service Center and Supercharger