Tesla CEO Elon Musk said that the electric automaker would adjust the Camp Mode feature's ability to operate when a vehicle has less than 15% state of charge.
Camp Mode is a feature that gives owners the ability to skip the hotel room and stay within the confines of their all-electric vehicle for the night. By maintaining temperature, interior lighting, airflow, the vehicle remains comfortable throughout the hours of the night, making a night in a Tesla comparable to a night in a hotel room.
However, the functionality was not available for cars that held less than a 15% state of charge and would turn off if a vehicle were to reach this point during the evening. However, at the request of a Tesla owner, Musk will revise the capability to be operational at charge levels as low as 5%.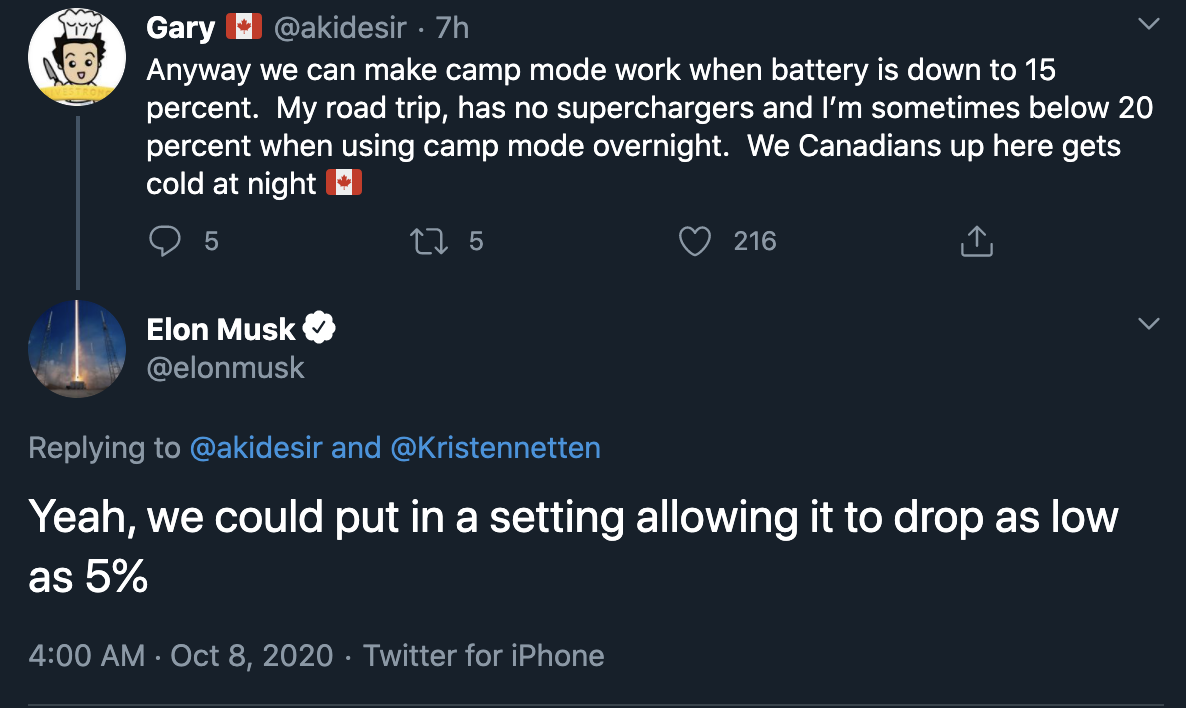 After @akidesir, a Canadian Tesla owner, said that his road trip would sometimes run his battery below 20% when he is forced to stay in his car for the night. Camp Mode being unusable past 15%, makes for some pretty chilly sleep sessions in the car. However, Musk was more than willing to help.
Camp Mode's features, while effective and comforting for those who are spending an evening in their vehicles, can drain the battery of a Tesla and leave owners in ruins for a drive to a Supercharger in the morning.
First look at Tesla's Camp Mode Easter Egg, complete with warm lights and campfire
With temperature control, the dash screen display, interior lights, music, and airflow all operating throughout the night, a lot of charge can be spent on keeping occupants comfortable. This reasoning is why Tesla installed the 15% threshold into the Camp Mode feature.
However, some driver's routes may take them away from Superchargers, and climates may require additional time with warmth during cold nights.
Past videos of Camp Mode have shown that a nine-hour night of sleep only consumes around 10% of the battery's state of charge, which is not very much considering the climate control and airflow that is operational throughout the evening.
Camp Mode was released with the 2019.40.50 Software Update in late December 2019.