Tesla has officially discontinued the Model S 60 kWh battery as of today. In its place, Model S 60 and Model S 70 owners are being prompted with a very welcomed surprise in the form of a heavily discounted offer for an 'unlockable' battery upgrade.
Teslarati forum user lTRKBLU shared a photo showing Tesla's 75 kWh in-car Range Upgrade option being offered for $2,000, which represents a near 80% discount from the original $9,000 price tag first introduced in mid-2016. Tesla would later reduce the price of the Model S range upgrade to $7,000, which took place earlier this year.
The unlockable battery upgrade was one of several features that could be enabled through a Tesla over-the-air software update. The program was designed to minimize the price barrier of entry by allowing buyers to pay less up front and provide them with options to upgrade at a later time through an in-car purchase that can be made directly from the vehicle's center touchscreen.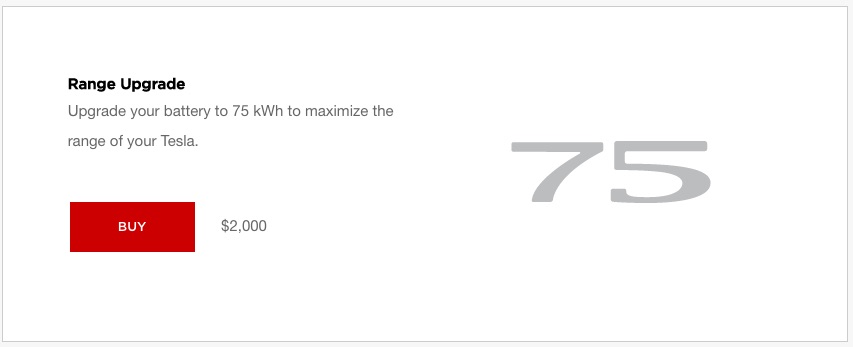 Reports coming from the Tesla Motors Club have also validated that the new software limited 60 kWh to 75 kWh battery upgrade is being made available for $2,000. Model S 70 owners have also chimed in with their reports that Tesla is offering a 5 kWh range upgrade for just $500. That represents a massive 85% price drop from the initial price tag of $3,500. The new $500 price for 5 kWh is by far the lowest price per kilowatt-hour we've seen.
Following the discontinuation of the Model S 60D, Tesla updated its Model S Design Studio with new pricing for the 75 kWh version of the Model S. The base price of a Model S 75 is only $1500 more than the phased out Model S 60.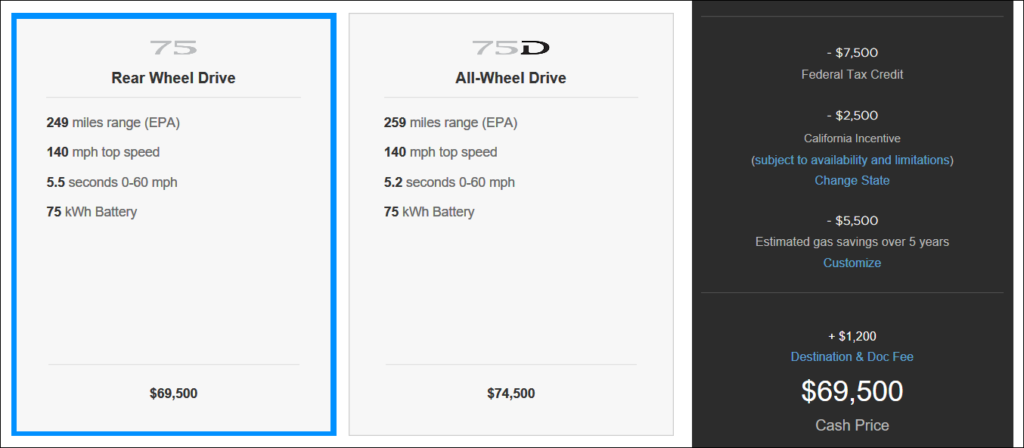 Model S owners  in Australia are also seeing the new price change today, with many reporting that they see a price drop from the initial $5,000 AUD to just $750 AUD for upgrading a 70 kWh to a 75 kWh battery pack.
Is the drastic battery price cut indicative of where pricing is headed as Gigafactory 1 continues to scale battery production? Green Tech Media quoted Ben Kallo, an equity analyst firm RW Baird, saying that Tesla "could reach its <$100 per kilowatt-hour target in the intermediate term as Gigafactory production ramps. Additionally, we believe TSLA is ahead of expectations on reducing battery costs, and continues to have a significant lead on competing EVs."
According to a statement issued by Tesla, the company has included a slight price decrease on 75, 75D and 90D models to account for the discontinuation of the 60 kWh model.
Here's the full statement from Tesla:
Periodically we have adjusted pricing and available options to best reflect the value of our products and our customers' preferences. Today's updates include slight price decreases to our 75, 75D and 90D models to account for the discontinuation of our 60 kWh models, and next week will be implementing slight price increases to our higher end 100D and P100D models. We expect our total average selling price to remain almost exactly the same. 
Price increases for our 100D and P100D models will take effect on April 24, 2017 to best accommodate customers already in the order process, while price decreases for 75, 75D and 90D models will take effect today.